BGH hosting 'Sip & Screen' Mammo Party Oct. 20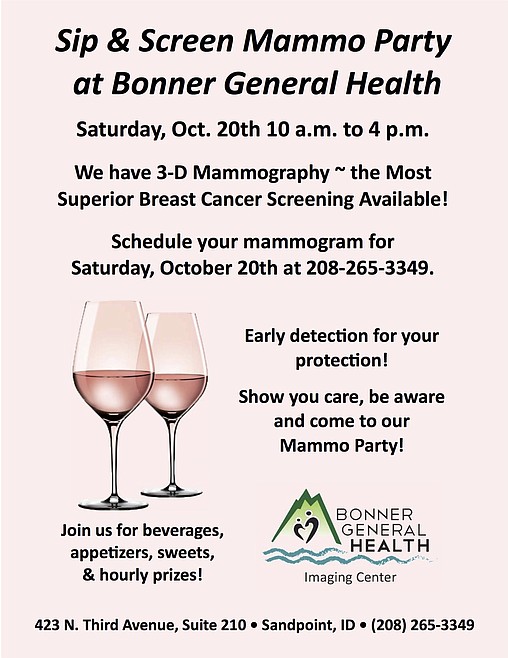 |
October 2, 2018 12:10 PM
SANDPOINT — Bonner General Health is hosting a mammogram party on Saturday, Oct. 20, from 10 a.m. to 4 p.m. in the waiting room of the hospital's Imaging Center located in Suite 210 at 423 N. Third Avenue in Sandpoint.
Beverages, appetizers, and sweets will be served, and prizes will be given away each hour. To schedule your mammogram appointment for Saturday, Oct. 20, please call 208-265-3349, or visit BonnerGeneral.org/mammo-party and request an appointment online. Appointment slots are filling up, so schedule your appointment today.
Most women who get breast cancer have no known risk factors and no history of the disease in their families. Breast cancer screening does not prevent breast cancer, but it can help find breast cancer early, when it is easier to treat.
Early detection is key in the fight against breast cancer, that's why Bonner General Health offers 3-D mammography, the most superior technology available in breast cancer screening. 3-D mammography detects 40 percent more invasive cancers than 2-D mammography, and results in up to 40 percent fewer callbacks for rescreening.
Exams use virtually the same radiation dose as 2-D mammography. Images are taken from different angles than a traditional 2-D mammogram, allowing doctors to examine breast tissue one layer at a time.
Join Bonner General on Saturday, Oct. 20, from 10 a.m. to 4 p.m. Early detection is for your protection.
---