Community dives into mask making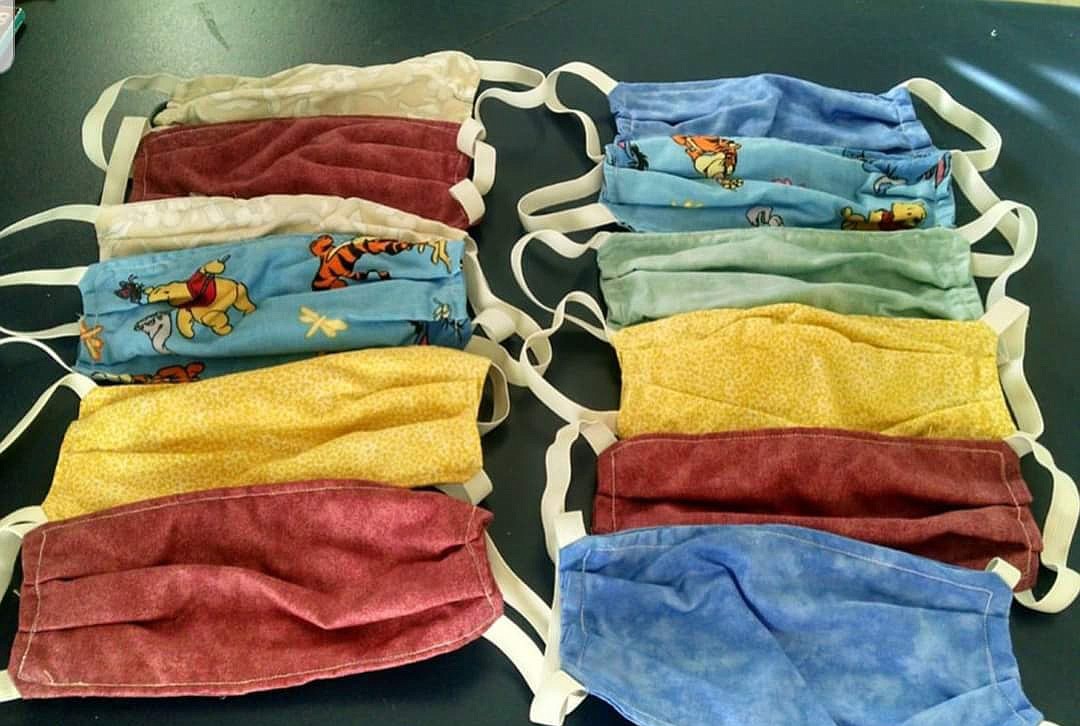 A few of the masks being made by local residents to help extend the lifespan of N95 masks at Bonner General Health.
(Courtesy photo)
by
Caroline Lobsinger
Staff Writer
|
April 1, 2020 1:00 AM
SANDPOINT — As word spread that Bonner General Health needed masks, so did the call to come together to help the Sandpoint hospital out.
Some could sew, some couldn't but that didn't matter. What mattered, those taking part in the drive said, was helping the hospital help those on the front lines of the novel coronavirus pandemic.
Mask making, donating money, supplies — anything to help, they all said.
"We wanted to do something to help," Connie Burkhart said. "So we called the hospital to see what would help the most and the answer was making masks.
"So that's what many are doing."
Quick research by Burkhart, Jean Gerth, Susie Prez, Lynn Pietz and others helped pinpoint the kind of masks that would help Bonner General staff the most — masks that could cover N95 masks to give them a longer life. From there into finding out what type of masks would be most beneficial: it was a mask to cover the preciously scarce N95 needed by hospital like BGH.
"We are making masks to cover the N95s to give them a longer life," said Pietz.
"Our masks are made of two pieces of tightly woven quilting cotton that helps stop the virus before it gets to the approved N95s."
These outer masks can be washed and reused thus protecting the inner mask, participants said.
Knowing there are big needs of all kinds, others in this diverse network of friends and colleagues also chose to donate funds to Bonner General for necessary supplies or ordered supplies direct online, said Bonnie McDade.
The masks were delivered directly to the pickup point at the hospital and other volunteers were recruited to do the same.
Items in demand include nitrile gloves, plastic/vinyl gloves, surgical masks, bouffant caps, isolation gowns, N95 masks, hand sanitizer and, of course, more handmade sewn mask covers.
"Thanks to everyone for whatever contribution you have been able to make," said Gerth.
While donations the supplies — from surgical masks and mask covers to isolation gowns, hand sanitizer and N95 masks, Bonner General Health officials posted recently on their Facebook page the community's support is appreciated.
"Wow! Thank you local businesses, organizations and individuals who have donated supplies to Bonner General Health over the last few days," the post reads.
Donations are still be accepted and can be dropped off at the hospital's Third Avenue entrance by the gift shop. Questions should be directed to Terri Hull, materials director, at 208-265-1159 or Terri.hull@bonnergeneral.org.
If anyone or their family member have concerns about COVID-19 and need to seek medical treatment, BGH officials asked they do the following: Stay home and contact their primary care provider, who may order a test. Upon arrival at the BGH Emergency Department, call 208-265-1020 and stay in your car.
Bonner General Health is testing for COVID-19 and are following high-priority guidelines because of the limited supply of tests, BGH officials said. Results have been taking three to 10-plus days.
Caroline Lobsinger can be reached by email at clobsinger@bonnercountydailybee.com and follow her on Twitter @CarolDailyBee.
---