Bokowy doesn't plan on slowing down during rare break from pool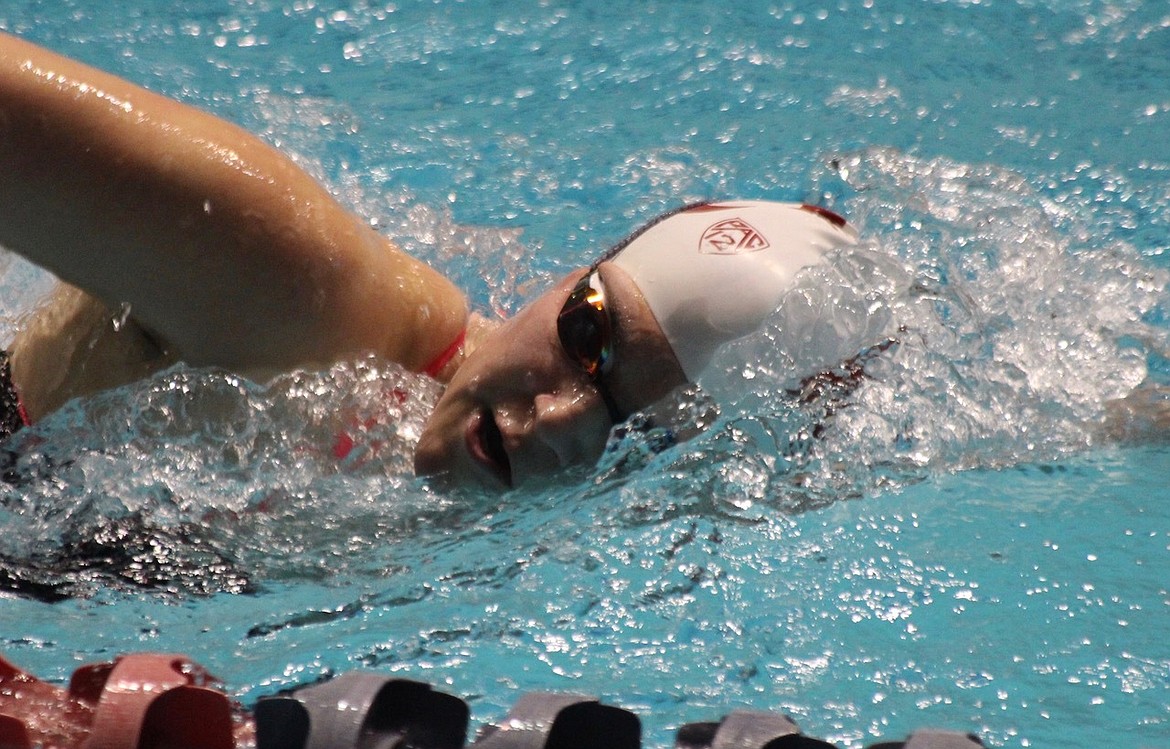 Payton Bokowy, 2018 SHS grad and current member of the WSU swimming team, competes in a freestyle event for the Cougars earlier this season.
(Photo courtesy of JACINDA BOKOWY)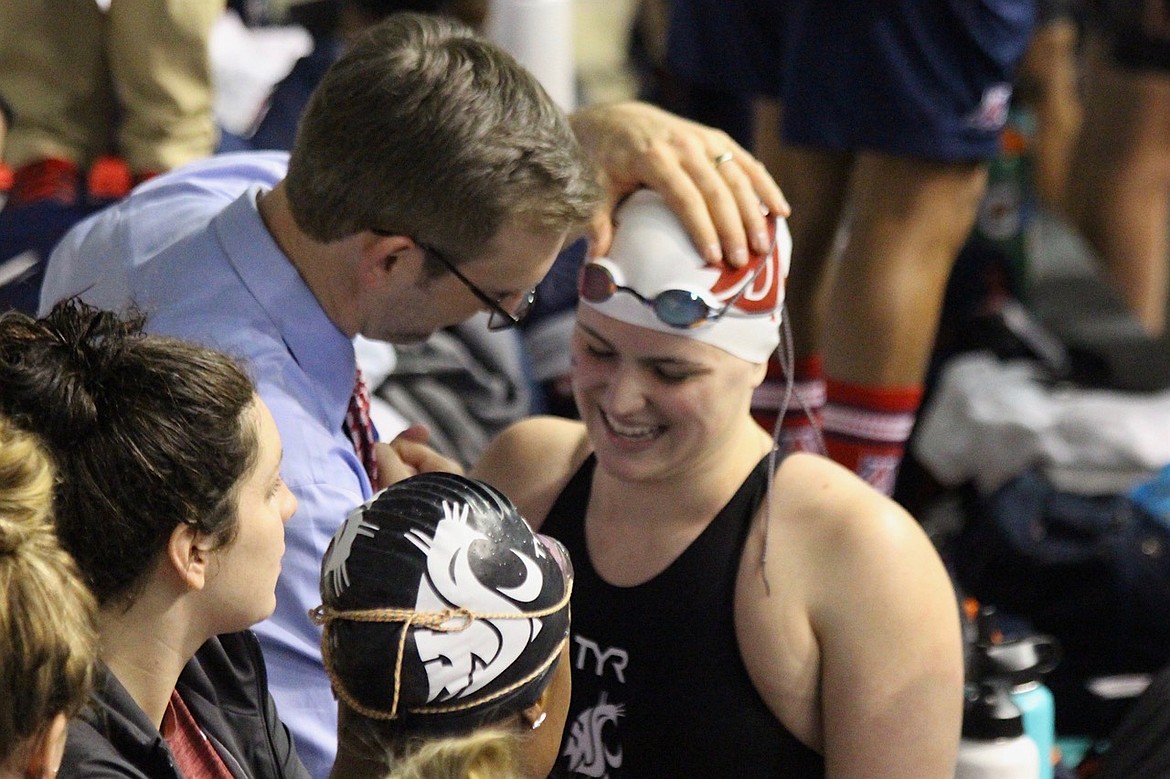 (Photo courtesy of JACINDA BOKOWY) Payton Bokowy smiles while talking to head coach Matt Leach after getting out of the pool at the Pac-12 Championships this season.
Previous
Next
by
DYLAN GREENE
Sports Editor
|
April 3, 2020 1:00 AM
SANDPOINT — Since Payton Bokowy was 7 years old she has been competing in a pool. In that time frame, she has never had a break away from the pool as long as the one she is currently in the midst of due to the coronavirus pandemic.
Three weeks ago, the 2018 Sandpoint High grad and current Washington State University swimmer had her season come to an abrupt end when her and her teammates were sent home after the first day of the CSCAA National Invitational in Cleveland, Ohio. It was the team's final event of the season but Bokowy experienced firsthand the impact the coronavirus has had on sporting events around the U.S.
When Bokowy and her team touched down back in Washington after the invitational was canceled, it was spring break at WSU so Bokowy drove home and spent a few days with her family. Then Bokowy returned to Pullman because at the time the facilities were still open for athletes to work out. About a week later, Washington and Idaho issued stay-at-home orders which shut down those facilities and Bokowy realized there was no point in staying in Pullman any longer.
Now the sophomore is back home with her family taking her classes at WSU virtually while also doing everything she can to stay in shape.
The collegiate swimming season lasts from September until the middle of March, but during the offseason Bokowy doesn't spend too much time away from the pool. Bokowy typically dedicates about 15 hours a week to swimming and training during the break between seasons because if you lose contact with the pool for a significant amount of time then you start to regress, she said.
"With swimming you can lose your feel for the water within two days," she said, "so that's kind of where our coaches are like, 'there is nothing you can do right now, you just have to accept that you're going to lose the feeling in the pool and then we'll just have to get right back into it as soon as we're allowed back in the pool.'"
Luckily, the athletic training staff at WSU has provided Bokowy with a weekly workout schedule she can do at home to avoid losing any of her physical strength and conditioning.
Bokowy said it's weird being home because she has a lot more extra time she's not used to having which has allowed her to take up yoga again and a few other exercises.
"I've been running which I never thought I'd do voluntarily," she said.
In order to not be complacent with her workouts, Bokowy has stuck to a routine every day she has been at home over the past week.
"They'll be days when I'm like, 'I don't want to get out of bed and do these hard workouts,'" she joked.
It also helps that the swim team has been having team meetings over Zoom three times a week during the break which has allowed Bokowy to connect with her WSU teammates and former SHS teammates over the platform so they can stay in touch and challenge each other to do certain workouts.
Bokowy had a standout season for the Cougars and notched PR's in the 50, 100 and 200 free at the Pac-12 Championships. Bokowy said if someone told her that her times in her individual events would drop as much as they did, she wouldn't have believed them.
"This year I think the training just clicked that we were doing and my teammates really pushed me in practice every day which obviously led to great results," she said.
Prior to the start of the season, WSU coaches told Bokowy she could drop four seconds off her time in the 200 free. And she did with a 1:49.78 at the conference championships.
"My coaches were very invested and they believed in me the whole way," she said.
Bokowy was one of 304 athletes named to the Pac-12 Winter Academic Honor Roll this week, joining seven of her teammates. Bokowy and the rest of the Cougars take pride in dominating in the classroom and the pool and she said head coach Matt Leach adjusts around their schedules if they need to study or attend their professor's office hours.
Bokowy is majoring in data analytics with an emphasis in business and minoring in political science. She hasn't narrowed down exactly what she wants to do with those degrees after college but she has interest in using data analytics to determine the demographics of people voting in elections.
Some of Bokowy's favorite memories this season came at the Pac-12 Championships watching her teammates break school records while cheering them on and helping the 400 free relay team shatter the WSU record in the event.
Two months before the conference championships, Bokowy and one of her teammates on the relay team looked up at the record board at Gibb Pool and realized that the record was within reach. So Bokowy — using data analytics — determined after practice that if each of the swimmers put their current best times together they would break it.
Those calculations came to life at the end of February.
"It wasn't just the four of us who did it, it was our whole team that did it," she said.
Bokowy plans on continuing to push herself to get better heading into her junior season alongside her best friends on the team, Emily Barrier and Keiana Fountaine, who swim in the same events.
Bokowy enjoys the team spirit the Cougars have and how motivated everyone is to improve each practice.
"My teammates are the best, I couldn't have asked for a better team," she said. "We're just so close and we go through so much together. We know each other so well and we can get each other through the hard practices and the hard days ... They've really been the reason that keeps me going."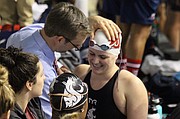 Recent Headlines
---