State parks see waves of WA visitors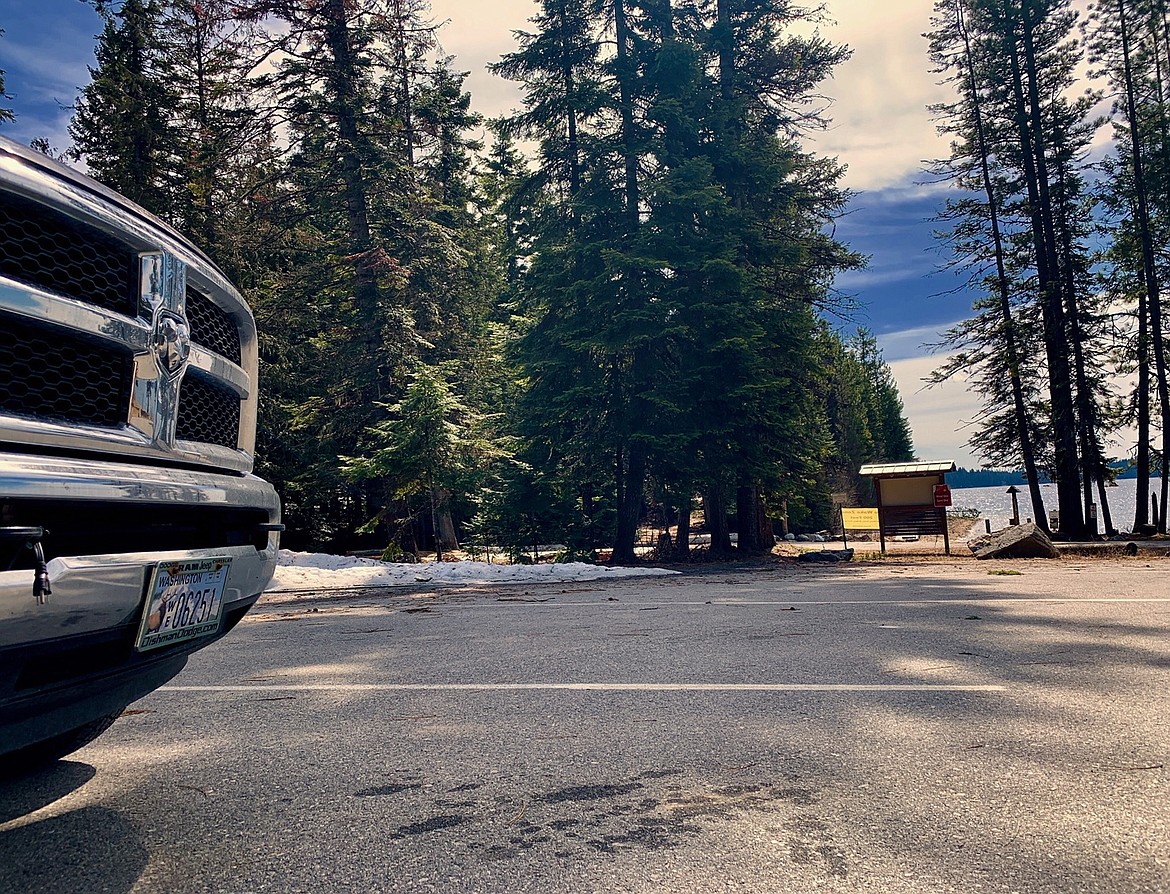 Idaho state park day-use areas — packed full over the weekend — thinned out by Tuesday when this picture was taken at Priest Lake State Park. Park managers in North Idaho say the number of vehicles since COVID-19 restrictions were put in place last month has doubled the use of state parks, with most of the visitors coming from out of state.
RICH LINDSEY/Courtesy photo
by
RALPH BARTHOLDT
Hagadone News Network
|
April 9, 2020 1:00 AM
If you go, be cool, follow the rules
There were no fireworks, but the weekend crowd at Heyburn State Park was as immense as the throngs expected at the height of the summer.
"It was like the Fourth of July," Heyburn Park manager Ron Hise said.
No one walked barefoot in the park last weekend, because despite the warm temperatures, snow still lingered in the shade.
Hise, who oversees Idaho's oldest park a half hour drive south of Coeur d'Alene, said recent restrictions on outdoor recreation in Washington, where COVID-19 concerns have prompted the closure of outdoor activities including fishing, have pushed tourism to the brink in places like Heyburn.
Idaho state parks are open for day use — it costs $5 per vehicle per day — and many state parks in North Idaho are just a short drive from the Evergreen State.
That makes them the perfect place for Washingtonians to visit when their state is locked down.
"For a lot of them, we're the only game in town," Hise said.
His park saw an increase of more than 800 vehicles in March after Washington Gov. Jay Inslee started locking down the outdoors and ordering people to stay home.
Parks across North Idaho have seen similar increases.
"The big part here is the fishing," said Mary McGraw, manager of Round Lake State Park south of Sandpoint, which has seen an infusion of spring visitors.
A storm a couple weeks ago blew trees into her campsites, and the mess is still being cleaned up, she said, so the campsites aren't being used as overflow for day use. Overnight camping at state campsites in Idaho is closed, but all day-use facilities are open.
Last weekend more than half the visitors were escapees from Washington, which isn't necessarily unusual because the park is 20 miles from the state line at Newport.
"And we have a lot of people from Spokane that come here too," McGraw said.
So far this spring, Round Lake has been a hot ticket.
"We're well above our normal visitation," she said.
Farragut State Park has seen an influx of spring activity. Park manager Randall Butt said staff have put out extra picnic tables, strategically distanced, all over the park for families to enjoy on a day-use basis.
"To keep the social distancing aspect intact," Butts said.
Butts is encouraging Idahoans to come out and use the park to get some fresh air.
"Stay at home and recreate locally," he said.
Because snow is still knee deep in much of the Priest Lake area with some state managed parks snow locked, the two open state parks including Indian Creek and Lionhead have been jammed with day users.
Two years ago, Indian Creek registered 120 vehicles, and the number increased to 150 at this time last year. So far this year, 350 vehicles have used the park, said Lonnie Johnson, park manager.
"So, it has more than doubled," said Johnson, who three weeks ago was plowing out camping areas — Idaho had not yet prohibited camping at state parks — to make room for the surge of spring visitors.
The Lionhead parking lot, which has room for about 15 vehicles, was chock full last weekend, Johnson said.
"That tiny lot had 33 vehicles," he said. "They were parking on the road."
Two-thirds of the rigs had Washington plates, he said.
Hise said the new — and unseasonal — interest in state parks is a good thing, but last week's infusion at Heyburn required that he pull his staff from trail duties to police the customers who did not pay park fees. They let their pets run loose, parked along roads despite signs warning against it, and partied in large gatherings in places off limits to users, Hise said.
"It's as if there were no rules," he said. "They didn't pay fees … their dogs were running loose … there was no social-distancing."
Staff spent the weekend reminding visitors of park regulations and Gov. Brad Little's safe recreating orders.
With warmer weather on the horizon, Hise hopes for more considerate crowds in the future.
"If they pay their fees and follow the rules, it will be safer, and easier on everybody," he said.
---