'We needed this': SHS celebrates senior class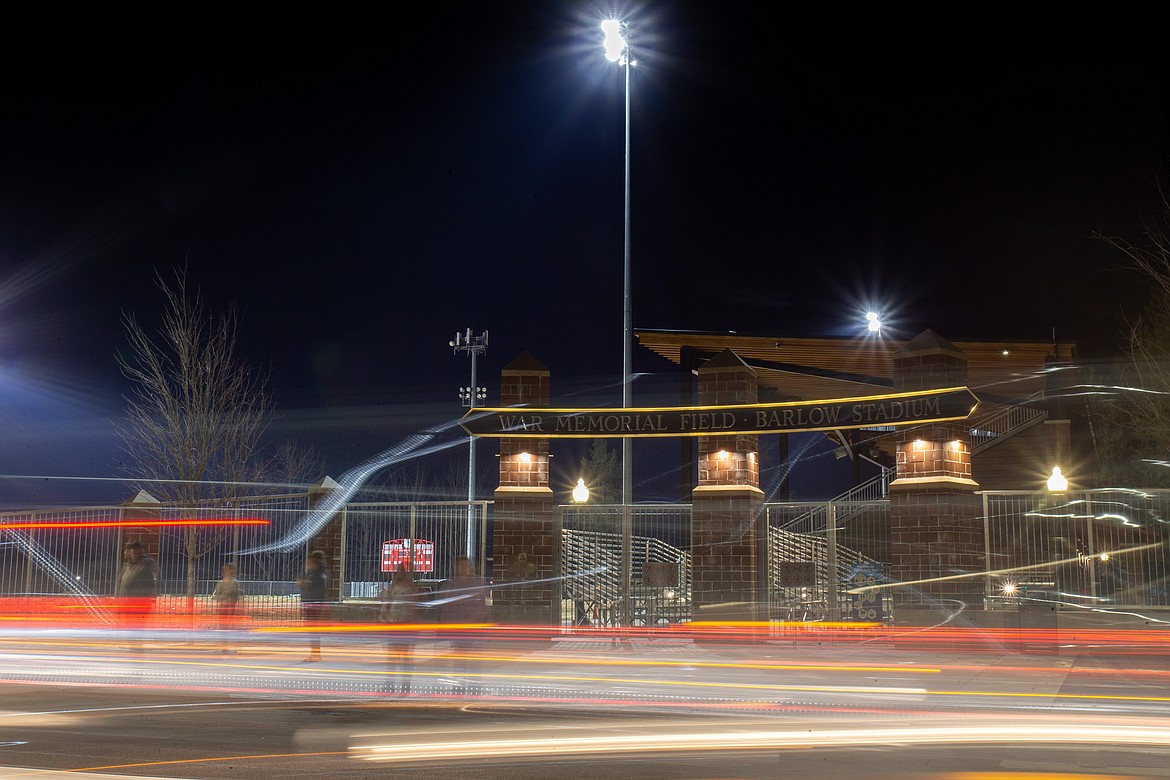 Hundreds of people drove past a lit up War Memorial Field on Friday night to celebrate the 2020 SHS senior class as part of the nationwide "Be the Light" campaign.
(Photo courtesy of JASON DUCHOW PHOTOGRAPHY)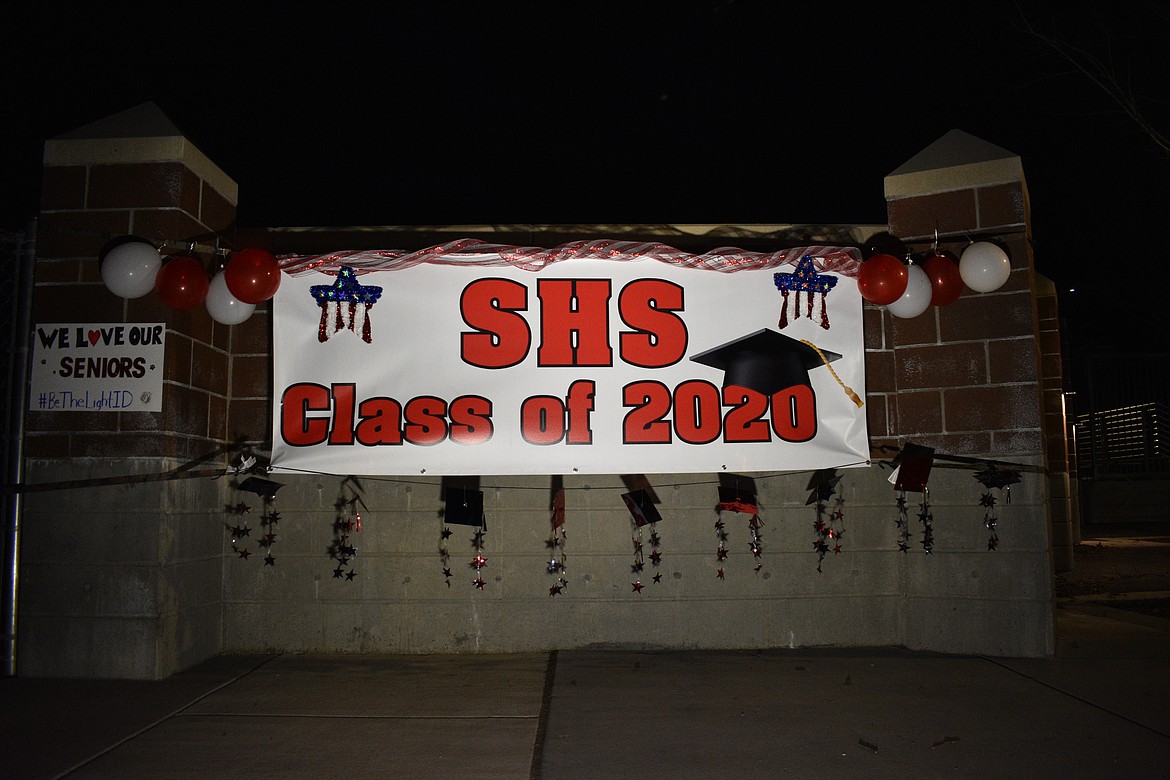 (Photo by DYLAN GREENE) This banner was hung up on the wall outside the entrance to War Memorial Field. Seniors stopped to take photos with the banner created by Illustrated Business Card and Sign.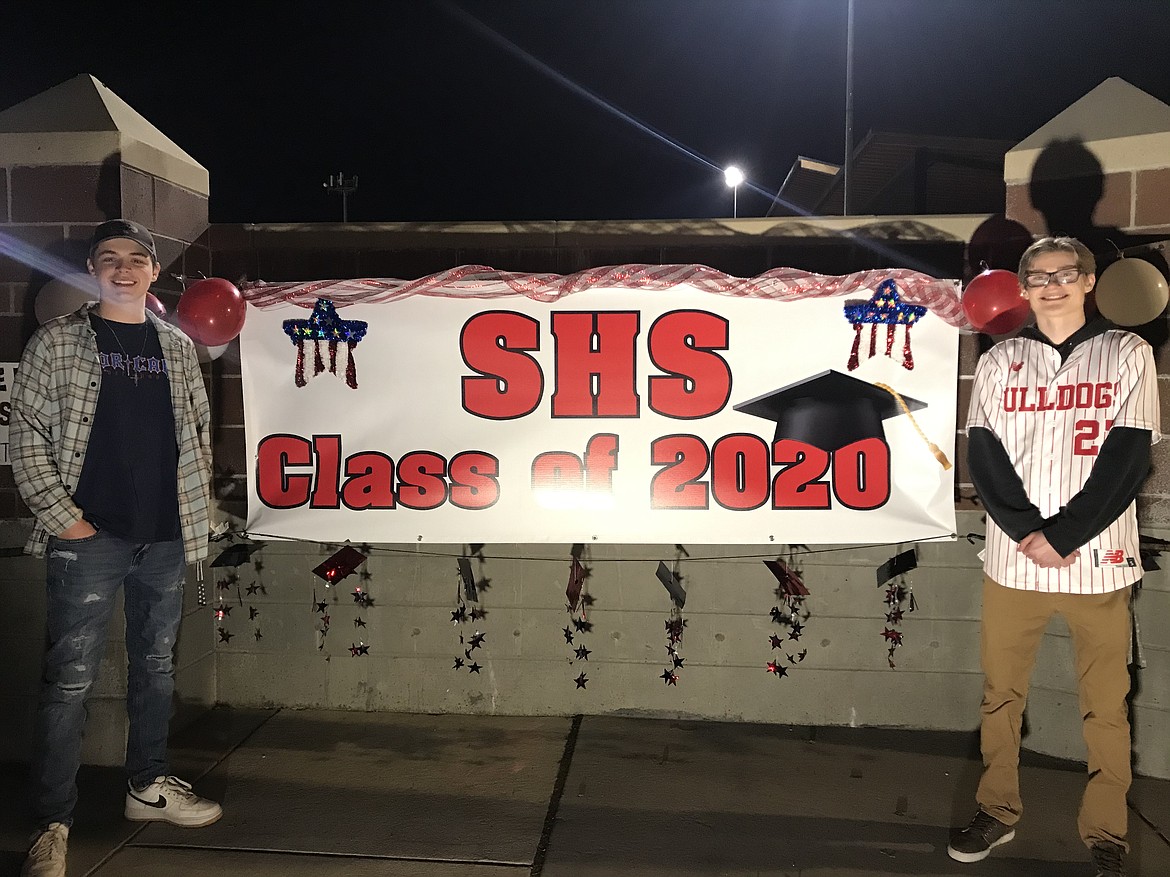 (Photo courtesy of DEBBIE EDLUND) Seniors Colton Lunde (left) and Ethan Edlund pose for a photo in front of the banner honoring the senior class at Friday's "Be the Light" event.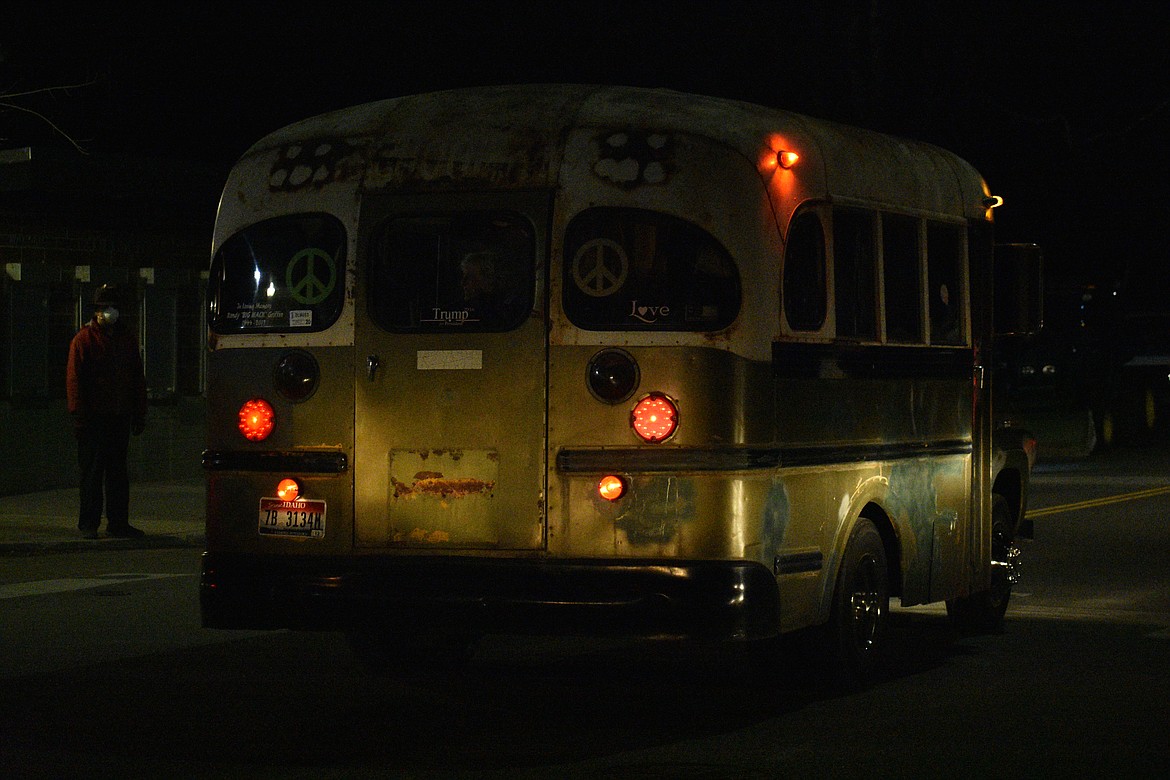 (Photo by DYLAN GREENE) A retro bus cruises down Ontario Street during the "Be the Light" celebration Friday night at War Memorial Field.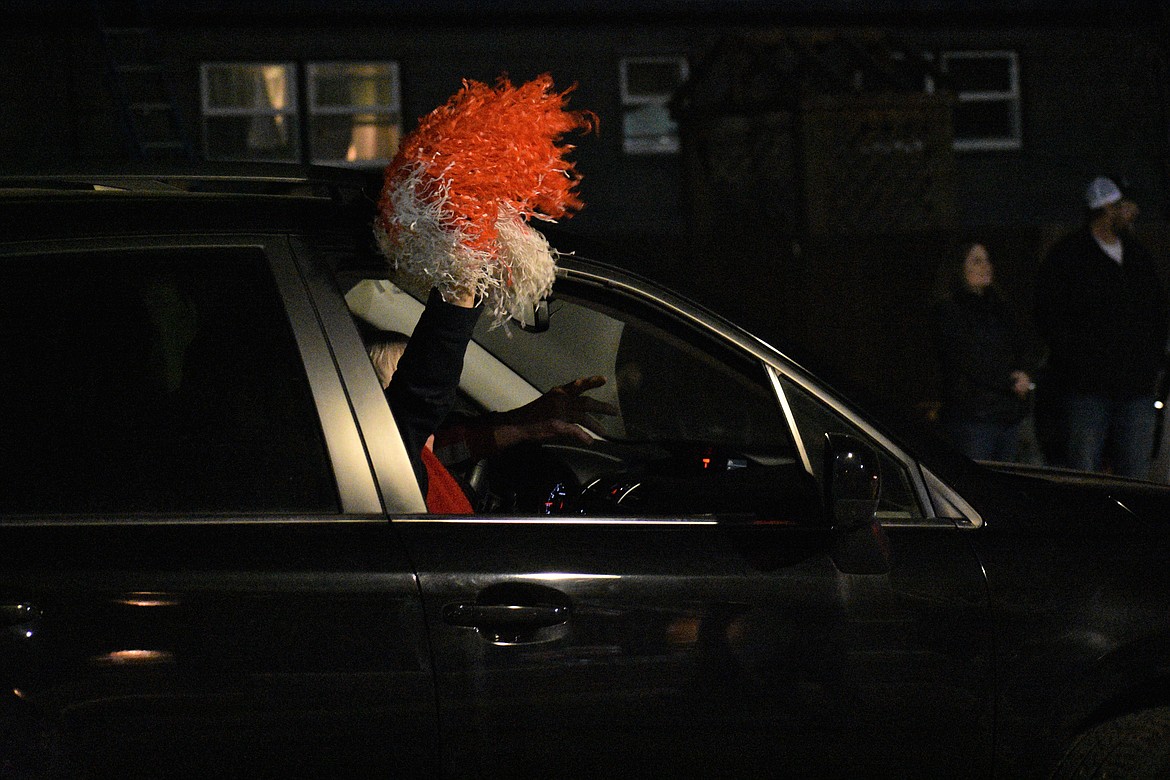 (Photo by DYLAN GREENE) SHS students, families and seniors parade down Ontario Street on Friday night.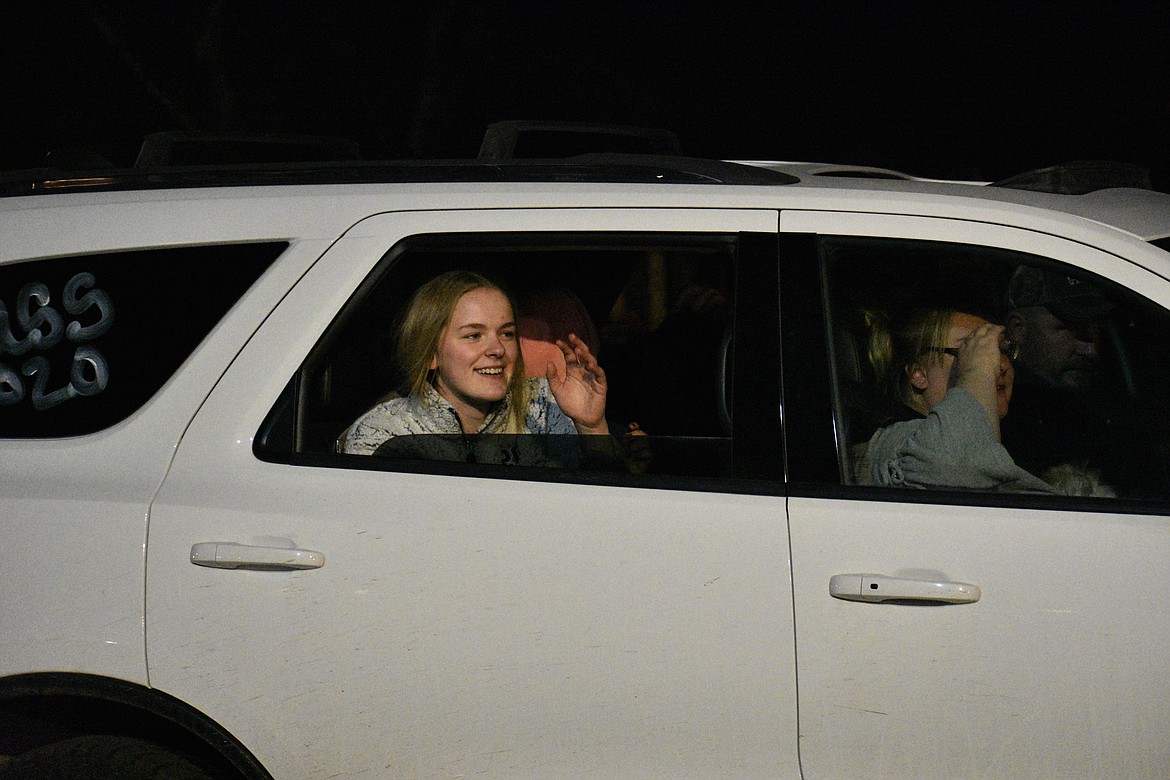 (Photo by DYLAN GREENE) SHS students, families and seniors parade down Ontario Street on Friday night.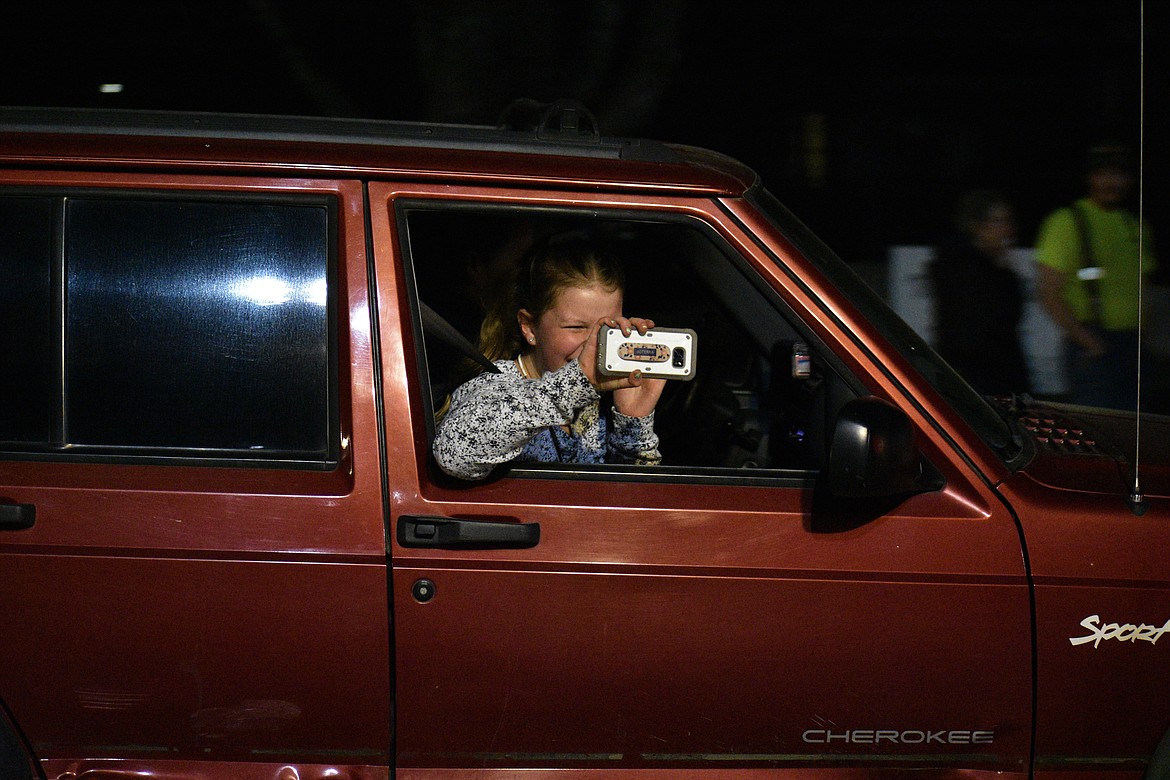 (Photo by DYLAN GREENE) SHS students, families and seniors parade down Ontario Street on Friday night.
Previous
Next
by
DYLAN GREENE
Sports Editor
|
April 11, 2020 1:00 AM
SANDPOINT — If you happened to roll past Ontario Street on Friday night without the slightest idea of what was going on, you might have thought the football team had just won the state title on their home field. Horns were honking, kids were screaming and the Bulldogs red and white colors were flying from one car after another.
Unfortunately that wasn't the case but the noise and dozens of cars that cruised past War Memorial Field on the mild spring night meant something to the 2020 Sandpoint senior class. It gave them something to hold onto in a time of uncertainty due to the novel coronavirus pandemic. In a time where they are having the most memorable moments of their high school careers ripped away.
"To me we saw a lot of smiles," Sandpoint Athletic Director Kris Knowles said, "and we haven't seen a lot of smiles in a while so some people may not think it's the greatest thing ever but I think it is because we saw some kids happy tonight."
For 20 minutes on Friday night, War Memorial Field lit up to celebrate the 2020 class as part of the nationwide "Be the Light" campaign. Utilizing an app on his phone, Knowles gave life to the lights in the stadium and hundreds of high schools in Idaho did the same when the clock struck 8:20 p.m. (20:20).
SHS families were forced to stay in their cars to adhere to social distancing guidelines but dozens of seniors that showed up, got out of the car and made their way to a "SHS Class of 2020" banner hung on the wall right next to the entrance of the stadium. Camera flashes caught each seniors' moment with the banner. A picture they'll hold onto for the rest of their lives.
The banner idea came from Melissa Irish, the mother of senior Jaycie Irish. Once she heard about the event she reached out to Knowles to see if she could put a banner on the fence. Once she got the OK she called John Mace, who owns Illustrated Business Card and Sign in Coeur d'Alene. Mace took it from there and helped design the banner that was completed just hours before the celebration.
"The timing worked out perfect," he said.
One of Mace's daughters is a senior at SHS. He said he felt honored to have the opportunity to make the banner for her and the rest of her peers.
"It means a lot," he said. "You don't remember a whole lot about your four years [in high school] but those last two months of your senior year a lot happens and it's a lot of fun so its disappointing these kids aren't ever going to have those memories."
Melissa, Jaycie and others showed up about an hour before the event began to hang up the banner.
"We wanted to make sure the kids were recognized because it's such a tough time for them right now," Melissa said. "It turned out great so I'm happy."
Jaycie, a pitcher on the softball team, wore her jersey to the event. She said she's been struggling with being isolated from her friends and teammates and is glad they got to have this memory as a senior class.
"We don't even know if we're going to have a graduation or a prom or anything so just thinking I might have this moment with my friends is really nice," she said.
Jaycie had aspirations of making it to state with the Bulldogs this year but now it seems almost inevitable that the spring sports season will be canceled in the coming days and she will never take the field this season.
Jaycie is having a hard time dealing with that reality but has leaned on her loved ones for support.
"I was best friends with all those girls on my team so just thinking I'm not going to be able to play with them again is really hard," she said. "I've been looking forward to this since fifth grade when I started playing softball ... and not being able to do that is heartbreaking."
Knowles said parents came up to him during the event and thanked him for doing it. The common theme he heard from them was "we needed this."
"I think maybe it gave [seniors] a sense of, we are Sandpoint, you are part of the community and we value you," he said. "That was kind of the idea behind it and I think that kind of shined through."
---