BGH cleared for COVID-19 testing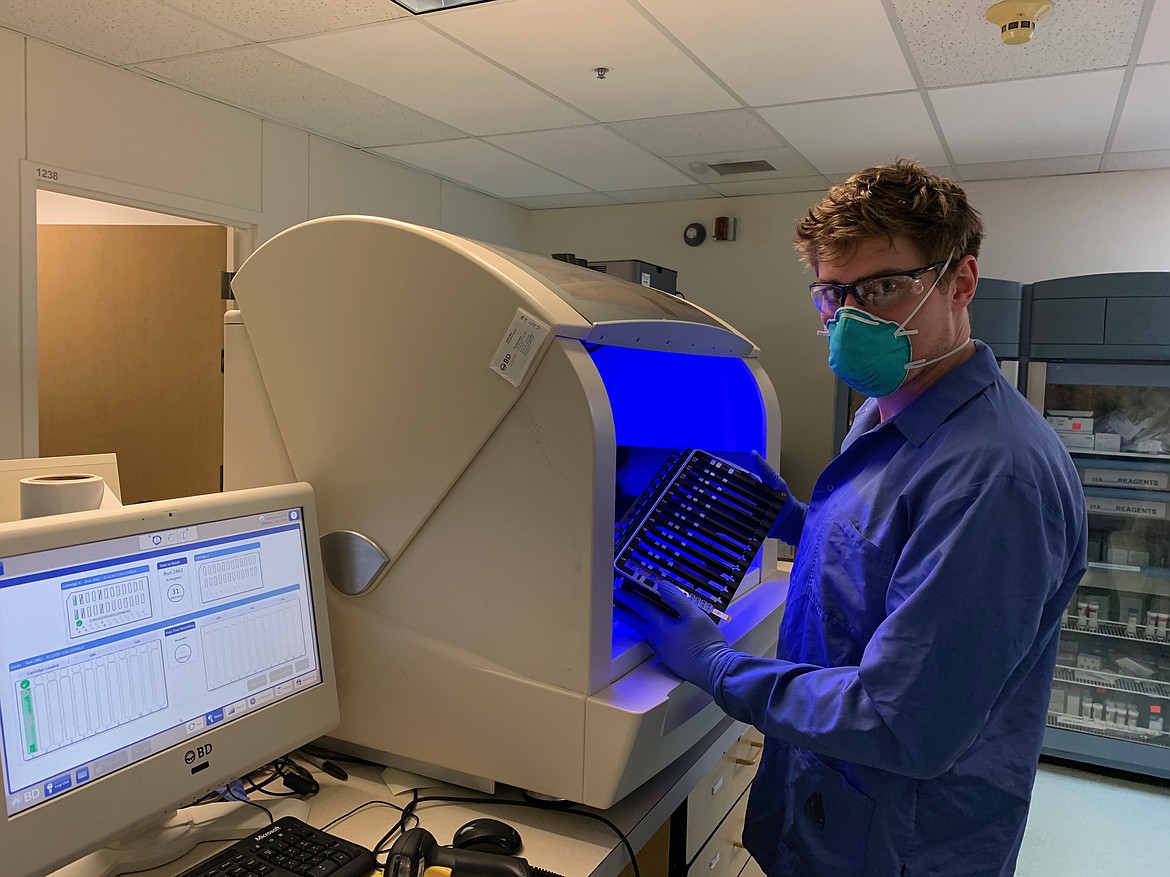 A Bonner General Health employee is pictured at work in the hospital's lab. The Sandpoint hospital recently had its testing system validated, opening the door for it to conduct novel coronavirus tests in-house.
(Photo courtesy BONNER GENERAL HEALTH)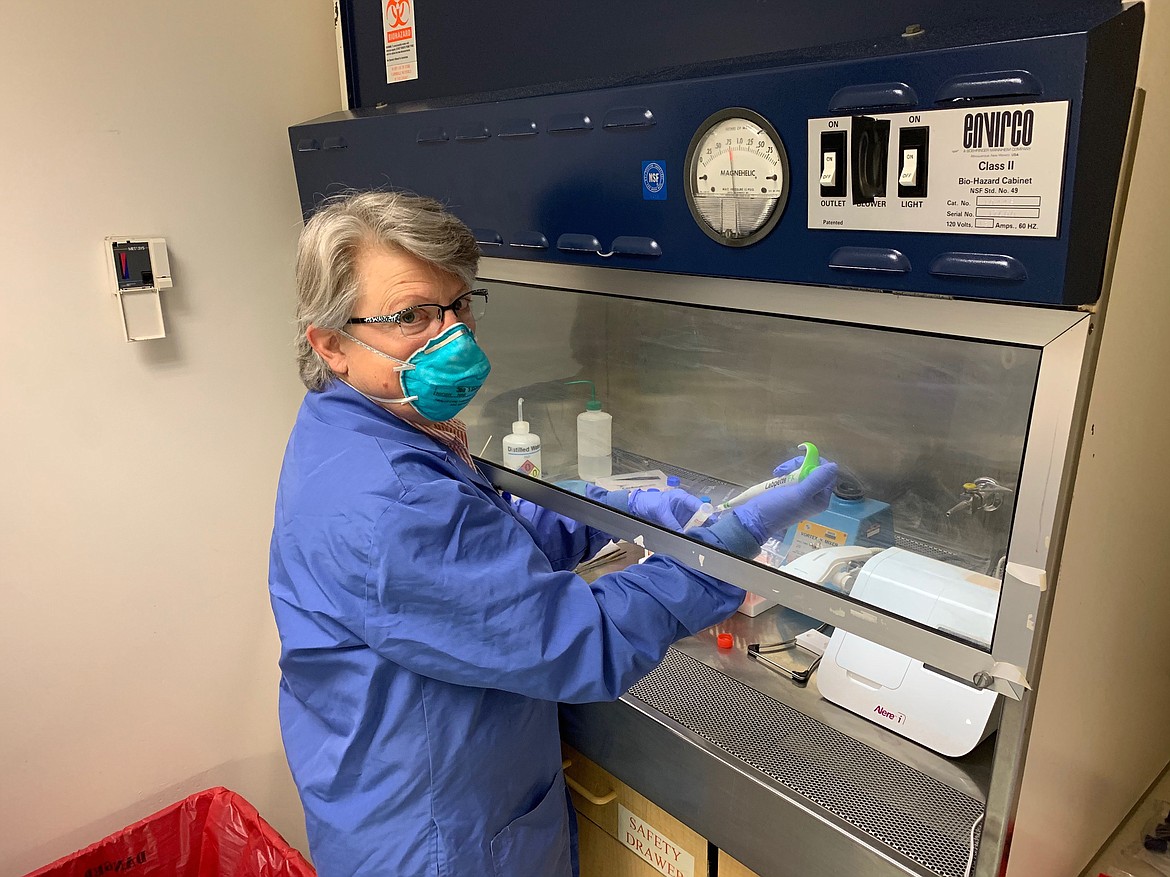 (Photo courtesy BONNER GENERAL HEALTH) A Bonner General Health employee is pictured at work in the hospital's lab. The Sandpoint hospital recently had its testing system validated, opening the door for it to conduct novel coronavirus tests in-house.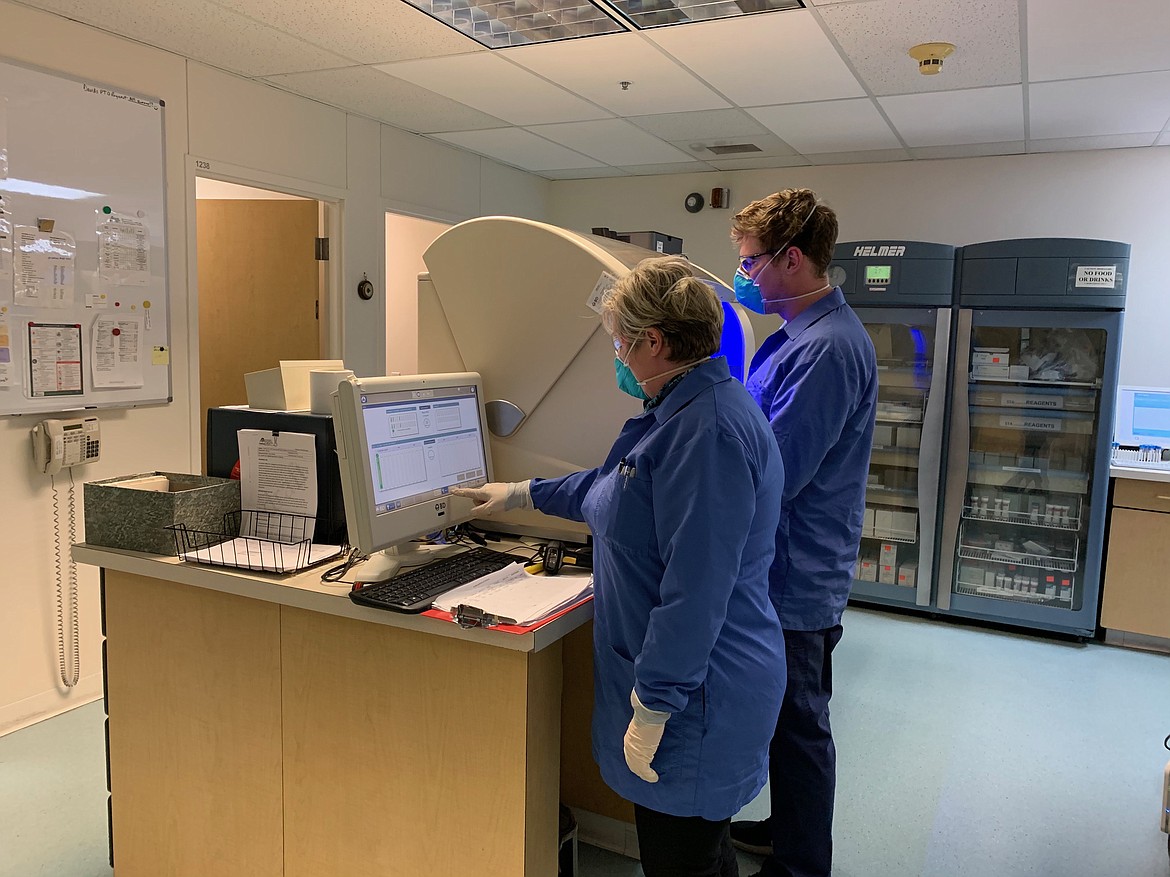 (Photo courtesy BONNER GENERAL HEALTH) Bonner General Health employees are pictured at work in the hospital's lab. The Sandpoint hospital recently had its testing system validated, opening the door for it to conduct novel coronavirus tests in-house.
Previous
Next
by
Caroline Lobsinger
Staff Writer
|
April 14, 2020 1:00 AM
SANDPOINT — Now instead of waiting three to five days to find out if a patient has COVID-19, now that Bonner General Health was cleared to perform its own tests, it will take only a fraction of the time to confirm diagnosis.
The validation of its in-house testing system means it will only take three or four hours for results instead of up to five days by sending tests to its reference lab, BGH officials said.
The ability to conduct in-house COVID-19 tests comes after a lot of hard work and dedication by Bonner General Health's lab team, said Erin Binnall, hospital spokesperson. "I want to acknowledge their hard work and efforts put in place early on when COVID-19 was just starting to be an issue here in the Panhandle."
While the in-house tests will speed up the process, for now the capacity for testing remains the same, Binnall said.
"This news was shared to celebrate the speed of our new testing, not the capacity. We don't want the public thinking they can flood in for a test. Not yet. We will let everyone know when and if testing becomes so widely available that we can swab any and all residents meeting the COVID-19 criteria of Bonner County."
Before getting in-house testing, BGH was limited by the amount of transport media it could acquire, BGH lab officials said. Now the hospital is limited by the number of swabs and test kits it has on hand.
"Hopefully, as these companies ramp up production, the supply chain won't be impaired," BGH officials told the Daily Bee. "The fact that a rural lab like ours got any test reagents at all having only a few confirmed cases is a good sign for test reagent production."
Testing volume capacity now depends on how many test reagents the hospital receives, lab officials said.
"We don't have enough to test the whole county by any means, but we can get faster answers for patients who meet the criteria of our physicians," Binnall said.
Individuals should get tested if they are symptomatic, fever, cough. Shedding the virus is key to obtaining an accurate result, hospital officials said. First, the virus is replicating; then it has to leave the body through a cough, sneeze, and runny nose — referred to as shedding — and when an individual is contagious.
BGH lab team members were ready to provide the tests in late March but had to delay their plans when the company decided to manually allocate test kits to "hot spot" areas. As a result, BGH was pushed to the bottom of the list.
"With increased production we are slowly getting our order filled weekly and will continue to order test kits as able," Binnall said.
The commercially made kit, purchased by the hospital on March 20, is compatible with the hospital's PCR analyzer currently used to perform a variety of tests and panels. Once the company got approval through the Food and Drug Administration for the test's use in the U.S., production was increased to ensure the system was widely available.
BGH lab officials said the in-house test the hospital is using, and will continue to use as needed is through its reference laboratory, uses the same methodology — RNA detection — but a different company and instrument.
"The referred test had a 93.7% sensitivity where our in-house test sensitivity is 95%," lab officials told The Daily Bee.
For the test to win approval, the Bonner General officials had to write a procedure for use in the hospital's lab. Lab officials also had to test known positive and negative samples, showing their testing system and an already proven method achieved the same results.
That process was done over a period of time, and with different personnel, to validate every step of the process, BGH lab officials said. The validation samples were obtained from purchased commercial quality control reagents, samples from the Idaho Bureau of Laboratories in Boise and samples tested by the hospital's reference laboratory. The 30 samples were tested — 15 positives and 15 negatives — by all BGH lab personnel who will be performing the test.
The in-house test system will allow BGH to quickly determine the COVID status of a patient. If the patient needs to be admitted, they can be held in the hospital's ER quarantine room until their status is determined. If they are positive for the virus, they can be moved to the hospital's COVID dedicated isolation wing or into a normal room and care from nurses outside the isolation area if test results are negative.
"This saves supplies, time and stress for all involved," Binnall said.
Caroline Lobsinger can be reached by email at clobsinger@bonnercountydailybee.com and follow her on Twitter @CarolDailyBee.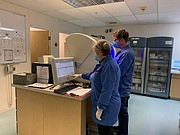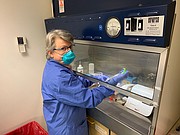 ---