Survey finds more mountain goats in Selkirks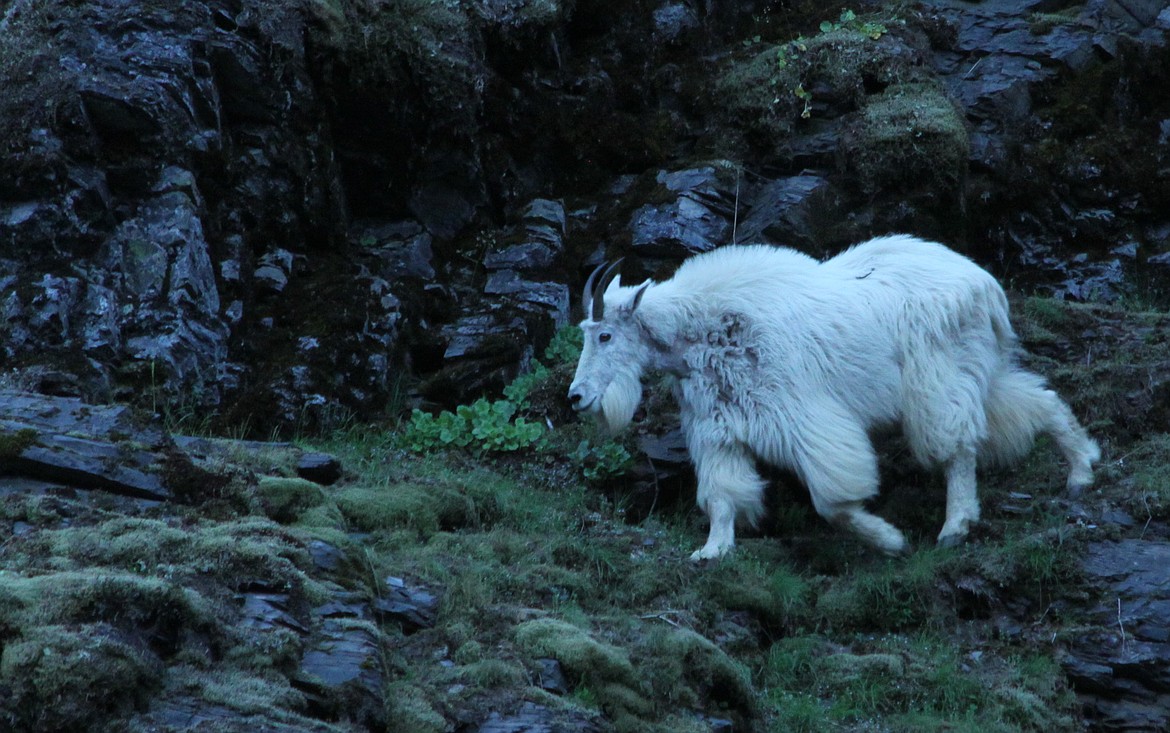 Mountain goat numbers are thought to be relatively stable in the Snow Peak area, with populations ranging from Snow Peak to Foehle Creek along the Little North Fork of the Clearwater River, north to the Sisters Creek drainages and west to Fishhook Creek, south of Avery. The population, which runs south of the St. Joe River to the Clearwater region, is scattered and has not been recently tallied.
RALPH BARTHOLDT/Press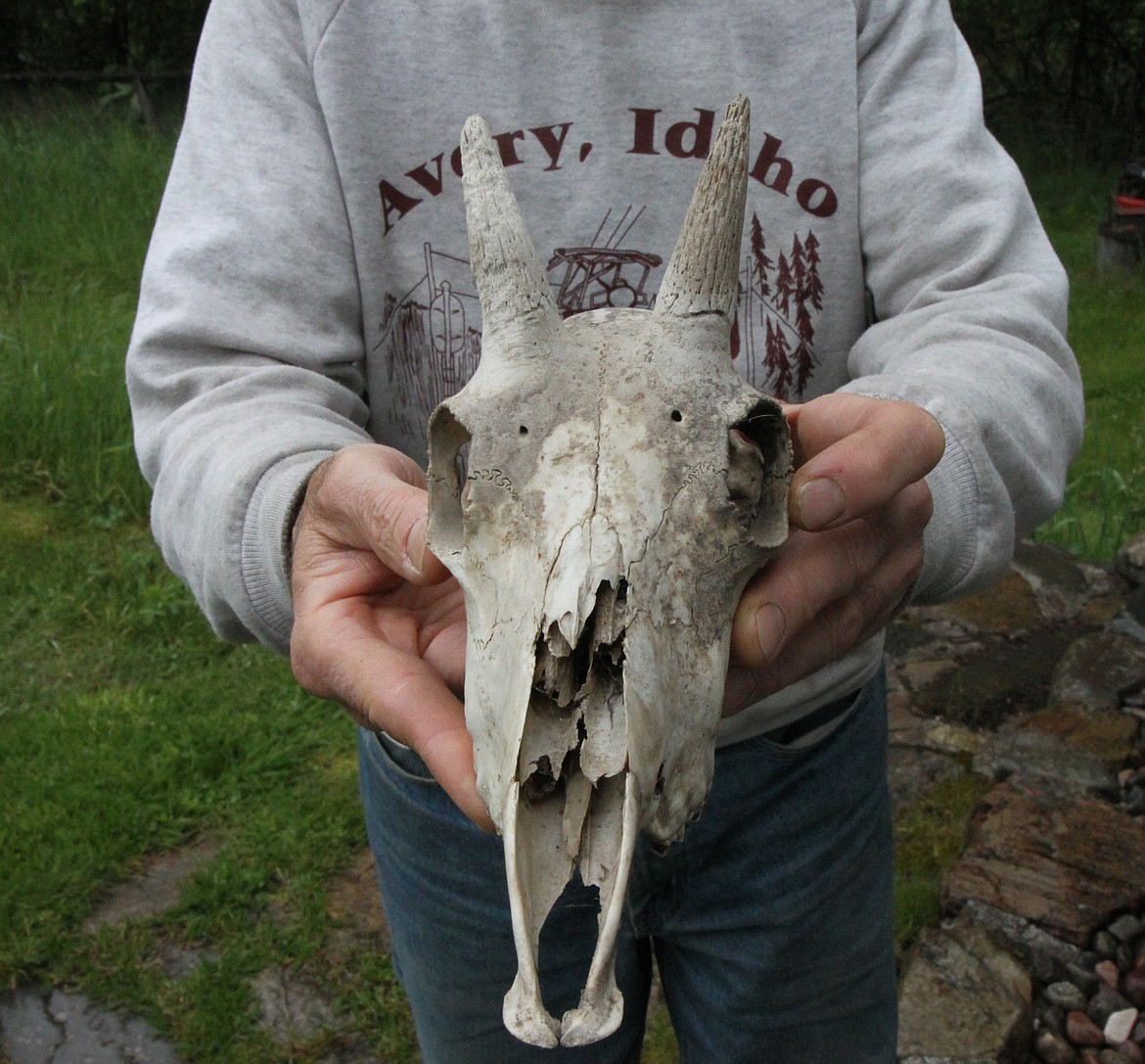 Former Avery postmaster and Forest Service hydrologist Wade Bilbrey holds a mountain goat skull he found in the St. Joe River area.
RALPH BARTHOLDT/Press
Previous
Next
by
RALPH BARTHOLDT
Hagadone News Network
|
April 21, 2020 1:00 AM
Hunters can apply for permits until the end of April
A North Idaho mountain goat survey found almost twice as many goats in the Selkirks than a previous survey.
The number of mountain goats counted by state biologists in a February survey was almost double than the number of goats counted in a 2001 survey, according to Idaho Fish and Game.
This year's aerial survey found 57 goats in Unit 1, up from 34 goats the last time mountain goats were counted there, Fish and Game said.
Biologists counted 11 goats in a pocket of the Cabinet Mountains, where mountain goats move back and forth between Idaho and Montana. Population estimates there have ranged from 50 to 80 animals between both states. Biologists who surveyed the Idaho side of the range in 2001 counted 16 goats there.
The latest survey is a spinoff from a public opinion poll that asked for an updated mountain goat survey in Unit 1. Fish and Game biologists surveyed a 15-mile stretch of the Selkirk Crest between Canada and Harrison Peak and estimated the ratio of kids — juvenile goats — to adults to be 13 juveniles for every 100 adults. Based on the numbers, the recruitment rate is a little lower than what IDFG considers optimal, according to the report.
The state's latest goat management plan, written by IDFG biologists, recommends a hunting season when at least 100 goats make up a population, with a ratio of 15 juveniles to 100 adults, according to IDFG.
"The Selkirk herd is estimated to have a slightly less than average recruitment rate for Idaho mountain goat populations," wildlife biologist Laura Wolf said.
The more stringent numbers were adopted since 2016 when goat management in the Panhandle regarded populations of 50 mountain goats feasible to support mountain goat hunting, although "harvest shall not exceed 5 percent of the adult segment of the population, except during periods of high recruitment," according to a statewide mountain goat report.
Idaho hunters have until the end of this month to apply for moose, bighorn sheep and mountain goat permits.
The history of goat populations in the Selkirks shows three goats were counted there in 1981, followed by translocation of 28 goats to the region from Snow Peak at the edge of the St. Joe and Clearwater river drainages.
Goats have also been observed along the southeastern stretch of Lake Pend Oreille from Button Hook to Lakeview and on the Green Monarch mountains. In 2001, 31 goats were observed from Buttonhook to Lakeview, but goats on the Green Monarchs are "only occasionally sighted," according to the IDFG report published four years ago.
Mountain goat numbers have remained relatively stable in an area generally referred to as Snow Peak, which encompasses the Upper Clearwater and Panhandle's southern St. Joe River region, with populations ranging from Foehle Creek along the Little North Fork of the Clearwater Raiver, north to the Sisters Creek drainages and west to Fishhook Creek south of Avery.
The population there is scattered and has not been recently tallied, although a survey was attempted in July 2015 in which nine goats were observed in the Sisters Peaks areas.
"Observers were sent out in pairs to observe likely goat habitat," in Unit 7, but "fog and rain made glassing difficult and summer may be too warm of a season to effectively spot mountain goats during the day," according to the IDFG report.
Snow Peak numbers range from 93 counted via aerial survey in 1957, with 12 kids per 100 adults, to 60 in 2001. The kids to adult ration 19 years ago was 28 per 100.
The estimated number of goats in the Panhandle Region, based on aerial observations, range from 70 in 1961 to about 140 in 2001, according to the 2016 report.
Besides Panhandle and Clearwater groups, Gem State mountain goat populations are fragmented and exist throughout central Idaho, and in Hells Canyon and the Snake River Range.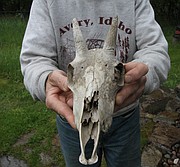 ---