Ruling favors PUD over land sale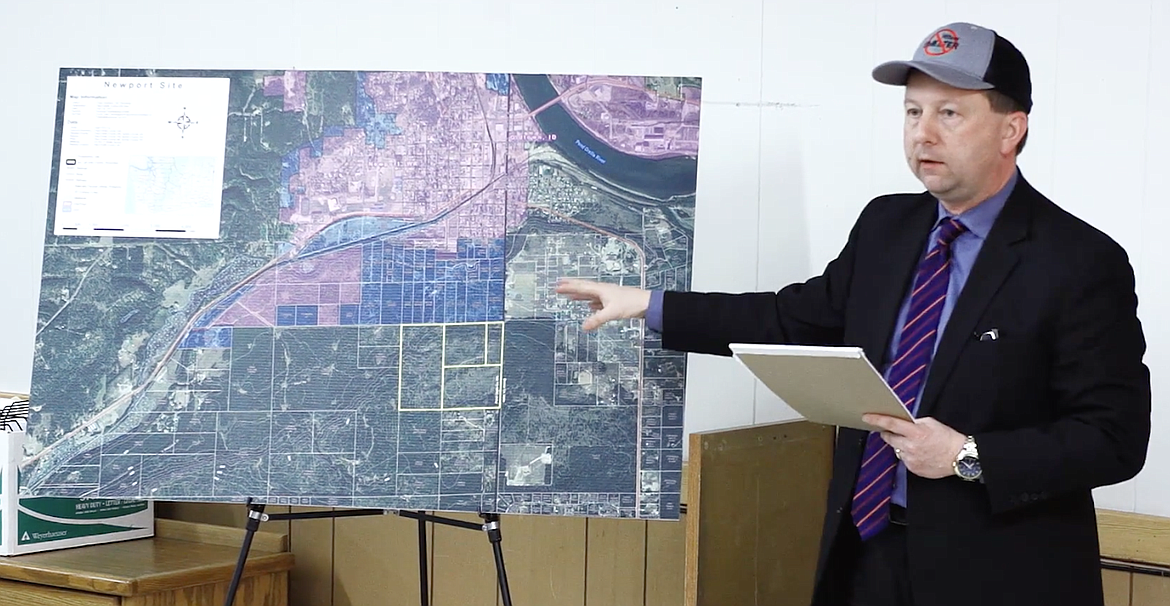 (Image courtesy CANSS FACEBOOK) Cititzens Against the Newport Silicon Smelter's counsel, attorney Norm Semanko, address the group's members on March 26.
by
Keith Kinnaird
News Editor
|
April 22, 2020 1:00 AM
NEWPORT — Washington's Court of Appeals is affirming the dismissal of a lawsuit challenging the sale of public property to the developer of a proposed silicon smelter.
The court released a 28-page unpublished opinion on Tuesday dismissing a lawsuit brought by Citizens Against the Newport Silicon Smelter and Responsible Growth*NE Washington. The decision upholds the Pend Oreille Public Utility District's purchase of land from Pend Oreille County to acquire a utility easement, in addition to the sale of that and other PUD-owned parcels to HiTest Sands, which is now known as PacWest Silicon.
Responsible Growth alleged that Pend Oreille County PUD failed to declare a parcel as surplus before selling the parcel to HiTest Sand and failed to conduct an election of the PUD voters regarding the sale. The group further argued that the PUD operated beyond its statutory authority when it purchased land from the county.
The PUD moved for summary judgment to dismiss Responsible Growth's causes of action. Responsible Growth, meanwhile, filed cross motion for summary judgment.
The trial court granted the PUD's motion, but denied Responsible Growth's motion.
The appeals court upheld the lower court's ruling.
"Construing the public utility district's powers liberally, the PUD held power to purchase a larger tract of land if such purchase would conveniently effectuate the reservation of an easement from a portion of the tract of land," Judge George Fearing said in the opinion.
Judges Kevin Korsmo and Robert Lawrence-Berrey concurred with Fearing's finding.
The appeals court also addressed the sale of property to PacWest.
"The undisputed facts show [the county parcel] to be useless to Pend Oreille County PUD once it retained an easement across the west side of the tract. The PUD confirmed the land's uselessness by a retroactive resolution," Fearing wrote.
The Pend Oreille PUD cheered the favorable ruling.
"We are very pleased that both the trial court and the court of appeals properly interpreted the broad authority of public utility districts in the exercise of their business judgment on behalf of PUD ratepayers, including the sale and purchase of real property," said Tyler Whitney, general counsel and assistant general manager of the PUD.
Responsible Growth called the ruling "unfortunate" and called the precedent it sets "alarming."
"The courts have decided it's OK to not follow law or procedure for a land sale of public land if the irregularities are fixed afterward. They also are condoning finding justification of the sale of public land after the fact," the group said.
Responsible Growth said it is considering its options in challenging the ruling.
Keith Kinnaird can be reached by email at kkinnaird@bonnercountydailybee.com and follow him on Twitter @KeithDailyBee.
---