POAC offering learn-at-home art classes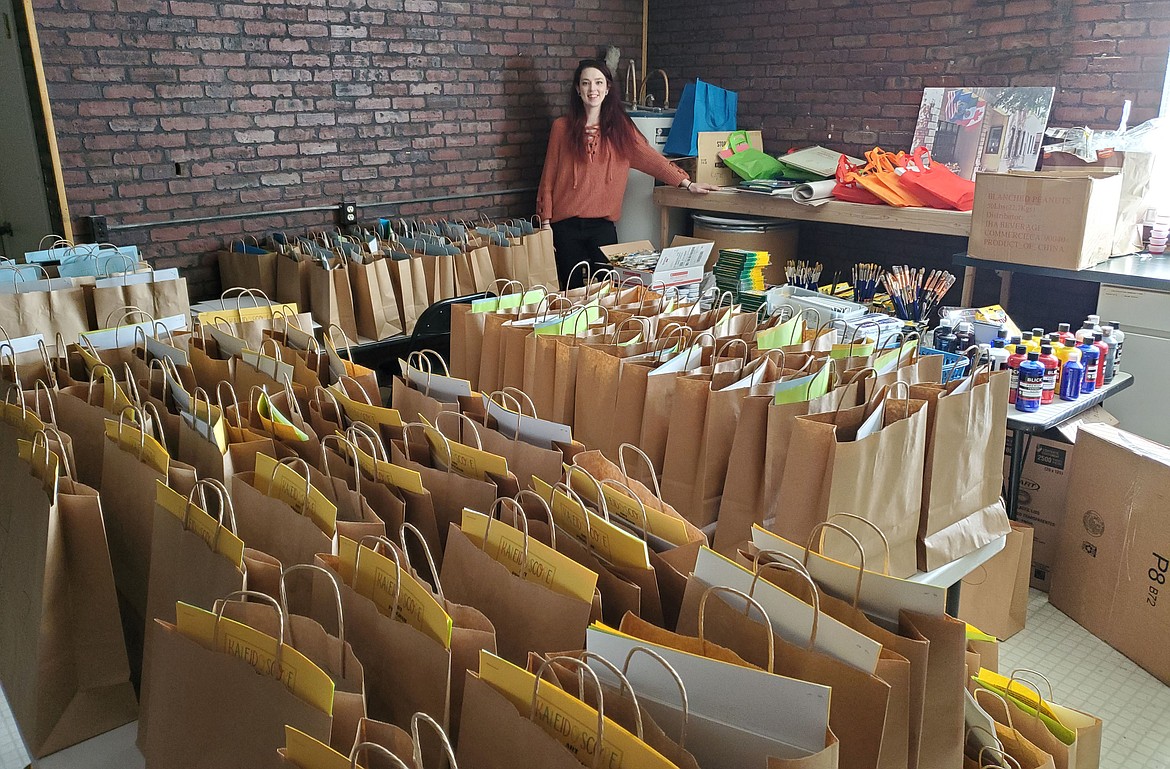 Pend Oreille Arts Council's Arts Coordinator, Claire Christy prepares over 800 Kaleidoscope-at-Home kits for local elementary school children so they can continue art education while learning at home.
(Courtesy photo)
by
Kathy Hubbard
|
April 23, 2020 1:00 AM
Pend Oreille Arts Council can't count the number of children who've been lamenting that they have nothing to do, but we can count how many children typically participate in the Kaleidoscope program.
This hands-on art education is provided to close to a thousand children in third to sixth grades in local elementary schools each school year. Sadly, these classes don't lend themselves to an online format.
But, POAC won't let art education get away from the community's learn-at-home school kids. For the last few weeks, POAC staff has been working feverishly to put together over 800 "Kaleidoscope-at-Home" bags for students in Bonner County.
These packets include all of the materials needed for a self-portrait drawing lesson along with the lesson plan. It's a great activity for the whole family! These bags will be provided free of charge to all the students who want them.
"In addition of being a benefit to the students, our hope is that it is of equal benefit to the parents who are also at home with their active children!" said Tone Lund, executive director of POAC.
"Our mission is to bring quality, hands-on art experiences to local elementary school students who might not otherwise have this opportunity, and we take this mission very seriously. We have been raising funds and collecting donations from individuals cleaning out their art supplies to help cover the cost of this program," Lund said.
"With limited staff and volunteers, Claire Christy, Arts Coordinator for POAC and former Kaleidoscope kid herself, has solely taken on the organization of this program. She has worked tirelessly to make sure that she has collected enough supplies for 800 bags," Lund said. "We started out with a much smaller goal but we could not in good conscience leave any children or their families without. Our goal is to have bags available for pick up at the schools on May 4th, when the students pick up their homework packets. "
Parents are asked to share their children's finished pieces online using the hashtag #POACatHome. "We hope to see a lot of great art work," Lund said.
Each "Kaleidoscope-at-Home" kit costs about $10 to build. Please consider helping us implement and expand this project to all students while they're isolated. You can help us complete this project by supporting one or more students with your donation to POAC at P.O. Box 1694, Sandpoint, ID 83864 or online to artinsandpoint.org and click on the donate button.
---