Maureen Hicks
Maureen Hicks' life journey began on October 9, 1946, when she was born in Newark, New Jersey, the first child of Jack and Mary (Aber) Hood. At the time her parents were stationed in New Jersey and both had been members of the U.S. Marine Corps during World War II.
At the age of two she and her parents moved to the town of Durango in Southwestern Colorado. It was there where she grew up enjoying numerous family camping and fishing trips with her siblings in the surrounding mountain regions of the state. Most of these camping trips usually involved either sleeping in tents, or under the stars.
As a young teenager, she and her family once rented a pull-behind tent trailer and vacationed at Yellowstone National Park. After seeing all the geysers, bubbling ponds, waterfalls, forests and wild animals she hoped to one day work at Yellowstone.
At the age of 14 her mother became quite ill and died a year later from brain cancer.
After graduating from Durango High School she attended Adam State College in Alamosa, Colorado, for four years where she earned a Bachelor of Science degree in education.
While Maureen never got to work at Yellowstone National Park, she did work a summer at Mesa Verde National Park in Southwestern Colorado. While attending college she also worked for two summers as an instructor at a mountainous camp for special education children.
After graduating from college in 1968, she accepted a job offer teaching special education on a military base in Fairbanks, Alaska.
In Fairbanks she met her future husband, Cecil Hicks, who worked as a smokejumper for the Bureau of Land Management.
They married on March 12, 1969, during a state-wide teachers convention held in Fair-banks. Over the years they raised five children: Brian, Tracy, Christy, Matt and Shawn.
For nearly 30 years Maureen loved teaching children before she retired. The first few years of her career she taught special education classes in Alaska and then Idaho. Eventually she transferred from special education to first grade where she found her teaching niche.
After both her and her husband retired from teaching careers in 2004, they took numerous vacations to many locations including southern Texas, southern Alabama, Florida and Hawaii. The Island of Maui was one of her favorite winter trips as she loved being alongside the ocean and taking whale boating excursions to watch the humpback whales. However, one of her all time favorite vacations was a fall outing to New England to view the scenic colors of the tree leaves in that region of the U.S.
On all their vacations they always planned to visit any neighboring wildlife refuges to view the animals and especially do a little bird watching.
For shorter vacations they would sometimes travel to Oregon's Pacific Ocean coast around the town of Seaside.
In 1980 the Hicks family moved to north Idaho from Alaska and lived for 13 years on nine acres of land in Selle Valley off Bluebird Lane, about ten miles north of Sandpoint. It was a good place to raise a family and was actually a small mini-farm
After living on their homestead in rural Bonner County they had a home built and moved into the Kootenai area near Sandpoint. At this home Maureen gardened and even talked Cecil into building a penned chicken coop and raised hens for eggs for eight years.
While she loved teaching, her other loves included her family, friends, gardening, her hobby of making Stampin' Up greeting cards and her life-long devotion to God. At one time in her life, before becoming a teacher and marrying and raising a family, she had considered becoming a nun.
During her late 20s she had a life-threating out-of-body religious experience while living in Chugach, Alaska (outside of Anchorage a few miles). Maureen was eight months pregnant with a baby boy named Timothy John when an artery leading to one of her kidneys burst. Later, while lying on the operating table in the ER room, she claims to have actually died. She said she traveled toward a bright light and went to heaven, but was given a choice of staying, or returning. She came back.
Besides losing a kidney, the next day her baby was still born. Over the years, she had only talked about this life changing experience with family members, real close friends, counselors and her church pastor.
On Wednesday, July 29, 2020 Maureen's life journey ended and she again traveled to Heaven for the final time.
Maureen is survived In Sandpoint by her husband, Cecil Hicks (they were married for 51 years). They had five children: Brian Hicks, of Careywood, Idaho; Tracy Wimberly, of Sagle, Idaho; Matt Hicks of Sandpoint, Idaho; and deceased are Christy and Shawn Hicks.
Maureen also has ten grandchildren and her first great-grandchild is scheduled to be born in December to Savannah Buppert of Post Falls, Idaho.
Her siblings include: Jackie Barrows, Durango, Colorado; Lois Conklin, Durango, Colorado; Pat Hood, Cold Spring, Minnesota; and Greg Hood (deceased).
No funeral service is scheduled. The family plans to hold a small home gathering to reminisce about her life and tell stories (all true of course) about how they will all miss this wonderful woman who changed all their lives.
In lieu of flowers, contributions could be made to either diabetes, lupus and cancer foundations.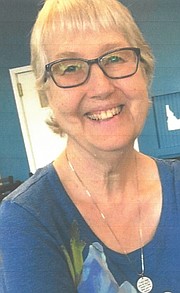 ---