Museum navigates present to honor the past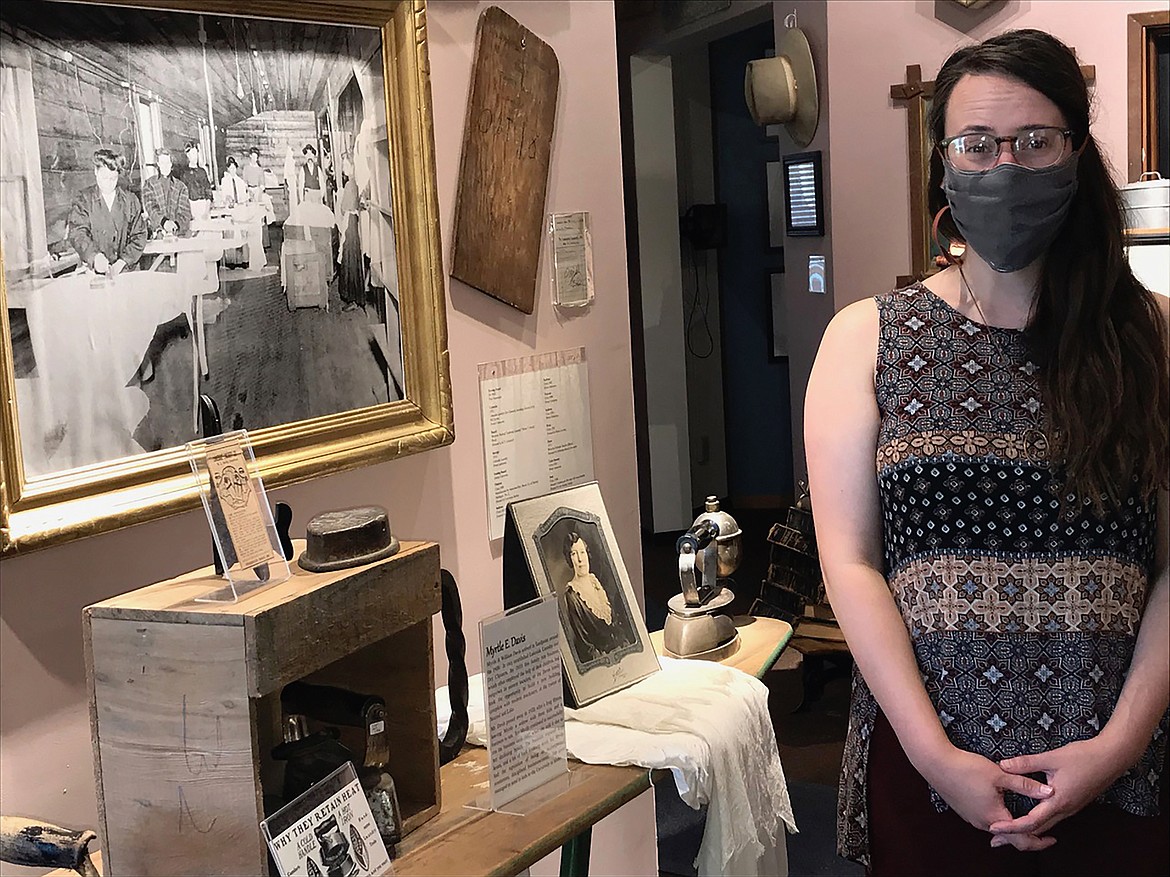 Hannah Combs, Bonner County History Museum's administrator, stands near artifacts belonging to Sandpoint's early-day influential women. "The Women Who Shaped Bonner County" will be on display into 2021, though staff are working on new projects including an exhibit on the history of the Bonner County Fair, which will be exhibited at the fair. Though some summer events have been canceled or postponed due to the COVID-19 virus, the museum's attendance has remained the same as is typical for summer months.
(Photo by SUSAN DRINKARD)
by
Susan Drinkard
|
August 2, 2020 1:00 AM
SANDPOINT — It holds our county's past between its walls.
At the Bonner County History Museum you can see artifacts, dresses, and photos of the 20 most influential women of Sandpoint's early days. "The Women Who Shaped Bonner County" exhibit opened last fall, and will run into 2021.
Upstairs, along with replicas of canoes used by the local Indian tribes, is the rock collection of the county's first female physician, Dr. Ethel Page Westwood, who moved to the area in 1921 when her husband was called to pastor at First Presbyterian Church. In 1953 she founded the first museum in Sandpoint — a natural history museum at the high school.
If you are curious about the early days of the Kalispel and Kootenai tribes, or about the trades — mining, agriculture, the railroad, and fur trading — that were driving economic forces, there is much to know, and the staff will take you on a tour of those exhibits, but you need to wear a mask, provided at the door.
"Yes, masks are required inside the exhibit spaces, and we have several masks that visitors may wear if they have forgotten their own; we wash them between every use. We appreciate that visitors have been respectful of the mask requirement and of fellow visitors. We rarely have more than 15 visitors in the museum at one time…it's pretty easy to maintain social distance," said Hannah Combs, museum administrator.
Heather Upton, executive director, believes the current challenges are an opportunity for her and the board to build on the areas the museum needs to strengthen.
"I always believe challenging times just make us more creative. Our active board, amazing volunteers and support from our membership and community make us strong through this difficult time," Upton said.
The museum has canceled or postponed some of its usual summer events, but the exhibits are open to the public and members are still welcome to visit the research library, said Combs, who began her job in March.
Combs believes she and her job are a good fit. She holds a degree in costume design and painting/art history from Indiana's Ball State University.
"I came from Indiana to spend time with my dear aunt, and I stayed because I fell in love — with the place, with a person, and with the community. There's no community like this one anywhere else, she said.
"Working in theater taught me about the juggling act of putting on a production, from strict production timelines to the relationships between directors, designers, and actors. Working in an environment with so many moving parts is thrilling and demanding. You learn how to listen deeply and work hard, skills that apply to every job, she said.
"I minored in painting and loved my art history courses. I've always loved the extra dimensions that historical context add to artifacts, whether paintings or objects that we have in the museum collection," she added.
Museum attendance presently is typical for the summer, Combs said. "I've met a lot of people visiting from eastern Washington; I think it's great they want to learn about the town where they are vacationing. I have also met several families who are on cross-country road trips."
Upton serves as the museum's executive director and as its curator. For each exhibit, Combs said Upton first finds a theme that is relevant to the Bonner County experience, then she and the museum's researchers find stories and artifacts to help tell that story.
The presentation of all of these elements in the exhibits is a testament to Upton's creativity, said Combs, adding that visitors from across the country regularly say that the museum's exhibits are among the most beautiful and informative they've seen.
The museum staff is also chronicling present-day events in Bonner County that will be part of an exhibit someday. An example is COVID-19 quarantine experiences of local residents. They've partnered with Kiersten Patterson, a photographer, to take and archive "Porchraits," portraits of residents on their porches with their families during quarantine. Residents may submit their quarantine stories on the museum's website at bonnercountymuseum.org
Two upcoming events include a booth at the Bonner County Fair with an exhibit about the history of the fair. "The fair has been a large part of the museum's history in both location and participation," Upton said. The museum now stands on the old fairgrounds property, and BCHS has participated in the fair exhibits for many years.
The annual museum yard sale is planned for Sept. 12 on the lawn outside the museum. Donations will be accepted during the week of September 8-11.
Bonner County History Museum is located at 611 S. Ella. Admission is $4 for adults; $3 for seniors; $1 for children 6-18; free for members and children under 6. Admission is free for all ages on the first Saturday of each month.
Susan Drinkard writes features for the Daily Bee. She can be reached at susanadiana@icloud.com.
---