Fair return of adult Chinook salmon to Idaho expected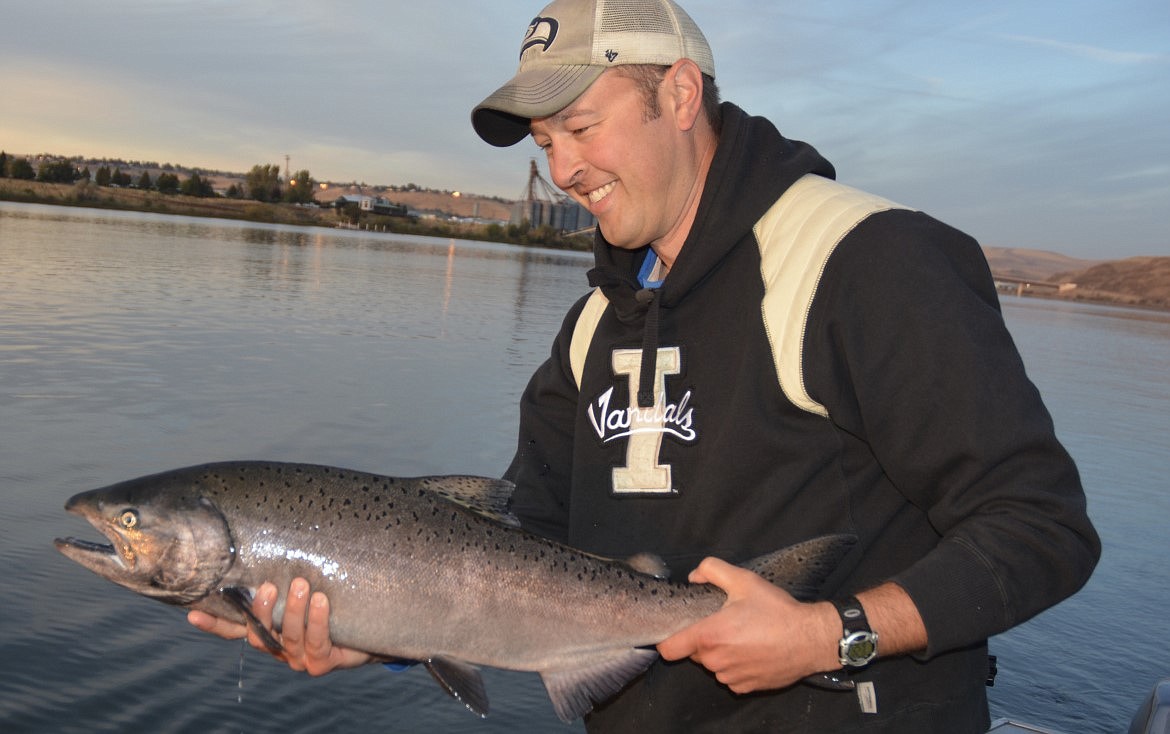 A Clearwater River angler hoists a Chinook salmon from the water upstream of Lewiston in this Idaho Department of Fish and Game photo.
Roger Phillips/Idaho Department of Fish and Game
The Snake, Clearwater and Salmon rivers will have a fall chinook season after all.
The Idaho Fish and Game Commission approved the season that begins Aug. 18 — and Sept. 17 for the North Fork of the Clearwater — at last week's meeting after news that more than 18,000 adult fish are expected to return to lower Granite Dam this year, which is higher than last year's return.
Fisheries managers expect 18,150 adult fish to return to Lower Granite Dam compared to 16,508 that returned last year, according to Fish and Game officials. The department expects more than 11,000 hatchery Chinook to return and more than 6,000 natural fish, which means that anglers will have the opportunity to harvest some Chinook salmon with intact adipose fins during the upcoming fishery, Fish and Game said.
The majority of hatchery fall Chinook released throughout the Snake River basin do not have clipped adipose fins. Of the fish that return to the Snake River Basin, a high proportion are adipose-intact hatchery fish, Fish and Game said.
The latest season follows in the wake of Idaho, Oregon and Washington approving a joint fishery management plan last year that allowed some adipose-intact fall Chinook to be harvested. The harvest share for Idaho's fall Chinook season will be about 1,400 adipose-intact and 1,700 adipose-clipped adult fish. Around half of the harvest will focus on fish destined for the Snake and Salmon rivers, while the other half will be for Clearwater River fish, according to Fish and Game officials.
The fall Chinook season on the Clearwater River upstream of Lewiston's Memorial Bridge is in its second year. The Clearwater season is expected to close Oct. 18 while Salmon and Snake river seasons are expected to close later.
— Staff report
---