IBE seeks to #CloseTheDivide in Idaho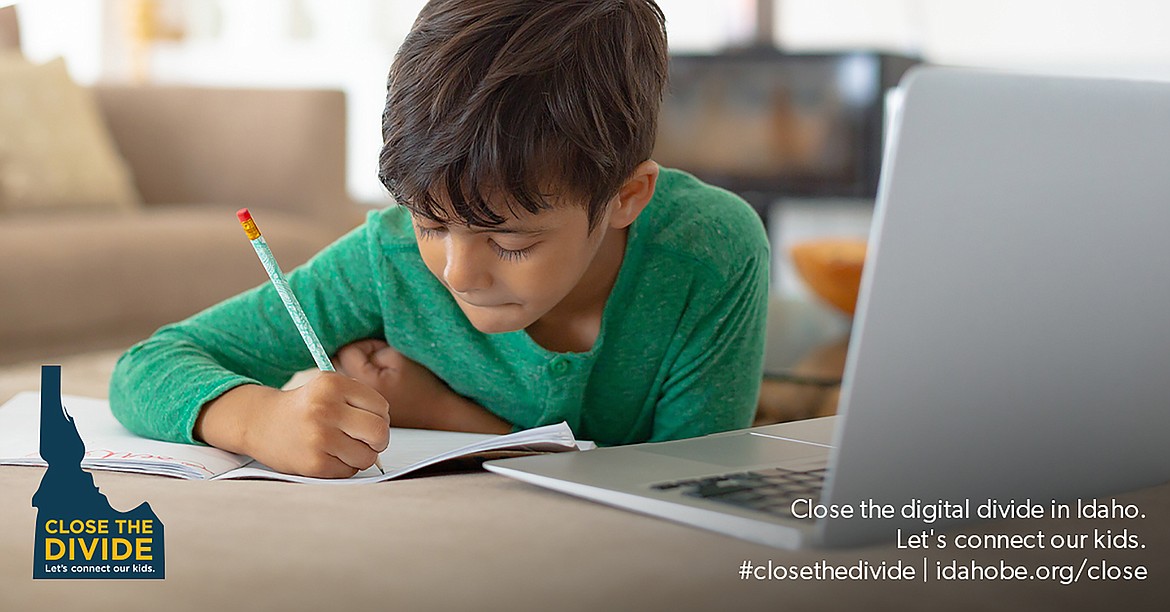 In this graphic created for Wednesday's Close the Divide Day, a student is pictured hard at work with a laptop nearby. The Idaho Business Education program aims to put laptops and internet service into the hands of every student so they have what they need in the event any — or all of learning — is again online.
(Courtesy image)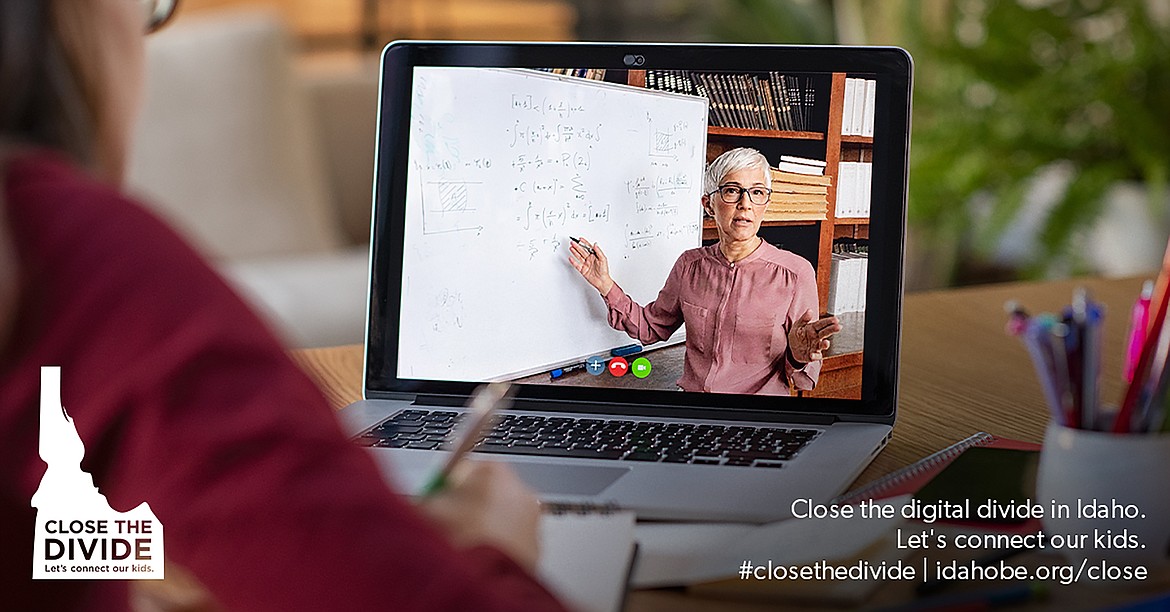 In this graphic created for Wednesday's Close the Divide Day, a student watches via a laptop as a teacher goes over a lesson. The Idaho Business Education program aims to put laptops and internet service into the hands of every student so they have what they need in the event any — or all of learning — is again online.
(Courtesy image)
Previous
Next
Over half of idaho students without computers heading into the school year
SANDPOINT — Idaho Business for Education, a nonprofit organization of nearly 250 businesses across Idaho, is launching a new phase of its Close the Divide campaign to get computers and internet service to students who do not have these learning tools at home.
A survey by the State Board of Education of local school districts shows that nearly 200,000 students do not have a computer at home and at least 30,000 do not have internet access.
"If we do not Close the Divide these students who don't have these learning tools will not have an equal opportunity to learn should the COVID-19 virus force students to learn part of the time or all of the time at home," said IBE President Rod Gramer. "It is imperative that we get these resources to students for the 2020-21 school year."
IBE is calling on all businesses to see if they have spare computers that can be provided to students who do not have devices at home. It also is seeking donations from individual Idahoans who have a spare computer at home.
In Bonner County, three sites will be open to collect laptops and donations during Wednesday's Close the Divide Day:
• Litehouse YMCA — 1905 Pine St., Sandpoint; 8 a.m. to 5 p.m.
• Litehouse Specialty Food Store — 125 S. Second Ave., Sandpoint; 10 a.m. to 5 p.m.
•STCU, Ponderay branch — 477181 U.S. 95, 9 a.m. to 5 p.m.
If a business or individual has a spare computer to donate they can contact one of IBE's 7 Close the Divide regional chairs by going to www.idahobe.org/close. Click on the name of a regional chair closest to you. At the same site you can also donate money to help fund the purchase of new computers and provide internet service.
Another way you can help is by going to the Idaho Community Foundation website www.idahocf.org/funds/internet donate to the Internet for Students Emergency Fund.
You can also help spread the word that these resources are needed through #CloseTheDivide.
"We don't have any idea what the upcoming school year will look like" Gramer said. "We have a moral and legal obligation to ensure that that all students have an equal opportunity to learn and succeed this school year."
Wednesday, Aug. 5, Idaho Business for Education is also hosting Close the Divide Day, an effort aimed at collecting spare laptops from the community to donate to the nearly 200,000 Idaho students without devices.
Close the Divide Day will see drop-off locations open throughout the state from 8 a.m. to 5 p.m. on Wednesday.
For more information on how you can donate a computer or make a donation for a new one or internet service go to idahobe.org/close
In North Idaho, Close The Divide chairs are:
• Panhandle Team 1 (Sandpoint) – Chair: Jule Kern, jule.kern@litehouseinc.com
• Panhandle Team 2 (Coeur d'Alene) – Co-chairs Judy Meyer and Sandy Patano at sfmeyer@aol.com or sandy@rephasing.com
The Close the Divide campaign media sponsors are IBE Members the Spokane Teachers Credit Union; the Innovia Foundation; The Garrigan Lyman Group; KTVB; KREM; and the Idaho Press. Intermountain Gas and Idaho Central Credit Union are IBE members supporting the effort.
Information: Leslie Barbour at lbarbour@idahobe.org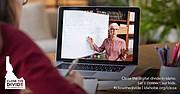 ---