FAS launches fundraising campaign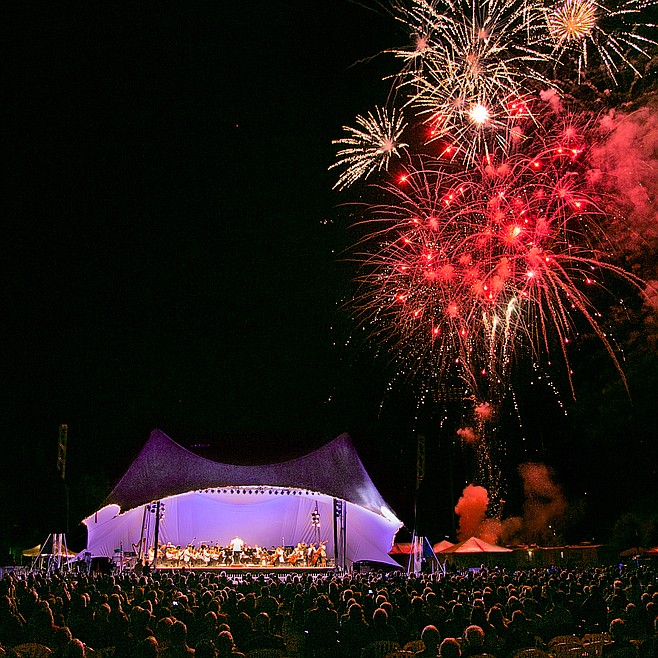 (File photo/courtesy) The Festival at Sandpoint Board of Directors has announced its search for a permanent executive director for the iconic summer music series. Pictured above, fireworks light the sky at a past Festival Grand Finale concert.
SANDPOINT — Non-profit organizations, musicians, and concert producers everywhere are facing an unprecedented crisis.
The Festival at Sandpoint is no different, board member said in a press release. "This year we made the difficult decision to postpone the 2020 Festival at Sandpoint due to the COVID-19 pandemic."
The summer concert series is the primary annual fundraising event for the Festival at Sandpoint to raise money to fuel numerous music education programs, provide the community access to world-class music experiences, and stimulate the local economy through visitors who come to the area for the iconic annual event.
"Regrettably we have reached a point where, in order for the Festival at Sandpoint to continue bringing a concert series and programs to the community of Sandpoint we need support from our community," board members said.
On Thursday, August 6 — the date which would have marked the opening concert for the summer music series — the Festival at Sandpoint is launching its "Save our Festival: The Festival at Sandpoint Critical Relief Fundraising Campaign."
This virtual fundraising campaign will take on a peer-to-peer fundraising model where FAS board members are asking people to create teams and fundraise on behalf of The Festival at Sandpoint. "No amount donated is too small and all support will be used to get the non-profit through this unprecedented year," they said.
The Festival at Sandpoint has already begun working towards booking for the 2021 season and thanks to operational cost cutting, volunteers donating their time, grant applications, penny pinching measures and donations from this fundraising campaign, board members said they are confident the organization will have the money to weather this storm and continue to provide an iconic concert series in Sandpoint.
For the past 38 years The Festival at Sandpoint has brought arts, music, scholarship opportunities, and economic growth to the community of Sandpoint.
Though many think it as "just a music festival," board members said it is so much more.
The non-profit has a passion for cultivating a dynamic and vibrant community, and helped to foster a love of music in the community's youth. It also has helped young musicians follow their dreams through its music scholarship program.
But perhaps its greatest impact is something that cannot be measured, they said.
"Through the medium of music we unite people from different backgrounds, ethnicities, and belief systems and help our community connect, cooperate and care for each other," board members said. "We lift up those who are down, providing hope and positivity through the shared experience and love of music. We bring people together and inspire each other that together we can build a better tomorrow."
To learn about the different ways you can support The Festival at Sandpoint, including season pass donations, starting a fundraising team and financial donations, visit https://www.festivalatsandpoint.com.
---