City unveils new turf at War Memorial Field today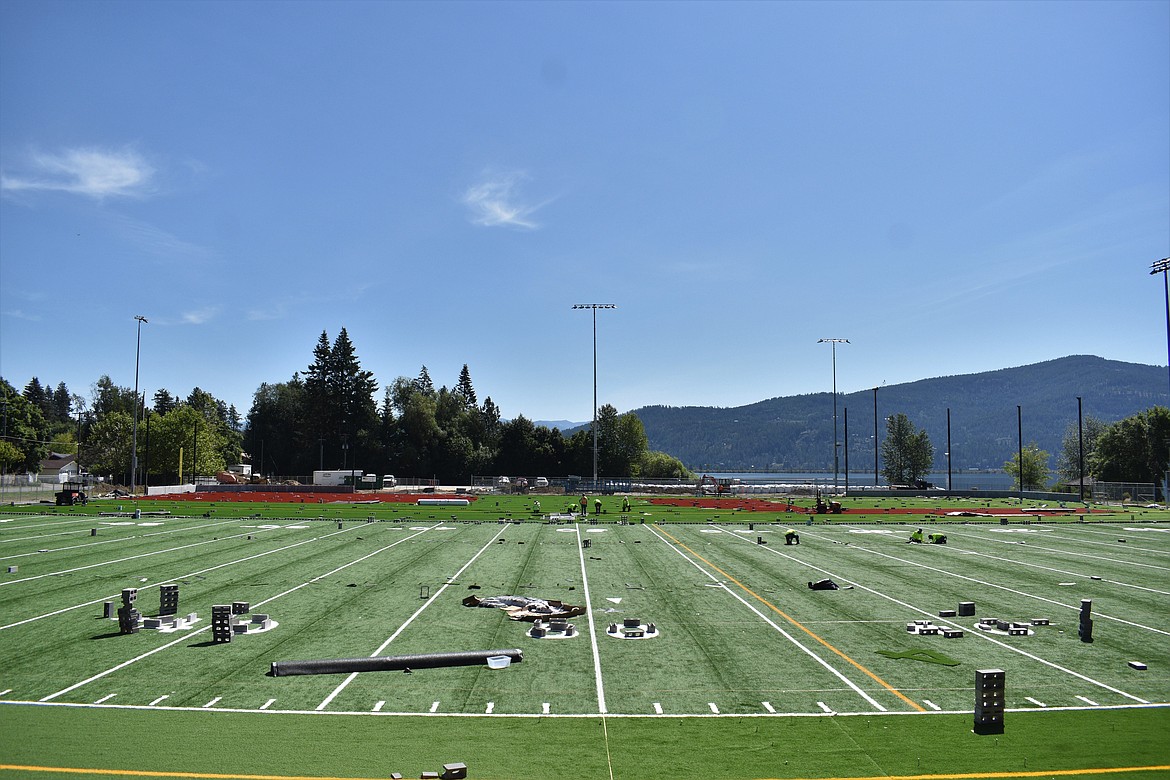 (File photo by DYLAN GREENE) The city will host a ribbon cutting ceremony at 3:30 p.m. today to celebrate the new artificial turf at War Memorial Field.
SANDPOINT — The city of Sandpoint will hold a ribbon cutting ceremony at 3:30 p.m. today to celebrate the completion of the new artificial turf at War Memorial Field.
The public is invited to attend the ribbon cutting event followed by an open house from 3:30-5 p.m. At 8:30-10 p.m., the field lights will be turned on for the first time and the field will remain open to the public.
The first sports practices on the new surface are set for Wednesday, Aug. 12.
City officials and representatives from the design team and contractor will be on hand at the ribbon cutting and open house. They will answer any questions about the project and discuss the next phase of improvements at the site which will include expansion and improvements to the parking lot, boat launch and the addition of a kayak launch, boat wash station, permanent restroom at the launch, stormwater management, landscaping and a new pathway to the water.
The new field surface is made up of an artificial turf installed over a shock pad. The surface is the same as the field at the Dallas Cowboys stadium and the new Las Vegas Raiders stadium, and features a natural cork and sand infill rather than the more common recycled rubber infill.
The turf replaces a deteriorating natural surface that had become a safety hazard for sports. The choice of an artificial surface was made to achieve the highest level of playability and durability. The multi-purpose facility is designed to accommodate football, soccer, lacrosse, baseball and softball, in addition to other community events such as the Festival at Sandpoint.
The field replacement project follows an earlier project completed in 2017 which included the new Cotton Barlow Grandstands and entryway. Both projects were completed with funding through a Local Option Sales Tax of 1 percent. The tax was passed by Sandpoint voters in 2015 and five-year tax ends Dec. 31.
"This project was completed on time and under budget thanks in no small part to our general contractor — Wayne Jessup and his crew with J7 Contracting — as well as the subcontractors and our design team led by Dell Hatch and Bernardo Wills Architects," City Engineer Dan Tadic said in a press release.
Others who helped with the project include Jim Kane and the Avista crew who relocated the osprey platform to a new pole, and Brody Durfee and his crew with Durfee Construction who led a volunteer effort to reconstruct the Victory Bell.
Besides Bernardo Wills Architects, the consulting team consisted of Welch Comer Engineers, Coffman Engineers, Eclipse Engineering and Dave Nygren who served as a subconsultant for Festival at Sandpoint considerations.
"This project has been a dream of mine for years," Parks and Recreation Director Kim Woodruff said in the release. "It is an absolute game changer for the youth in our community and will benefit the broader community for the next 50 years."
---