Summer camp builds student morale, robot arms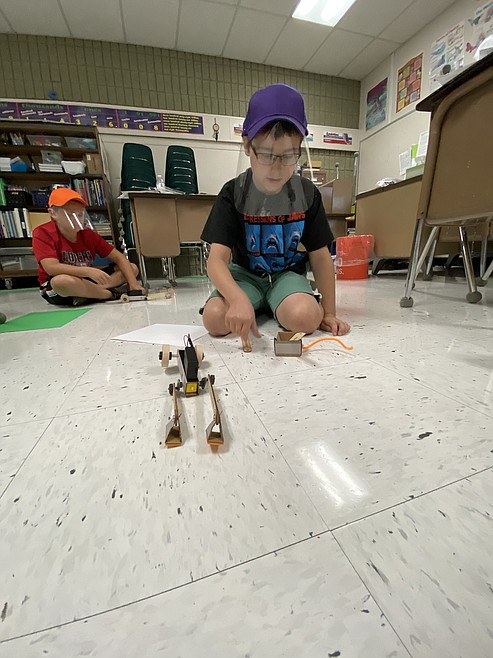 Jimmy Sandberg puts his robot through its paces at last week's STEAM Curiosity camp at Southside Elementary.
(Photo by CAROLINE LOBSINGER)
(Photo by CAROLINE LOBSINGER) Student Austin Leonard plays around with machinery built at Southside Elementary School's STEAM Curiosity Camp. Leonard is one of the 24 students who participated for this years event, despite the restrictions placed due to the COVID-19 pandemic.
Previous
Next
by
ALY DE ANGELUS
Staff Writer
|
August 7, 2020 1:00 AM
SANDPOINT — For 24 Southside Elementary School students, the idea of spending their summers building robot arms and constellation lanterns was way cooler than staying at home.
"I like how you can basically see others inventions and try them out on your own," said Jimmy Sandberg, one of the students participating in the summer program. "If there wasn't coronavirus right now, then it would probably be even more fun because you can interact with more things."
Lynette Leonard, Southside Elementary librarian and STEAM Curiosity camp director, was impressed with the students' enthusiasm and dedication to learning, despite necessary COVID-19 restrictions put in place.
"They want to be here, they want to learn and we have to find a way for them to be in the classroom while still keeping them safe," Leonard said.
Restrictions included wearing baseball caps with face shields attached or face masks in the classroom and limiting the registration from 60 students down to 30.
"We are keeping our students in our cohorts, lunches and breakfast in the classroom, so it's kind like a pilot test for when school starts in the fall," Jacquelyn Johnson said, principal of Southside Elementary School. Johnson said kids had the option to wear a mask, face shield or both and most students have preferred to wear a face shield.
Unlike recent years, students were not allowed to collaborate with other students on project design due to social distancing protocol. However, grant money awarded by Panhandle Alliance For Education has made sure all participants received their own supplies and projects, along with take-home kits.
"The great thing is when I set up the camp I said, 'If you can't make it and you've signed up, you can get the supplies and do it at home,'" Leonard said. "So, I have kids doing it at home and they are sending me their pictures of what they are doing."
The primary focus for this year's STEAM Curiosity camp was on exploring the stars, the science of flight, mechanical machines and robots. Students had the opportunity to work on projects such as constellation lanterns and models of the solar system, rocket launchers, kites, phantom projectors, drawbots and robots, along with many other projects related to flight, space and STEAM.
Sandberg said his favorite thing to build was the mechanical claw. His robot claw had four finger spaces, "like a big robot hand."
"That was fun," Sandberg said. "I tried to pick up a foam ball, a wooden ball and a marble, and then I tried to pick up sunscreen, another sunscreen bottle and a contact solution holder."
The sunscreen bottles were the most difficult for him to pick up because of the shape, he said. But, through camp instruction, Sandberg learned how to test and modify his design like a true engineer.
"Hopefully you guys have learned about friction and electrical," Leonard said, finishing up her lecture to the class. "I love that you are modifying because that's what engineers do."
Leonard's son, Austin, also participated in the summer camp this year. In his spare time he said he likes to work on monthly kits to build things like Lego bridges, ukuleles, desk lamps and pinball machines.
Austin also enjoyed building the mechanical claw, but his model had three fingers instead of four. He used it to grab objects like cheese sticks, water bottles and pencils.
Even though his mom signed him up, Austin said he would have participated anyways.
Kaiya Hull, who participated in STEAM Curiosity Camp, built an engine system that could pull a train or a car if it were built on a much larger scale, she said. Or, she could just use it for recreational purposes.
"I just use it for fun mostly and to distract my little brother," Hull said. "He's four. Or he'd just try to wrestle it to pieces."
In addition to STEAM Curiosity Camp, students had the opportunity to tour the STEAM Smartlab and learn about scientific and data analysis, related to temperature, structures, design, planets, optical illusions and more. This lab, which is located in Southside Elementary School library, was installed on Feb. 14 and was shut down just one week after opening due to COVID-19. The lab offers over 600 different lessons on computers for all age groups.

"We had three weeks in here (the lab) before we had to shut down," Leonard said. "But, I can tell you just those three weeks, the learning was amazing. The kids were begging to stay in here to continue to learn."
Leonard said the summer camp has been a great way to boost student morale and set up COVID-19 guidelines for the fall.
"I think this is a good indicator of how we can do it," she said. "We did a great camp and the kids had fun, we kept our social distance and they still collaborated. You saw them talking with each other even from their desk and stuff. That's how it's going to have to work."
Aly De Angelus can be reached by email at adeangelus@bonnercountydailybee.com and follow her on Twitter @AlyDailyBee.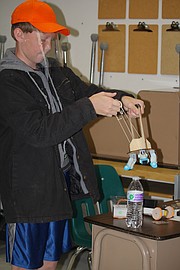 ---