Bonner Co. revising mining code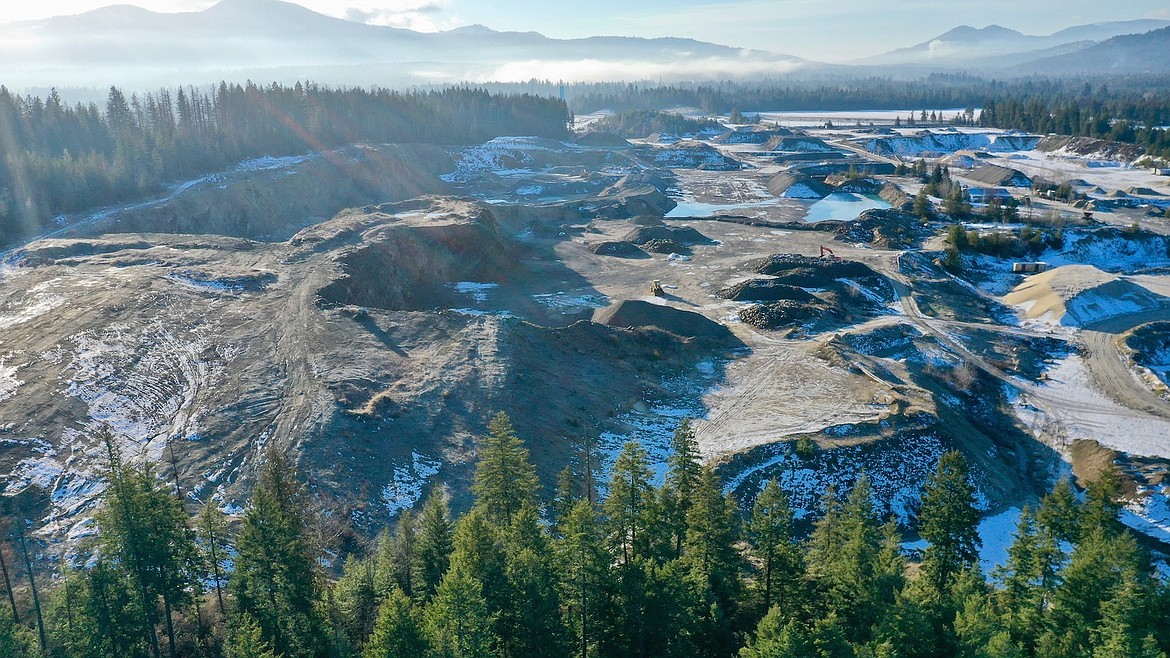 (Courtesy photo) This aerial image captured by a drone shows the Sagle gravel pit where an asphalt batch plant is planned.
by
KEITH KINNAIRD
News editor
|
August 8, 2020 1:00 AM
SANDPOINT — Bonner County is considering a land use code change which would allow asphalt batch plants and surface mining operations to be approved administratively and without public hearings in some zones.
The Bonner County Planning & Zoning Commission is taking the matter up during a public hearing on Thursday, Aug. 27. The hearing is set for 5:30 p.m. at the Bonner County Administrative Building at the corner of U.S. Highway 2 and Division Avenue. The hearing can be viewed via Zoom teleconference or YouTube livestream, according to the Bonner County Planning Department.
The code change would allow Planning Director Milton Ollerton to administratively approve or deny certain mining operations via a certificate of compliance. The code amendment would allow the department to approve batch plants in Forestry, Agricultural/Forestry and Rural zones.
Permanent mining operations — those operating for a minimum of five years — would allow attendant retail sales of material, batch plant operations and rock crushing operations, according to the code change.
Temporary mining operations — those lasting for less than five years — in those zones would be allowed, although the retail sales of materials and batch plant operations would be prohibited, the code change states.
Plants and pits would not be allowed in incorporated cities' areas of city impact, the code change said.
Appeals of administrative decisions can be appealed to the board of county commissioners.
The code change comes as Bonner County continues to take heat for approving a plan to relocate an asphalt batch plant on Sandpoint's north side to an existing gravel pit on the west side of U.S. Highway 95 in Sagle. The site has been used for temporary asphalt plant operations despite a concerted effort by landowners in Sagle to thwart the operations, which they argue shatters the piece and quiet of their rural neighborhood, in addition to jeopardizing local water and air quality.
Foes of the plant relocation project are calling on members of the public to testify against the code change during the Aug. 27 hearing.
Supporters of the plant relocation plan counter that the plant has been operating in Sandpoint without problems or running afoul of state environmental regulations.
Ollerton did not immediately respond to a request for comment on the genesis of the code change on Friday.
---