Horse rescue receives generous donation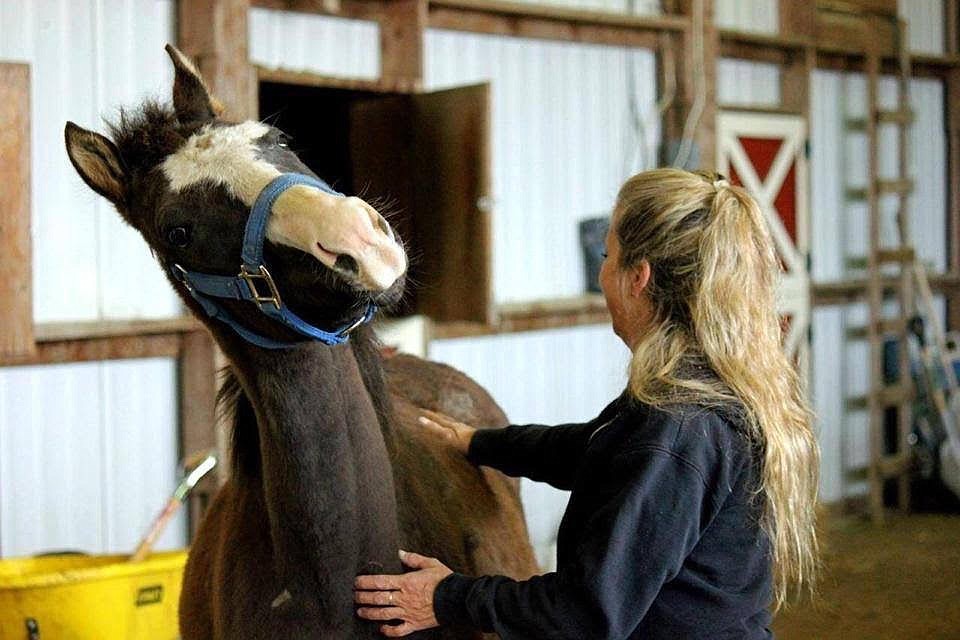 Horse rescuer Dawn Dempsey works with wild mustang, "Baby Bravery." This is one of her many tasks undertaken as a rescuer in Sandpoint with the non-profit organization, Survivors Rescue Inc.
(Photo courtesy DAWN DEMPSEY)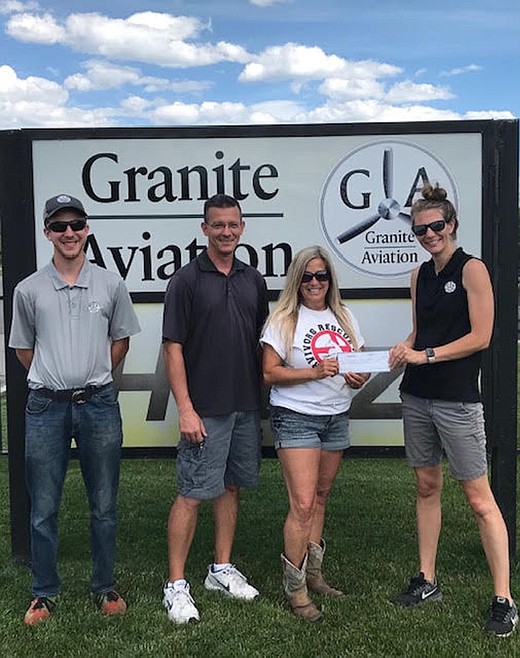 (Photo courtesy of DAWN DEMPSEY) Granite Aviation Employees Nick, Troy and Danielle (left to right) present a $6,000 donation check to Dawn Dempsey, The Horse Rescuer of Survivors Rescue Inc. on behalf of Andy Berrey, owner of Granite Aviation.
Previous
Next
by
ALY DE ANGELUS
Staff Writer
|
August 8, 2020 1:00 AM
SANDPOINT — Eight years ago, Dawn Dempsey quit her retail job to rescue neglected and abused horses in North Idaho.
Now, her Sandpoint-based non-profit organization, Survivors Rescue Inc., is now at full capacity with 45 horses and 35 other animals on her farm.
"I've just grown up with horses since I was a little girl and they have always been a love of mine," Dempsey said. "All animals really."
In her early 20s, Dempsey lived next to late Floyd McGhee's feedlot, where animals would be fattened up and shipped to the Mexican and Canadian border for slaughterhouses.
"During the night I would hear all of these aluminum double decker trailers pull in and all the hoof beats loading all night long," Dempsey said. "Then the next day there would be an eerie silence. They had all been shipped to slaughter and at the time there wasn't much I could do about it."
"I made a commitment that I would work hard and when I was in the position to make a change I would do that," she said.
McGhee used to make a living off buying the horses and fattening the livestock, where meat stockers would make their money by-the-pound of the animal. Through neighborly interactions, McGhee was inspired to quit his job and work with Dempsey on her rescue mission.
"He actually joined the rescue and sat on our board," she said. "There were some horrific things going on next door that broke my heart, but over the years he and I came to mutual respect for each other and he thought I did a good job."
Since then, Dempsey has rescued many animals including Gilbert the Zebra and the community's adored buffalo, Buffy. Buffy was owned by Dr. Forrest M. Bird, who bought the baby buffalo as a Valentine's Day present for his wife over a decade ago. When Bird and his wife passed away, Buffy was left uncared for on their old farm.
"I was asked to go rescue it. I went for a whole month, sat with it in my horse trailer and finally it started coming in and eating with me," Dempsey said. "One day I just shut the door and brought her to the rescue."
Buffy is now going blind with cataracts, but she is enjoying her life mingling with other animals on Dempsey's farm.
Along with Zebras and buffalos, Dempsey has rehabilitated and rehomed hundreds of horses on her farm. In the past, Dempsey's needs have accumulated to $120,000, which is entirely used to purchase feed for the animals.
"A lot of them are starving, there will be just skin hanging on a rack of bones," Dempsey said.
With limited spots on her farm, Dempsey must wait until an animal is relocated before she can accept another animal. COVID-19 has provided a greater challenge, both raising neglect and abuse rates and lowering rates of adoption.
Often, Dempsey is forced to pick and choose which horses to rescue, because the need is high in Bonner County. No other horse rescue exists in the county, she said.
"Do I save the red ones? Do I save the old ones? I have to pick and choose and it's heartbreaking," Dempsey said. "They have to be on death's door for me to help."
Each year Survivors Rescue has been scraping by with donations through car washes, bake sales and online fundraisers. Despite the financial instability brought by COVID-19, Dempsey was fortunate to receive help from a family friend.
Andy Berrey, who owns and operates Granite Aviation, is among those who support Survivors Rescue Inc. Earlier in the summer, Berrey sent a $6,000 check to Survivors Rescue Inc.
"The fact Andy Berrey stepped up and made such a sizable donation when we really needed it, the huge need of what's happening with the animals in the world today, it just meant a lot," she said. "He didn't have to do it. We are very grateful for him doing that."
Berrey has been friends with the Dempsey family for over 13 years and said that Dawn has a big heart.
"I would love to see her help as many horses as she can, get the help that she needs and continue her mission," he said.
The farm is currently closed to the public due to the COVID-19 pandemic, but Dempsey is hoping donations will be able to provide for the animals and keep everyone safe until she can open again.
"Originally it was all about the horses," she said. "But as I went, I realized that people were actually a big part of the rescue because they wanted to help volunteer and things like that. I realized that the rescue was actually saving people, too."
One of Dempsey's volunteers had cancer and spent time with the horses as therapeutic means to rediscover her confidence and strength.
"You know, horses are just an amazing, majestic, beautiful animal," Dempsey said. "Hopefully I can get the powers that be and show them (the city) the need in the community."
For more information on Survivors Rescue Inc. visit the Survivors Rescue Inc. page. Donations and written responses will also be accepted at 34101 Highway 200, Sandpoint, Idaho, 83864.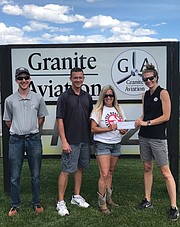 ---