Deputy joins in honoring LPO rescuers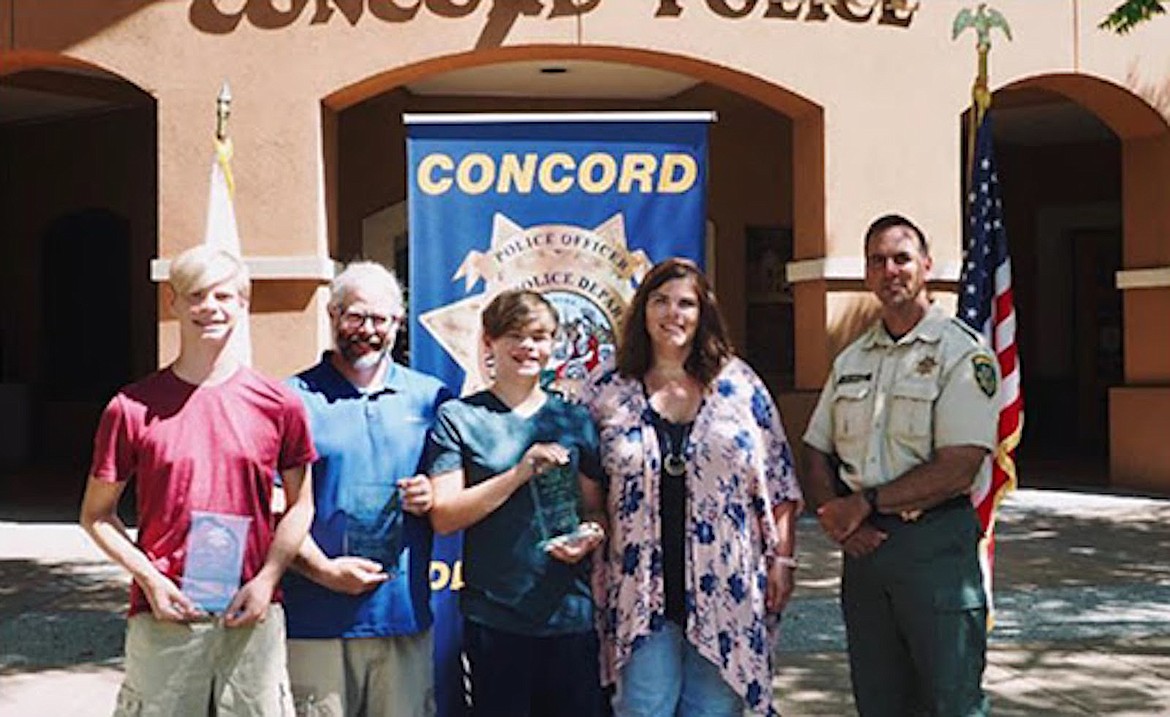 (Courtesy photo) Shane O'Hara, Kelly O'Hara, Max O'Hara and Liz O'Hara were honored in Concord, Calif., for coming to the rescue of boaters who capsized on Lake Pend Oreille on June 24. Bonner County Marine Deputy Leroy Bloxom, who also participated in the rescue, was on hand for the recognition ceremony on Aug. 2.
by
KEITH KINNAIRD
News editor
|
August 9, 2020 1:00 AM
SANDPOINT — A Bonner County Sheriff's Marine Patrol deputy was on hand in California to honor a family who courageously rescued six people during a fatal boating accident on Lake Pend Oreille on June 24.
Deputy Leroy Bloxom traveled to Concord, California, on Aug. 2 to recognize the efforts of the O'Hara family, who witnessed a boat capsize near Glengary Bay during a sudden storm and rescued passengers of the stricken vessel despite heavy rains, strong wind gusts and swells of over 3 feet.
Kelly and Liz O'Hara contacted Bonner Dispatch and subsequently brought six people onto their boat while marine patrol deputies were en route.
The O'Haras — which included their 15-year-old son Shane and 11-year-old son Max — also assisted a seventh person in the water while deputies Bloxom and Kelly rescued two others.
Suzanne Lee Kittelson, 63, of Golden, Colorado, drowned in the incident.
"Although there was one tragic loss of life during this incident, it certainly would have been much worse if it had not been for the O'Haras' actions. They are directly responsible for the nine lives saved that day," the Bonner County Sheriff's Office said in a post to its Facebook page.
In addition to thanking the O'Haras, the sheriff's office thanked the Concord Police Department for hosting the recognition ceremony for the rescuers.
The sudden emergence of treacherous weather conditions and a lack of boating experience were cited as factors in the mishap, according to sheriff's officials.
Keith Kinnaird can be reached by email at kkinnaird@bonnercountydailybee.com and follow him on Twitter @KeithDailyBee.
---