Food bank boasts fresh produce thanks to SHS grad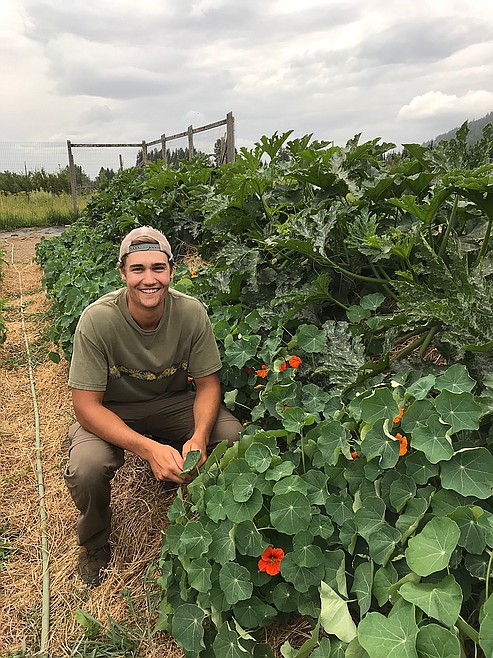 The center donated several hundred pounds of produce to the Bonner Community Food Bank. Youngdahl used a broad fork tool instead of a tiller and utilized methods such as Hugelkultur beds, shown here, to improve soil conditions and to make care taking easier, in the long run.
(Photo by SUSAN DRINKARD)
by
Susan Drinkard
|
August 9, 2020 1:00 AM
SANDPOINT — An extended soaking-wet spring made it more challenging for Sandpoint's Organic Agriculture Center staff on North Boyer, but you wouldn't know it by the 200-plus pounds of vegetables donated to the Bonner Community Food Bank, so far, from its garden this summer.
Sandpoint native and University of Idaho intern Kent Youngdahl, who is studying sustainable food systems, used an opportunity to conduct hands-on research to create a huge garden using methods that improve soil conditions; the outcome can be seen in the copious bags of produce carried out the door at the local food bank.
Given spikes in food prices and unemployment during the pandemic, the SHS grad believed a garden on the site could help out the orchard staff, as well as the food bank, which saw numbers of users skyrocket from March to May, according to director Debbie Love, and is presently serving as many as 300 to 350 clients per week.
The garden was overseen by Kyle Nygy, superintendent and orchard operations manager at the organic center, and with many hours of guidance from Leigh Bercaw, owner of Blue Fingers Farms, Youngdahl was able to plant everything from herbs to pumpkins.
Youngdahl's garden is a "no-till" operation. He used a tool reminiscent of a pitchfork called a broad fork to manually aerate the beds instead of using a motorized tiller. He explained that using a broad fork keeps the weeds down and is better for long-term plant health because it won't mix the soil and keeps the weeds' seeds deep in the soil and therefore dormant.
He planted parsley between the kale for pest control. Sunflowers were planted on the east side of heads of cabbage to provide some shade. Exercising organic practices, he used onsite compost for fertilizer. For pest control and to eliminate stressors such as high temperatures, he used thin cloth row covers.
"We wanted to try different methods of growing," Youngdahl said, "so we took hog panels and drove stakes into the ground" to create a sturdy big oval arbor, and the green beans grow up the panels like vines. You just walk through the arbor and harvest the beans coming through the panels, he demonstrated.
Youngdahl is proud of the hugelkultur beds he created. It is pronounced hoo-gul-culture, a German word and it means hill mound. It is a method of making raised beds filled with organic materials. He first placed 6-to-8 inch logs on the ground, then added 4 inches of branches and twigs, then soil from the massive compost pile at the organic center, and then a layer of hay for mulch. The resulting nasturtiums and vegetables are almost a psychedelic hue of green atop the long hill.
At the outset of the season, he watered it all day long, but just one day. The wood retains the water and therefore, he hasn't had to water it since the initial build and watering. He learned about this method from his Sandpoint High School teacher, John Hastings.
"As the wood is decomposing, there is more carbon in the soil," he said. (Carbon plays a key role in soil health.) Youngdahl's minor is in soil science. He devised the bed so it is easy to view all the layers on one side.
Bercaw designed French hot beds. She started with fresh cow manure, added compost on top and in the springtime you could feel heat coming up, Youngdahl said.
The agricultural center has brought in a herd of 13 week-old barn cats for rodent control. When Youngdahl takes a break, he visits the kitties, especially one cutie he has named Blondie.
Youngdahl is enthusiastic about his gardening efforts and results, and so is Nagy, as well as is the food bank director.
"We are very impressed with our local student who has built the growing systems to grow fresh food. All vegetables are welcome and we have received a variety of lettuces, tomatoes, beans, peas, zucchini, broccoli, and much more," Love said.
"There are many benefits to having fresh produce available at the food bank. When we receive fresh produce from the University of Idaho garden and from our local growers, we are receiving the vegetables and fruits at an earlier stage in the supply chain and the produce lasts longer and adds a new meaning to fresh," she said.
"Another benefit is that we are providing healthier options for our neighbors," Love added.
Susan Drinkard writes features for the Daily Bee. She can be reached at susanadiana@icloud.com.
---