Rathdrum's BNSF railroad facility going eco-friendly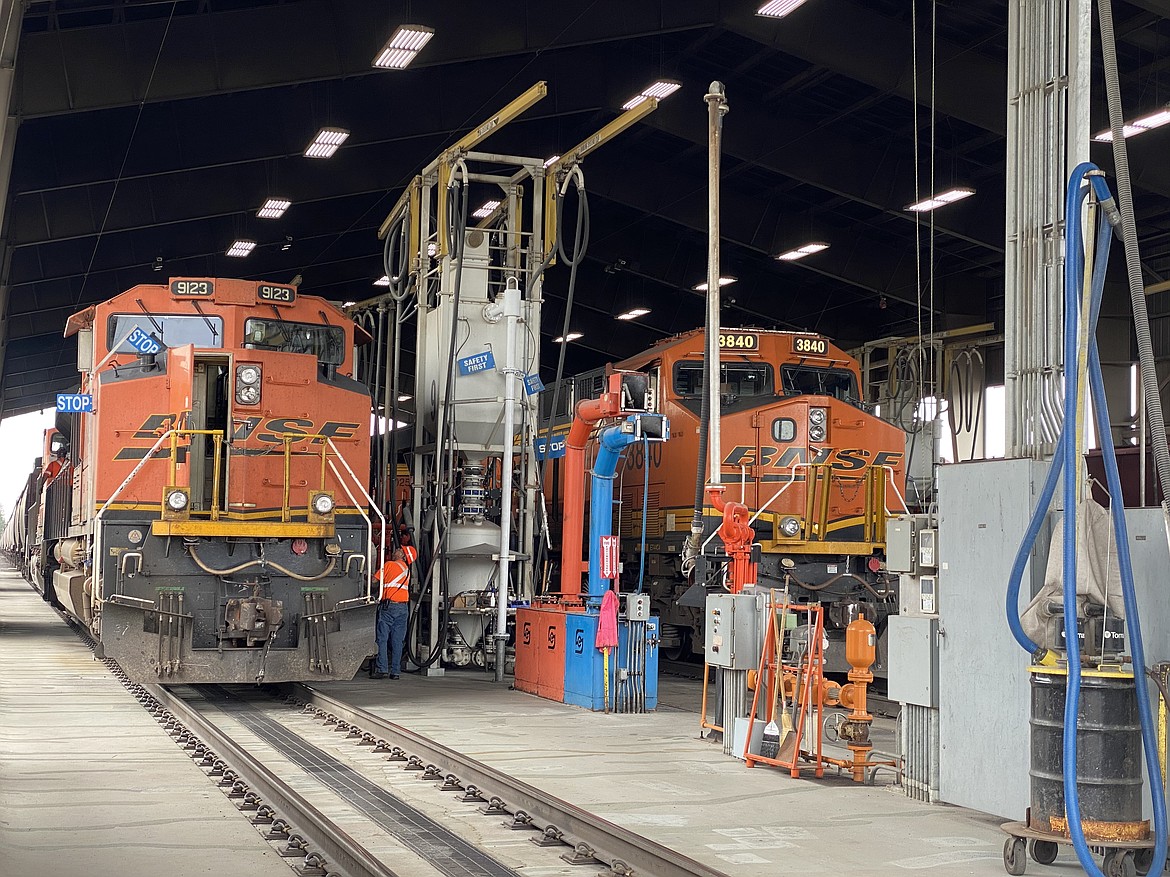 Two of BNSF's locomotives pull into the Hauser fueling depot before departing the station on Wednesday.
Photos: MADISON HARDY/Press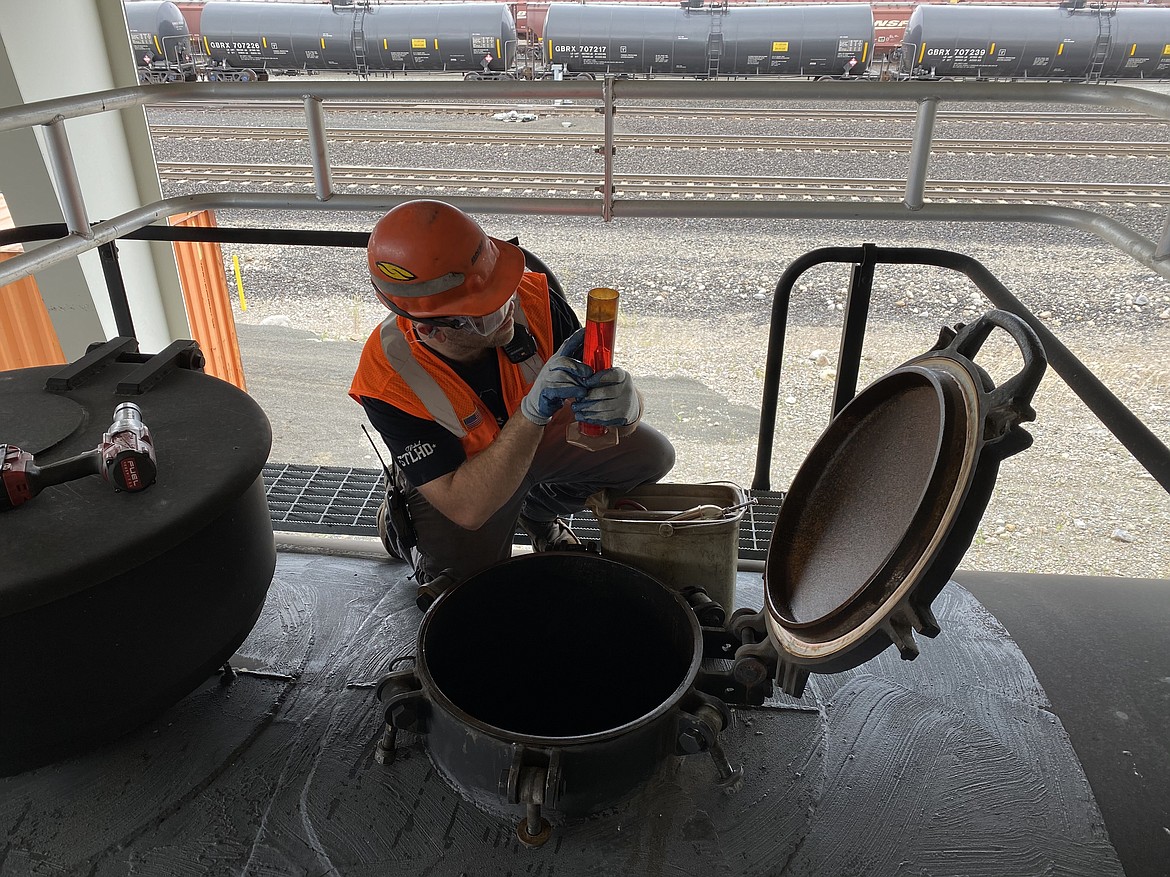 Casey Turner, a labor foreman for the Hauser fueling depot, checks the levels and purity of a diesel tanker before it leaves the facility.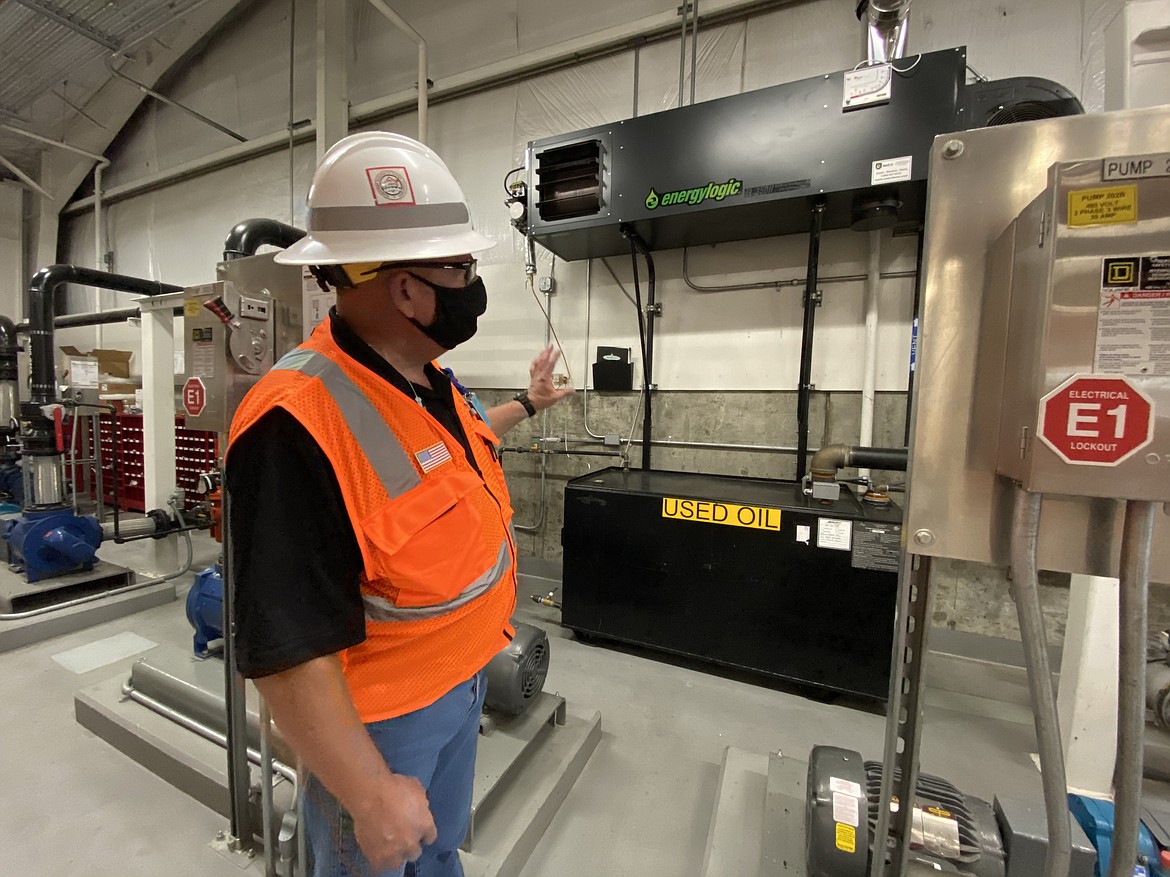 John Jeffery, the Hauser Fueling Depot maintenance and compliance manager, shows off their used-oil burner which reuses oil waste to heat the facility. (MADISON HARDY/Press)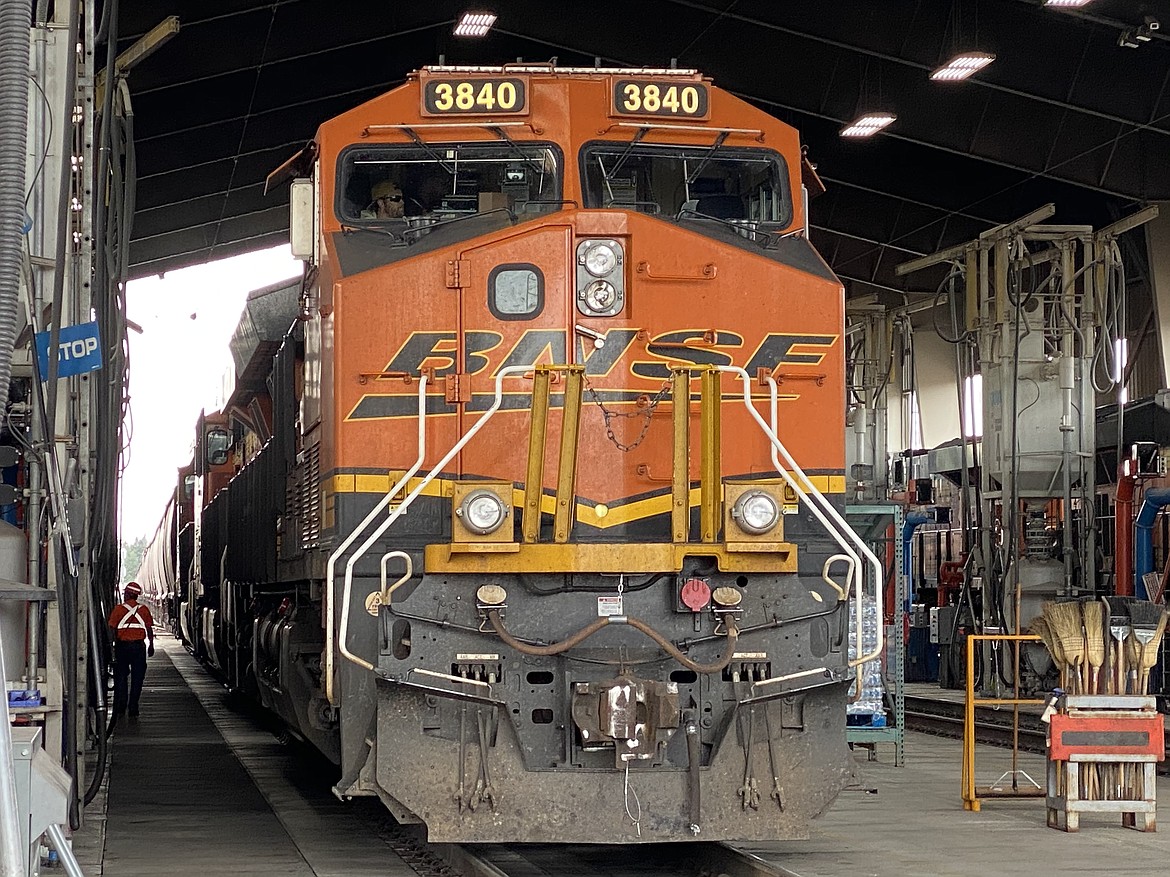 One of BNSF's locomotives pulls into Hauser Fueling Depot before departing the station. (MADISON HARDY/Press)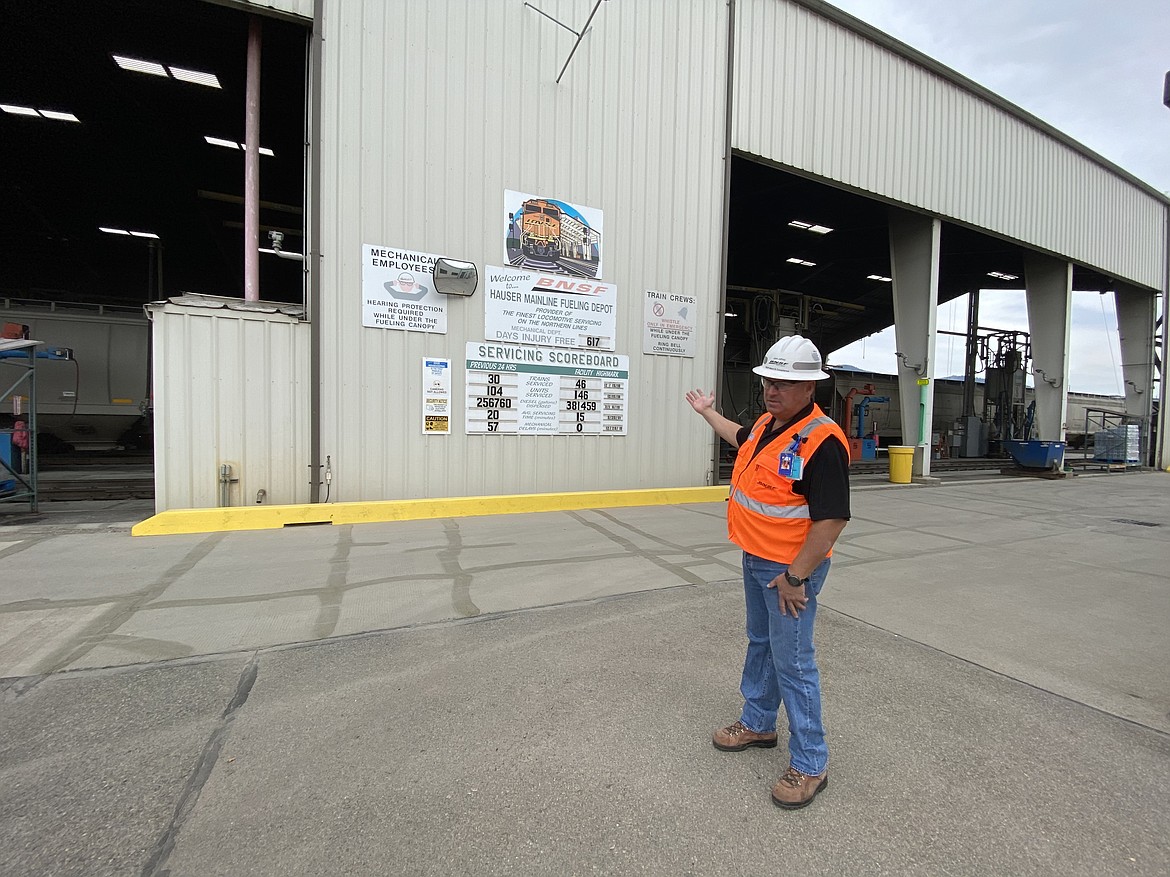 John Jeffery, the Hauser Fueling Depot maintenance and compliance manager, shows off the facilities scoreboard which tracks BSNF locomotive details. (MADISON HARDY/Press)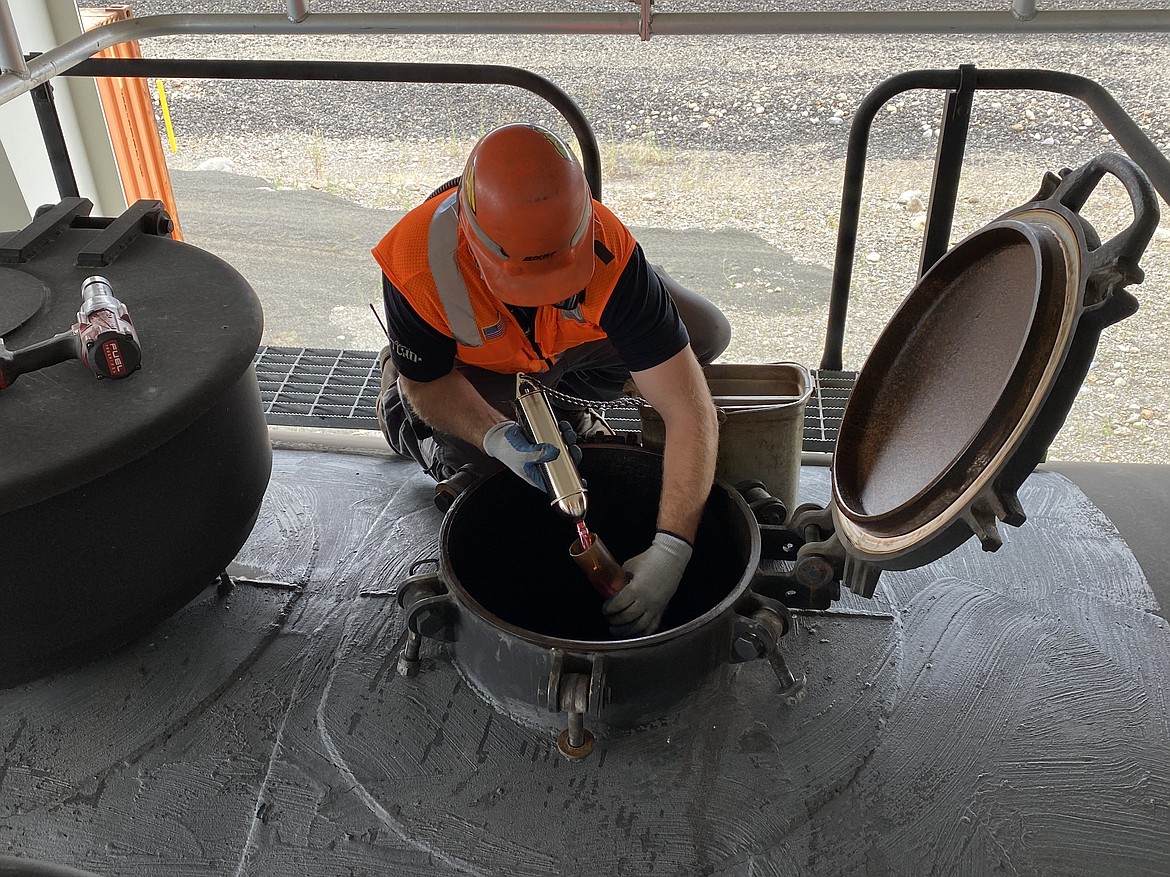 Casey Turner, a labor foreman for the Hauser Fueling Depot, checks the levels and purity of a diesel tanker before it leaves the facilty. (MADISON HARDY/Press)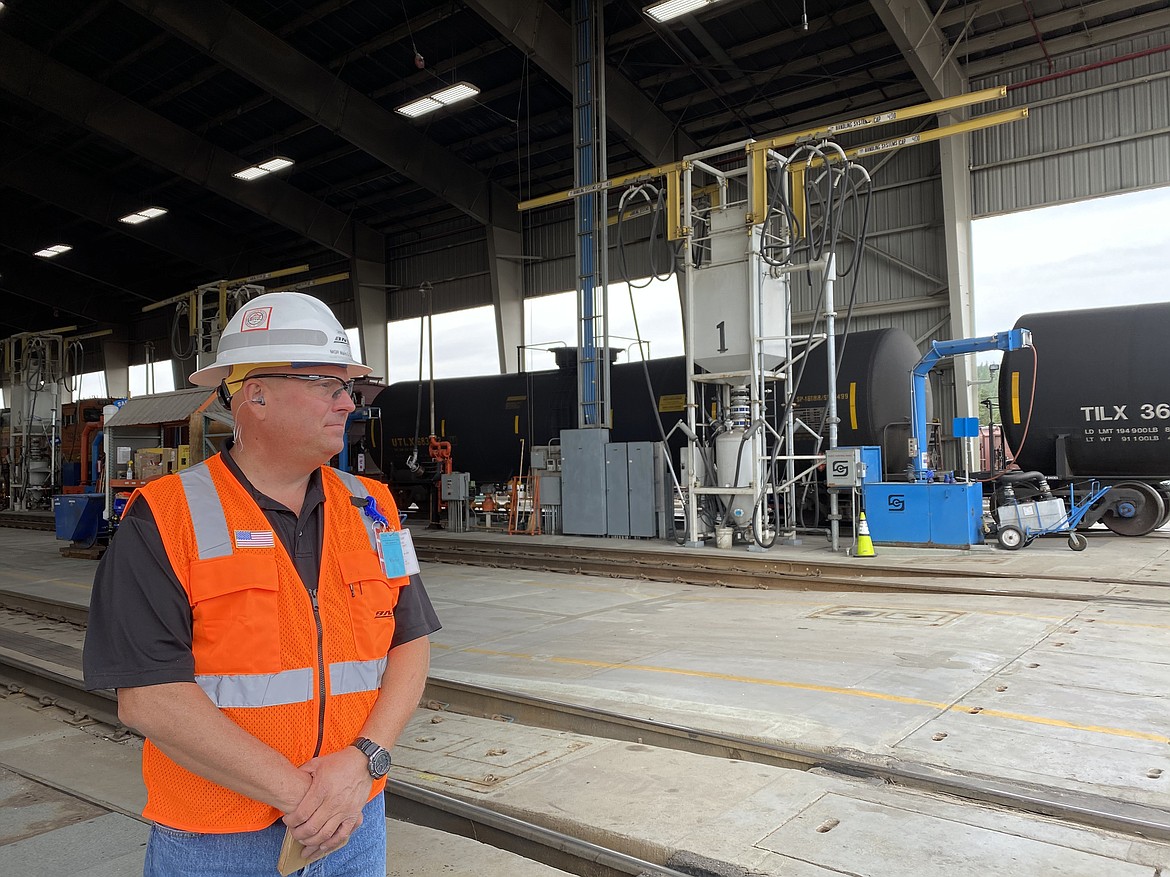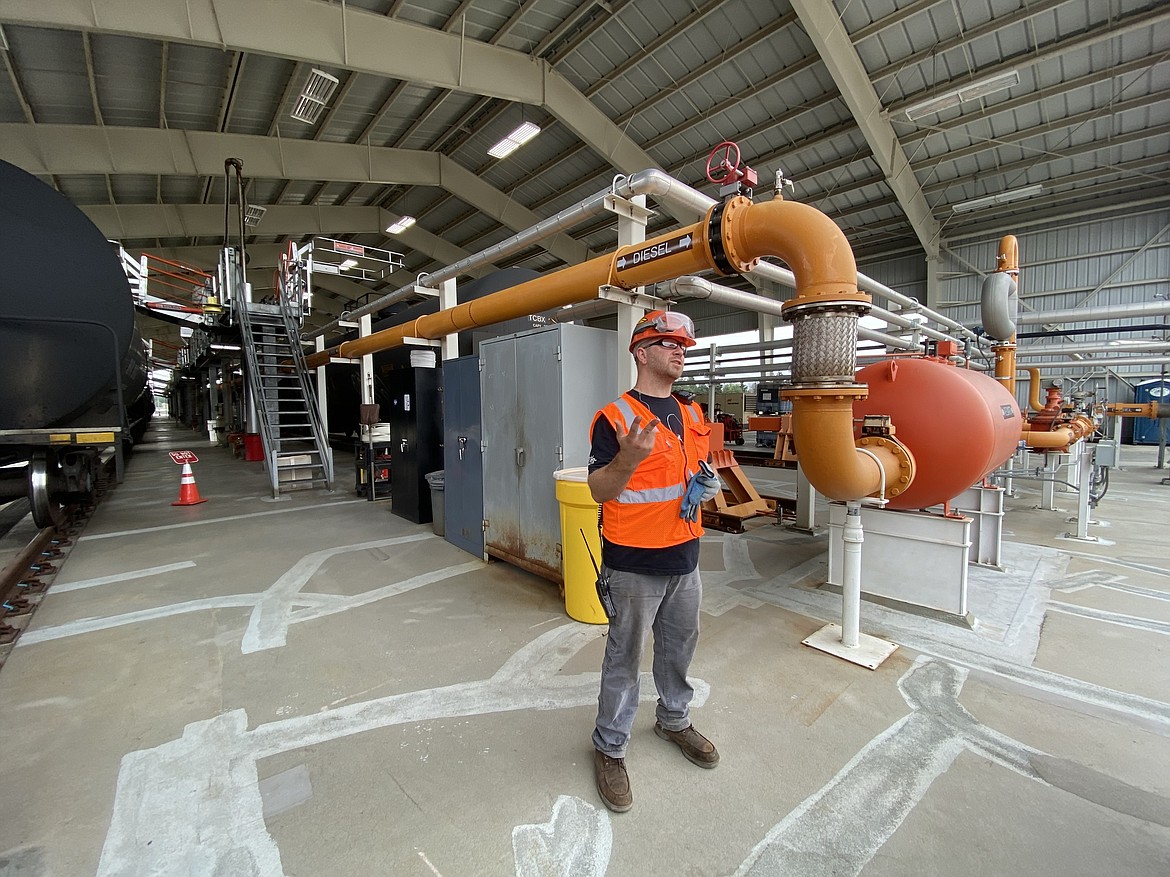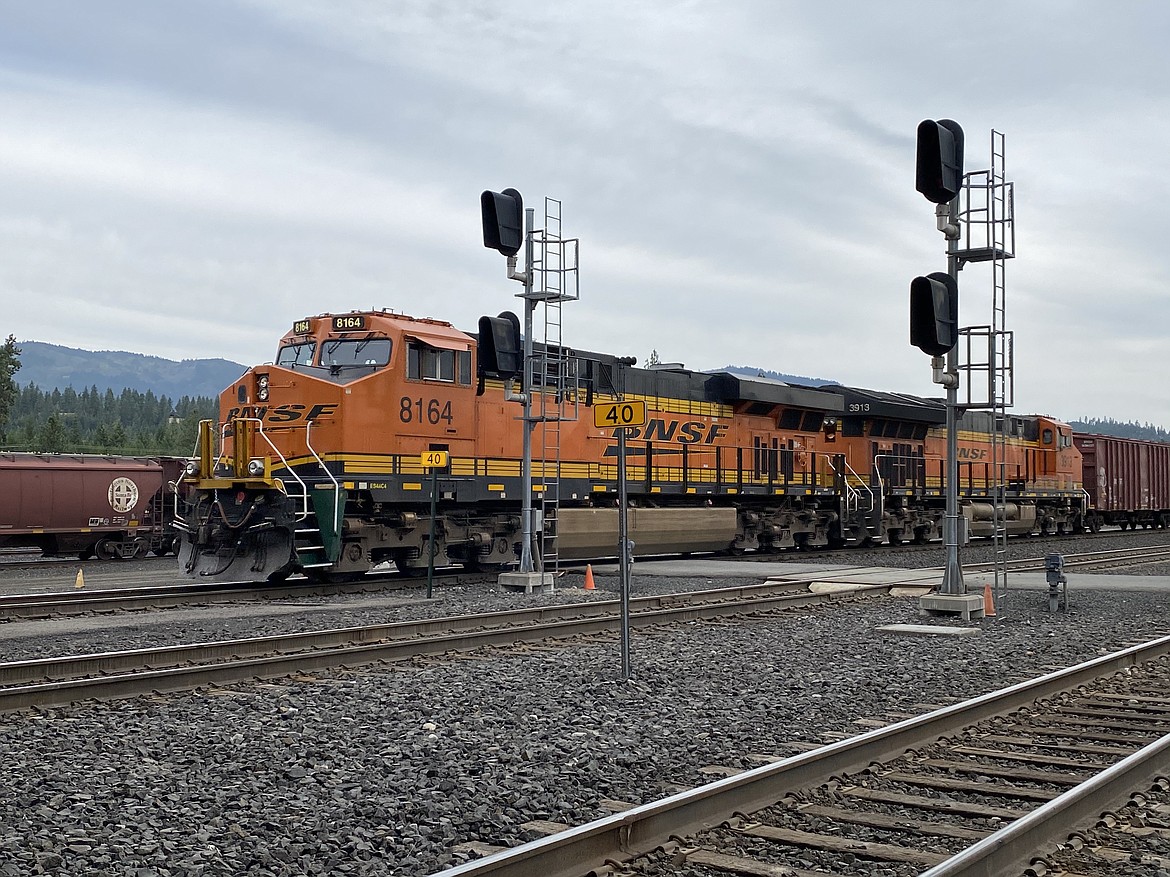 Previous
Next
by
MADISON HARDY
Hagadone News Network
|
August 16, 2020 1:00 AM
Rathdrum's BNSF railroad facility going eco-friendly
The Hauser Fueling Depot in Rathdrum may be part of a historic industry, but its advances in environment preservation and energy efficiency are a new wave of locomotive shipping.
According to Courtney Wallace, BNSF Railways senior external communication director, the Depot moves 250,000 gallons of gasoline daily and almost 7 million per month.
Fueling 28 to 35 locomotives every day, the company knew it had to take extra precautions protecting the environment around them.
Construction of the fueling facility included a heap of protection measures including two high-density underground containment liners with leak detection, double-walled underground piping, and double-bottom diesel storage tanks.
All locomotive fueling occurs above ground on reinforced concrete platforms coated with an industrial seal to contain water run-off. In addition to its physical innovations, BNSF's Hauser Depot is computer-controlled, with sensors monitoring all aspects of the facility.
Fully finished in 2004, the facility serves as a key location in the BNSF railroad, covering the nation from Chicago into Canada and down the West Coast. Trains coming through the facility haul everything a consumer needs, like grains, fuel, energy products and essential goods like medicine, paper and food.
"Overall, we help people get the goods that they need, whether it is baby formula, a new home theater system, cosmetics, toilet paper, medica-tion, a new automotive, anything that needs to be towed that comes on rails," Wallace said Wednesday during a tour of the facility. "We provide the opportunity to get Idaho goods to market. It's about moving to America and making sure you get the products you need every day."
According to Wallace, BNSF's diesel-electric trains are some of the youngest and most fuel-efficient fleets in North America. Fuel, being one of BNSF's most substantial purchases, comes with serious environmental concerns.
Hauser Depot's freight trains can move 500 miles on just one gallon of diesel, making it one of the most environmentally-friendly ways to push products on land, Wallace said.
"Looking at reducing our environmental contribution, we have a more fuel-efficient fleet of locomotives that not only reduces our carbon footprint but lessens our fuel costs," Wallace said.
Coal, the original fuel source for trains, has been cycled out of the industry for the past 50 years. The change was huge in cutting locomotives' environmental impact.
"This is an incredibly important switch as fewer emissions are being burned," Wallace said. "Diesel is a better and cheaper fuel source, and since we use diesel-electric engines, it reduces the carbon footprint even more."
Being in the game for around 173 years, BNSF is continuously thinking about the long term of trains and their fuel-efficiency. Wallace says it's just part of their industrial evolution.
"Trains have evolved their fuel efficiently. They're more environmentally friendly. We can haul more, and it's just an evolution," Wallace said. "When people think of railroads, they think of nostalgia, but really, we are a very technology-friendly and innovative company."
John Jeffery, Hauser's maintenance and compliance manager, said one of the Depot's most significant developments is its onsite wastewater processing system through a water evaporator and used-oil burner. By using their old oil, the facility can heat its buildings internally rather than use gas heating.
"These are pretty big jumps when you're talking hundreds of thousands of dollars that we've put into making our facility better for our environment," Jeffery said. "It wasn't something that was done overnight, but it's been an important process for us to go through."
Built on top of an aquifer that supplies North Idahoans with their drinking water, extra precautions had to be taken not to contaminate the region's waterway.
"As a resident here who lives in Rathdrum with my family, who drinks the water, it is important that what we do here is safe for the environment," Jeffery said.
Running 90 to 120 feet below the facility, the aquifer is protected by two liners underneath the fueling depot with sensors to detect liquid runoff.
"It's a very secure process that we go through to make sure our environmental compliance is maintained," Jeffery said. "Everything drains to our industrial wastewater system through a double-wall pipe into our oil-water separator, which is pumped into separate tanks for processing."
In the past few years, BNSF has spent $50 million to improve and maintain the railroads as part of a larger capital project.
"If we didn't have a safe railroad, we wouldn't be in business, so when it comes to technology, we are cutting edge," Wallace said. "We were one of the first railroads to get permission by the FAA to use drone footage to inspect our trains. Drones are critical because if there is a derailment or maintenance, we can send drones to figure out the solution and keep our people safe."
In an industry that has been a part of American's history for hundreds of years, Wallace says that railroads are now more essential than ever. However, COVID-19 has seriously affected the transportation industry nationwide.
BNSF's transporting volumes through the first quarter of 2020 decreased by 5 percent compared to the same period in 2019, according to Wallace.
"Volumes began to slow down at a faster pace through March and leveled out about 25 percent below what we were expecting through April and May," she said. "We are down near similar volumes to what we saw during the Great Recession in 2009."
Wallace believes that as the economy starts to recover and volumes begin to return to the railroad, BNSF is in an excellent position to handle customer freights.
"We believe we've seen the bottom and now anticipate seeing a slow, gradual increase in volumes from June through the end of the year, but we will not return to volume levels we were anticipating at the start of the year," Wallace said.
---