Sandpoint Elks honored as top volunteers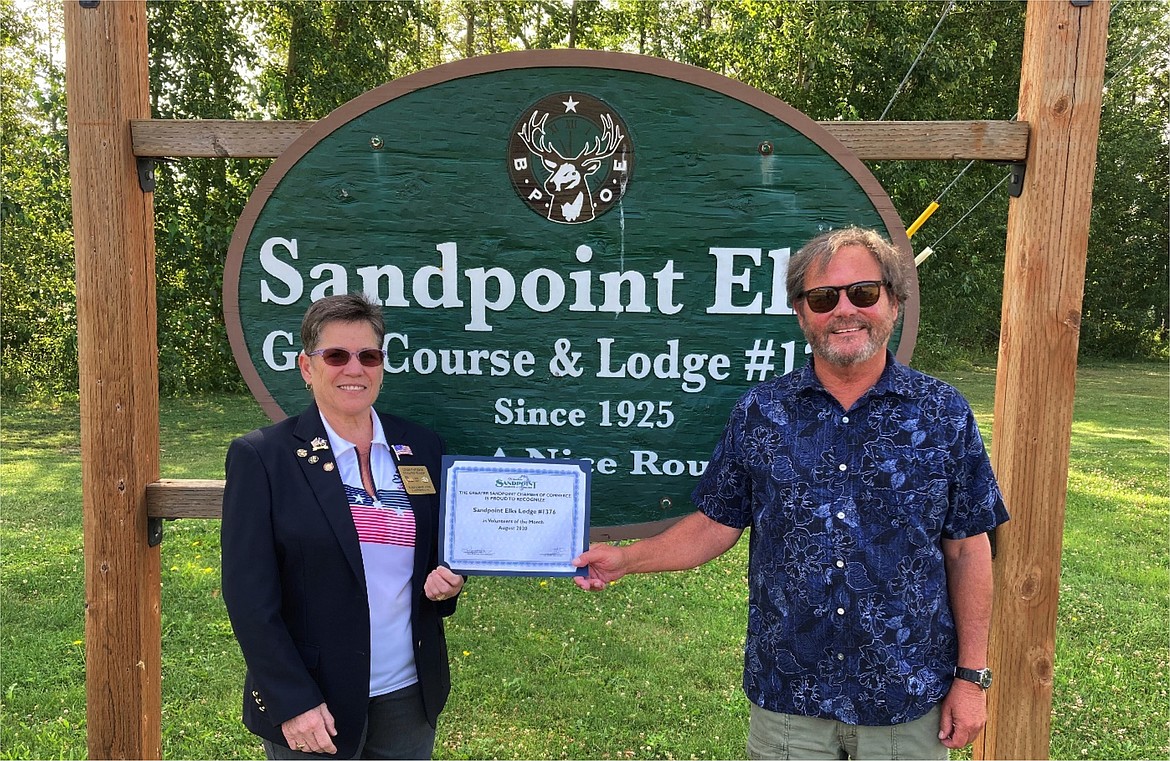 Greater Sandpoint Chamber of Commerce president Bob Witte, presents Linda Tatlock, Exalted Ruler of the Sandpoint Elks No. 1376, with Volunteer of the Month certificate on Aug. 13.
(Photo courtesy RICCI WITTE)
|
August 19, 2020 1:00 AM
SANDPOINT — The Greater Sandpoint Chamber of Commerce is marking the Sandpoint Elks Lodge's 100th anniversary by naming them their August Volunteers of the Month. The ceremony took place on Aug. 13 as a virtual meeting in place of the chamber's regular general membership luncheon.
The Sandpoint Elks No. 1376 officially became the Benevolent and Protective Order of Elks in July 1920 with 171 original members. Their first female Elk member, Nancy Hadley, was admitted in 1995. The four philosophical legs an Elk stands on are fidelity, charity, justice, and brotherly love. With that in mind, the Sandpoint elks have raised over three million dollars in support of local causes.
Some of the programs and projects the Sandpoint Elks support are a senior and veteran Thanksgiving dinner, providing free meals, including delivery to those unable to attend; providing free dictionaries to every Bonner and Boundary County third grade student; financial scholarships for high school and college students; they have an edible schoolyard garden project for area youth; they donate to Bonner Homeless Transitions, CCS, Head Start, the Bonner County Fairgrounds, and SASi.
Having made their mark on downtown Sandpoint, historically, the original Elk's lodges were located in some of our oldest buildings on Main and Second Avenues until 1999 when they moved the official lodge out to the golf course on Highway 200, which they have owned and operated since 1948. The Sandpoint Elks are currently working with the Bonner County History Museum to create a Sandpoint Elks display at the lodge.
Due to pandemic concerns, their plans for a large anniversary celebration have been delayed. That is why the Greater Sandpoint Chamber of Commerce is pleased to acknowledge Linda Tatlock, Exalted Ruler, on behalf of the Sandpoint Elks #1376 with our August 2020 Volunteer of the Month award.
For more information on the Sandpoint Elks you can call 208-263-4321, and for the Sandpoint Chamber, please call 208-263-2161 or visit www.sandpointchamber.org.
---