SHS cross country shines in dual meet with Timberlake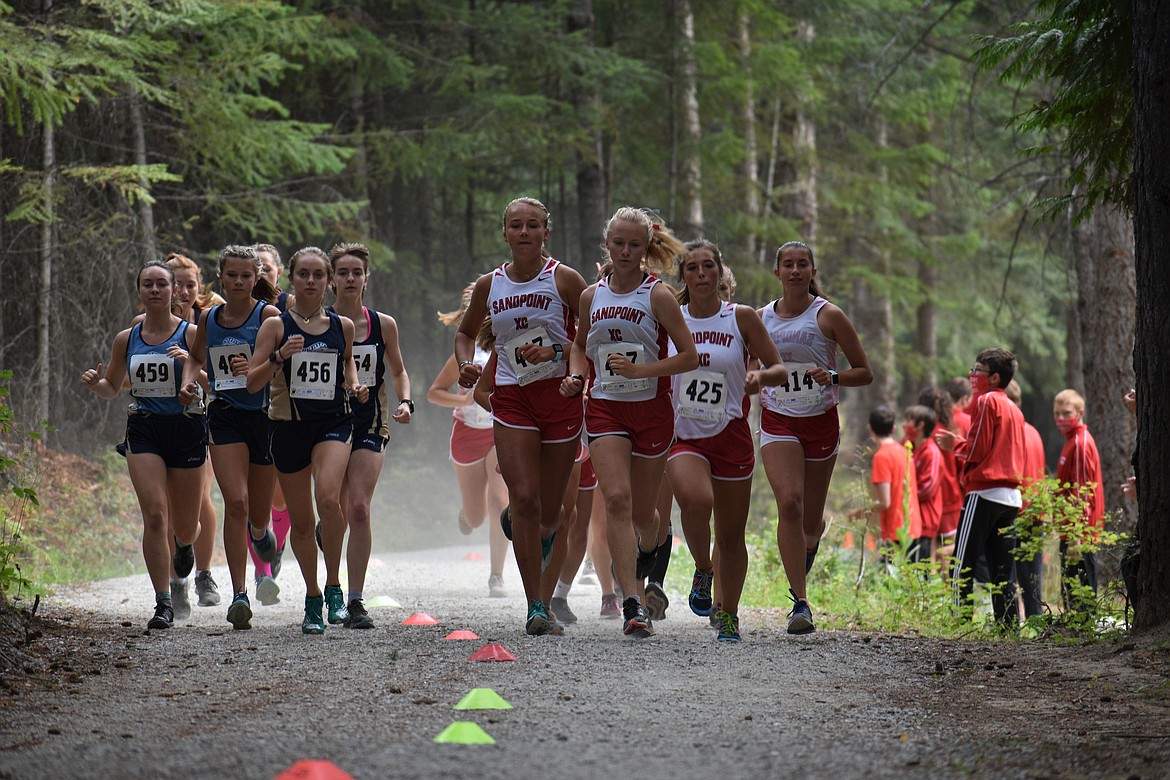 The Sandpoint girls run side-by-side with Timberlake's pack during the start of Friday's dual at Pine Street Woods.
(Photo by DYLAN GREENE)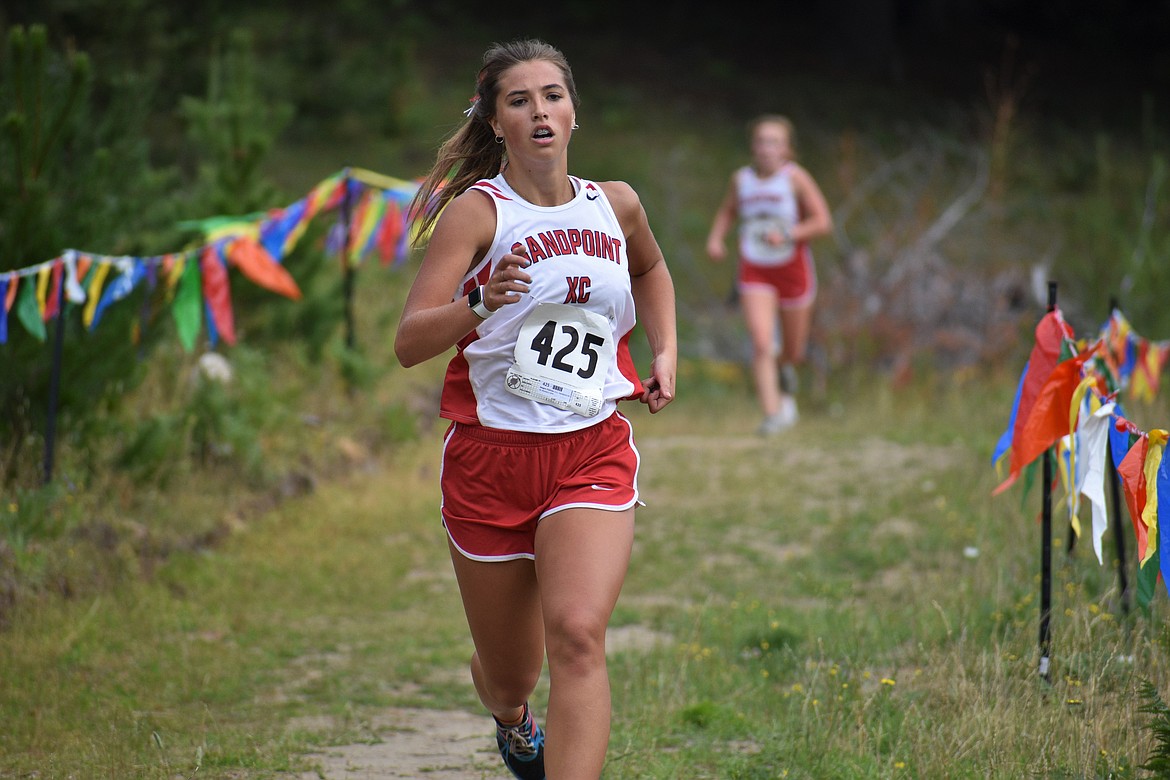 (Photo by DYLAN GREENE) Junior Megan Oulman nears the finish line in Friday's dual.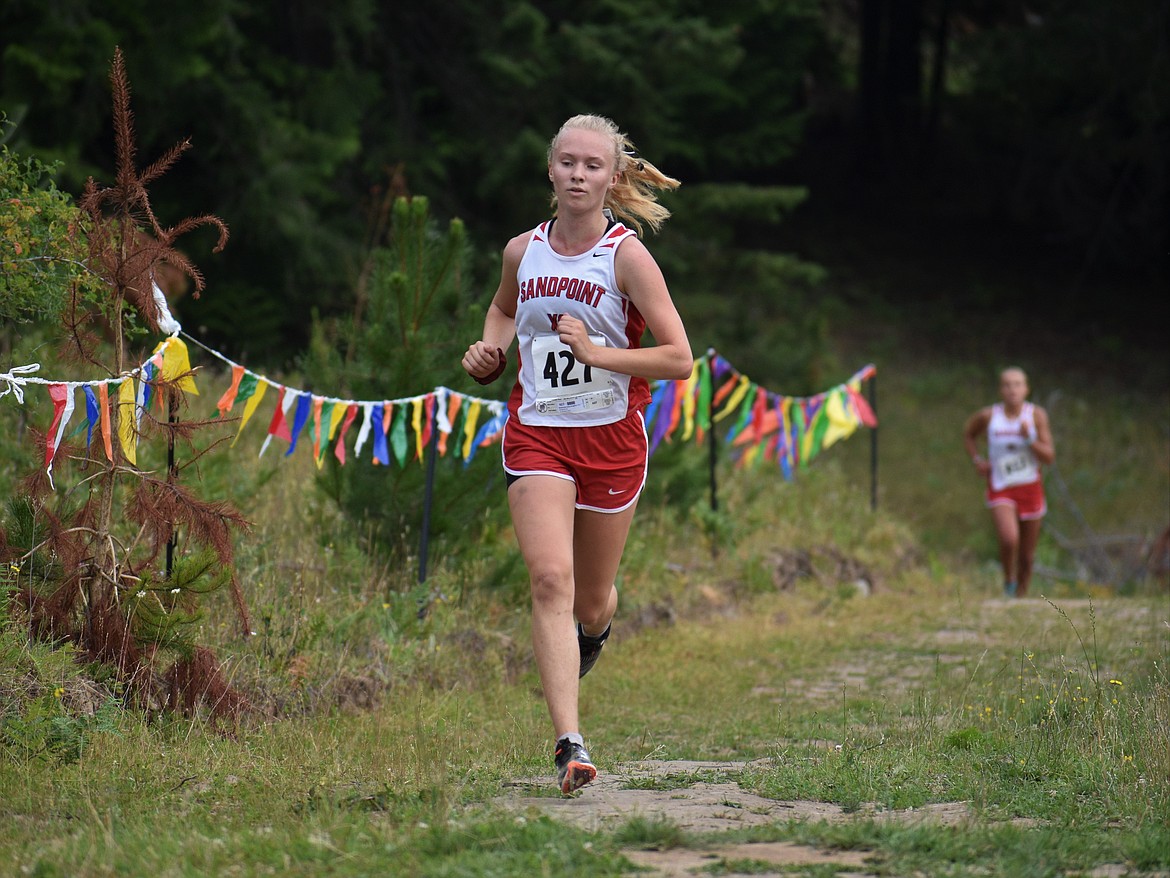 (Photo by DYLAN GREENE) Junior Mackenzie Suhy-Gregoire captured first on the girls side at the dual.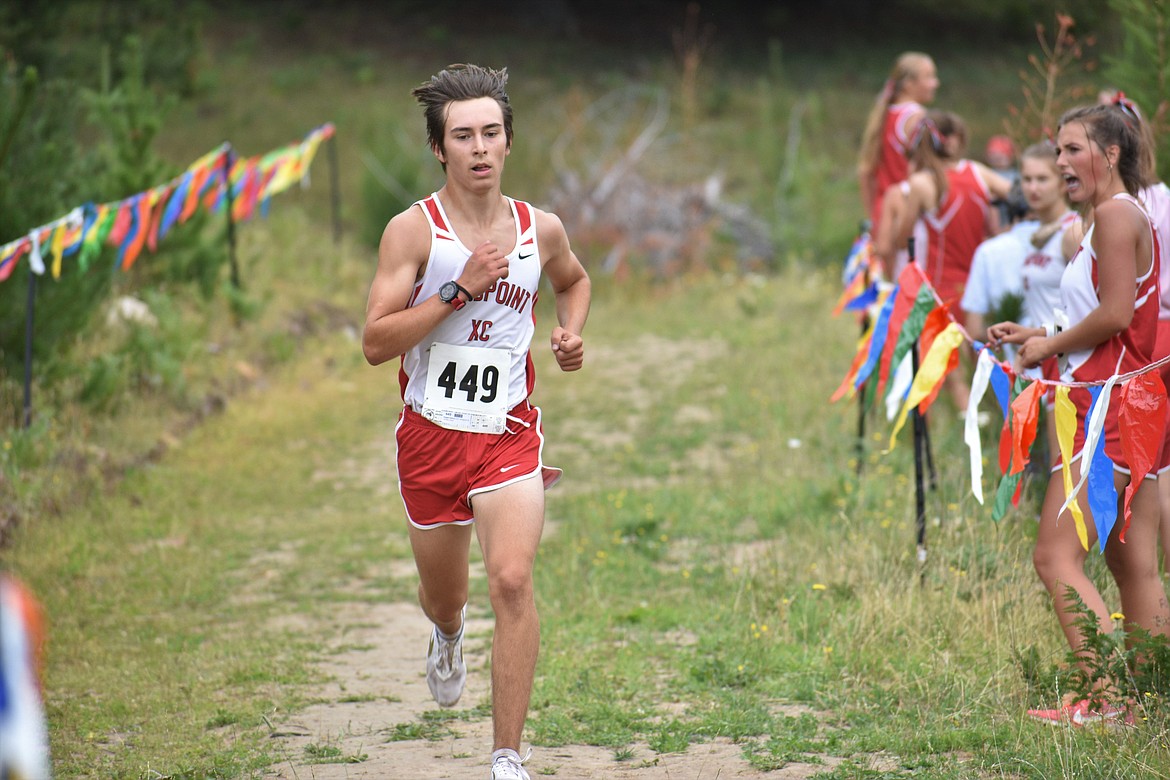 (Photo by DYLAN GREENE) Senior captain Keegan Nelson nears the finish line of Friday's dual at Pine Street Woods.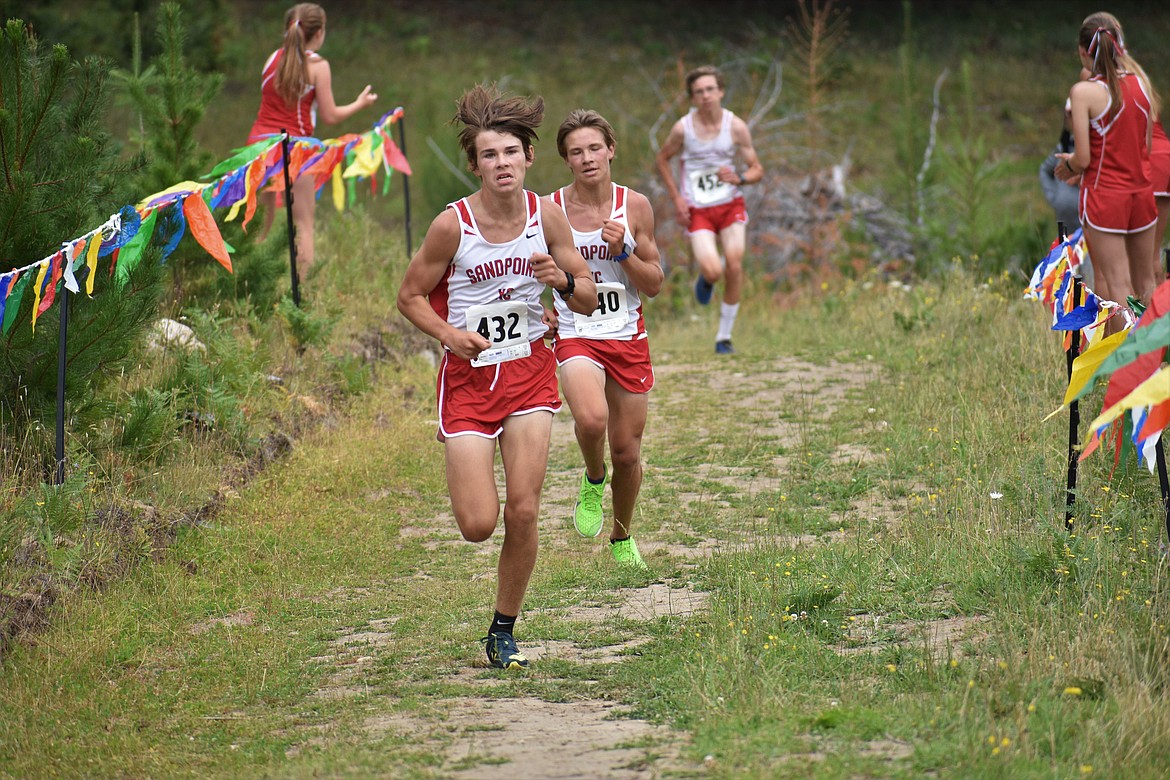 Trey Clark (front) leads Slate Fragoso and Nathan Roche toward the finish of Friday's dual.
(Photo by DYLAN GREENE)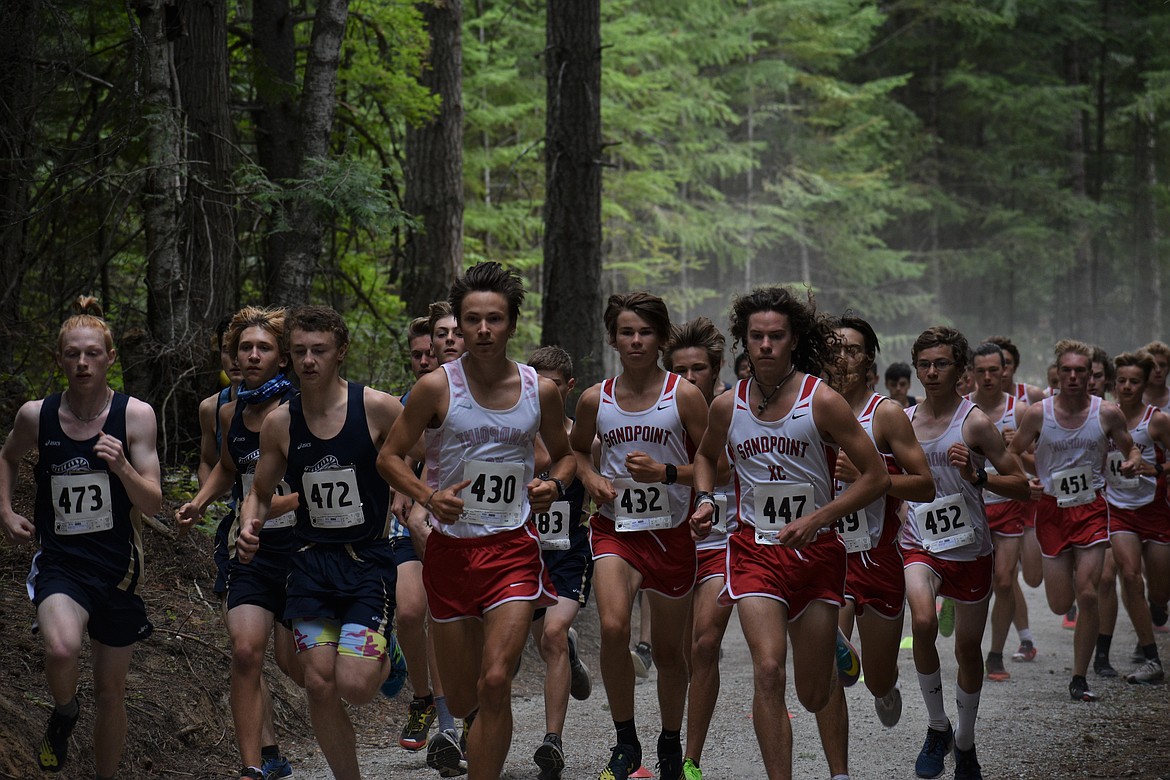 (Photo by DYLAN GREENE) The Sandpoint and Timberlake boys charge out of the gates during Friday's dual.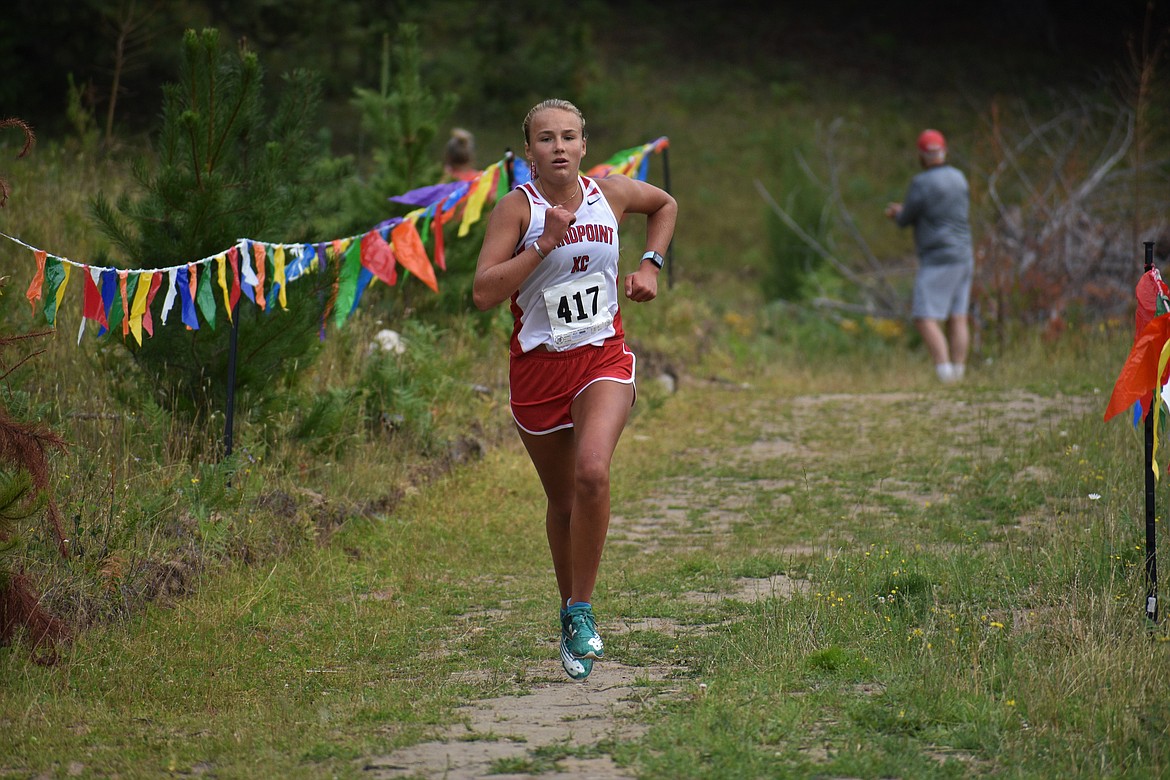 (Photo by DYLAN GREENE) Sophomore Ara Clark nears the finish line during Friday's dual meet against Timberlake.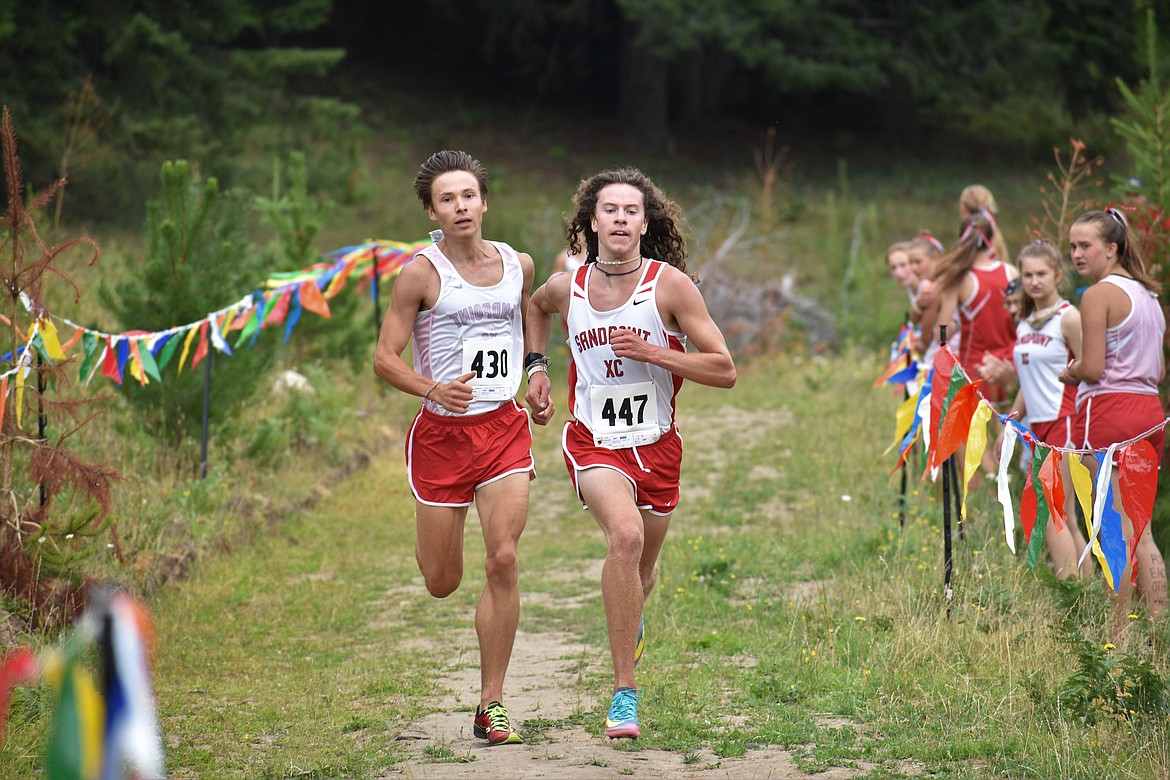 (Photo by DYLAN GREENE) Nikolai Braedt (left) and Jett Lucas run side-by-side to the finish during Friday's dual meet.
Previous
Next
by
DYLAN GREENE
Sports Editor
|
August 22, 2020 1:00 AM
SANDPOINT — Through tight corners, steep hills and logging roads, the Sandpoint cross country team proved they can handle any conditions thrown their way during a dual meet with Timberlake on Friday morning at Pine Street Woods.
It was the opening meet of the season for the Bulldogs, but it was also a warmup. Instead of running their typical 5K, the team ran a 2.6-mile course.
Boys cross country coach Matt Brass said they wanted to hold a shorter race to start the season because sometimes the runners get so caught up in the times they get, they forget about what really matters.
"Today was about racing," Matt said. "It was a hard course against a quality team. Timberlake is always fun to run against, Shawn [Lawler] is a great coach. Just to be able to have that experience against them at the beginning of the year is really fun."
Pine Street Woods is a venue the Bulldogs are quite familiar with. Every Monday this summer the team trained on the course, so they knew the lay of the land. This was the first time Sandpoint has used Pine Street Woods for an event.
"It has all the beautiful things you want in a cross country course," girls cross country coach Angie Brass said.
On the girls side, junior Mackenzie Suhy-Gregoire continued to tear it up placing first with a time of 18:49.
"I'm never surprised because you see the body of work that gets put in and how they progress during the spring," Angie said about Suhy-Gregoire's performance. "She's definitely stepping out as setting the pace and driving it."
Sophomore Ara Clark crossed the line next with a 19:02, followed by junior Megan Oulman in third (19:22) and senior Camille Neuder in fourth (19:32). Freshman Grace Rookey (fifth), senior Annaby Kanning (seventh) and senior Quinn Hooper (eighth) rounded out the top seven for the Sandpoint girls.
"I'm very proud of them, they did great," Angie said. "That top 7 really brought it."
On the boys side, seniors Nikolai Braedt and Jett Lucas were neck and neck to the finish line with Lucas pulling ahead in the end by milliseconds.
Matt said that was exactly what he wanted to see from his top two runners.
"I love it," he said. "They've been top runners for four years and they've run together like that for pretty much four years. They do, but they don't care who crosses the finish line first. There's that competitiveness where they're driving to the line, but they're best friends ... That's what they need to be doing and they executed beautifully today."
Senior Keegan Nelson finished about 10 seconds after Braedt and Lucas to take third. Trey Clark (fourth), Slate Fragoso (fifth), Nathan Roche (sixth) and Ben Ricks (seventh) rounded out the top seven for the Bulldogs.
"The boys did outstanding," Matt said. "We really focus heavily on hills, we are grinders, we charge hard on hills and they really took that to heart today, but they also raced smart."
Team scores were not taken at the dual.
Matt and Angie said it was great to see their runners competing again.
"It was something needed," Matt said. "I was really appreciative of Timberlake and our parents. People kept their distance, they had their masks on and they were respectful of what we asked them to do."
The Bulldogs will compete in their first 5K of the season next Friday when they host the Sandpoint Travers IEL Meet at Travers Park.
RESULTS
Sandpoint athletes in bold
GIRLS
Top 10 — 1, Mackenzie Suhy-Gregoire (Sandpoint), 18:49. 2, Ara Clark (Sandpoint), 19:02. 3, Megan Oulman (Sandpoint), 19:22. 4, Camille Neuder (Sandpoint), 19:32. 5, Grace Rookey (Sandpoint), 19:45. 6, Haileyann Johnson, (Timberlake), 19:47. 7, Annaby Kanning (Sandpoint), 20:46. 8, Quinn Hooper (Sandpoint), 20:56. 9, Sarah Zerfas (Timberlake), 21:22. 10, Isabelle Walkington (Sandpoint), 22:38.
BOYS
Top 10 — 1, Jett Lucas (Sandpoint), 14:54.01. 2, Nikolai Braedt (Sandpoint), 14:54.3. 3, Keegan Nelson (Sandpoint), 15:04. 4, Trey Clark (Sandpoint), 15:41. 5, Slate Fragoso (Sandpoint), 15:43. 6, Nathan Roche (Sandpoint), 15:45. 7, Ben Ricks (Sandpoint), 15:45. 8, Dawson Hunt (Timberlake), 16:34. 9, Evan Howell (Timberlake), 16:41. 10, Caleb Roche (Sandpoint), 16:42.
---