Pecks Hog Trough cooking up great food for folks on the go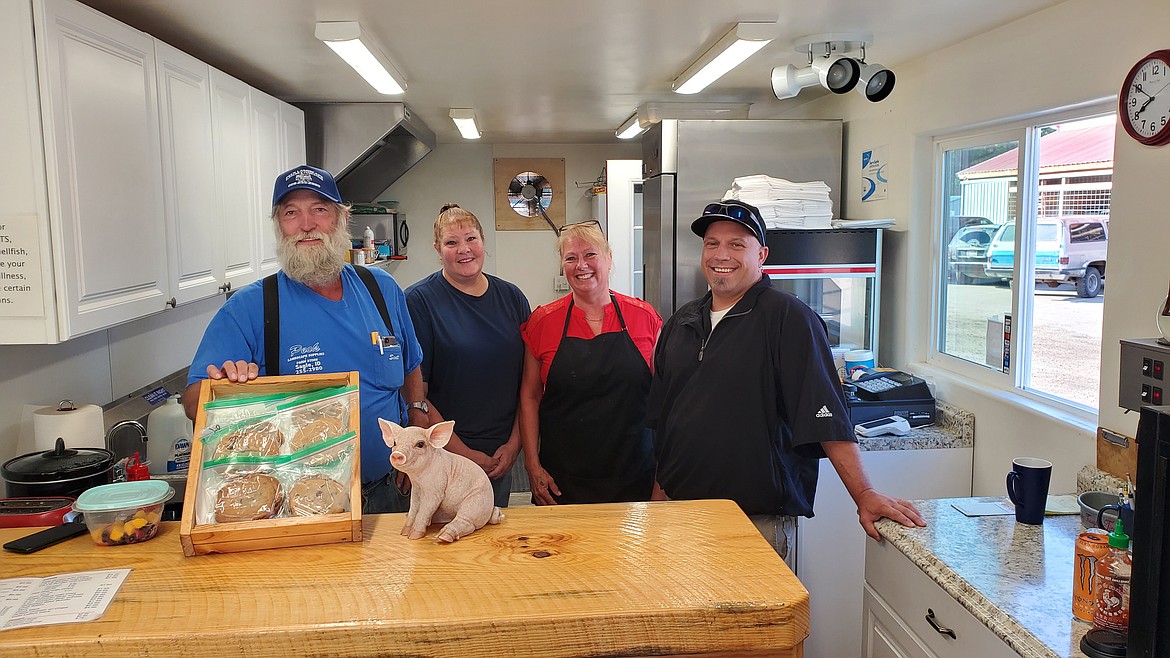 Scott Peck, Tammy Merritt, Erin Rentschler, and Josh Riese stand inside The Hog Trough. Launched by Peck as a way to return to his love of cooking, The Hog Trough, 468215 U.S. 95 offers delicious home-cooked meals for folks on the go.
(Photo by JASON BIRD)
|
August 25, 2020 1:00 AM
Editor's note: This story has been updated to reflect the correct hours of The Hog Trough. It is open 6 a.m. to 5:30 p.m.
SAGLE — After years of baking for big corporations, Scott Peck put his love for cooking to the side while getting his farm, landscape and trucking business off the ground.
Once Peck Landscape Supplies & Farm Store was launched, Peck found he didn't have as much time as he'd had in the past for baking. So, he stayed busy running the store and delivering landscaping materials to his customers.
Once the farm and landscaping business was established and going strong, Peck's focus turned to his desire to begin a new adventure in the same location. And that gave him a chance to reconnect with his love for baking by opening a food trailer at the Sagle store.
And, in September 2019, that adventure began with the launching of The Hog Trough, 468215 U.S. 95. The food trailer, which is open from 6 a.m.-5:30 p.m., offers delicious home-cooked meals for folks on the go.
The traiiler specializes in "awesome food" for both breakfast and lunch options, with fast, accurate service, The Hog Trough said in a press release. For breakfast, customers can choose from such classics as biscuits and gravy, omelettes, and breakfast burritos and breakfast sandwiches. For lunch, the offerings include classics such as hamburgers, hot dogs, and finger steaks as well as tacos, chef salad and chicken strips. A cold lunch sack also is available for customers.
What prompted Peck to launch the food trailer? Easy, a love for good food and a desire to share it with the community.
"[Scott] believed this side of Sagle could use another great restaurant, especially for those 'busy bees' like him," Hog Trough officials said in a press release. "He built the Hog Trough with some help of his friends, and a few employees."
Now that great food is being served up by the wonderful staff, the restaurant's staff said. Now for folks on the go — and those looking for a great meal, there's a great selection just a short drive across the bridge.
"The Hog Trough is a great drive-thru you can call, stop by and get that home cooked meal when you're on the go," Peck said.
Information: Peck's Hog Trough, Facebook.com/PecksHogTrough or by phone, 208-290-3300
---