Boys claim top spot, girls take runner-up in home quad meet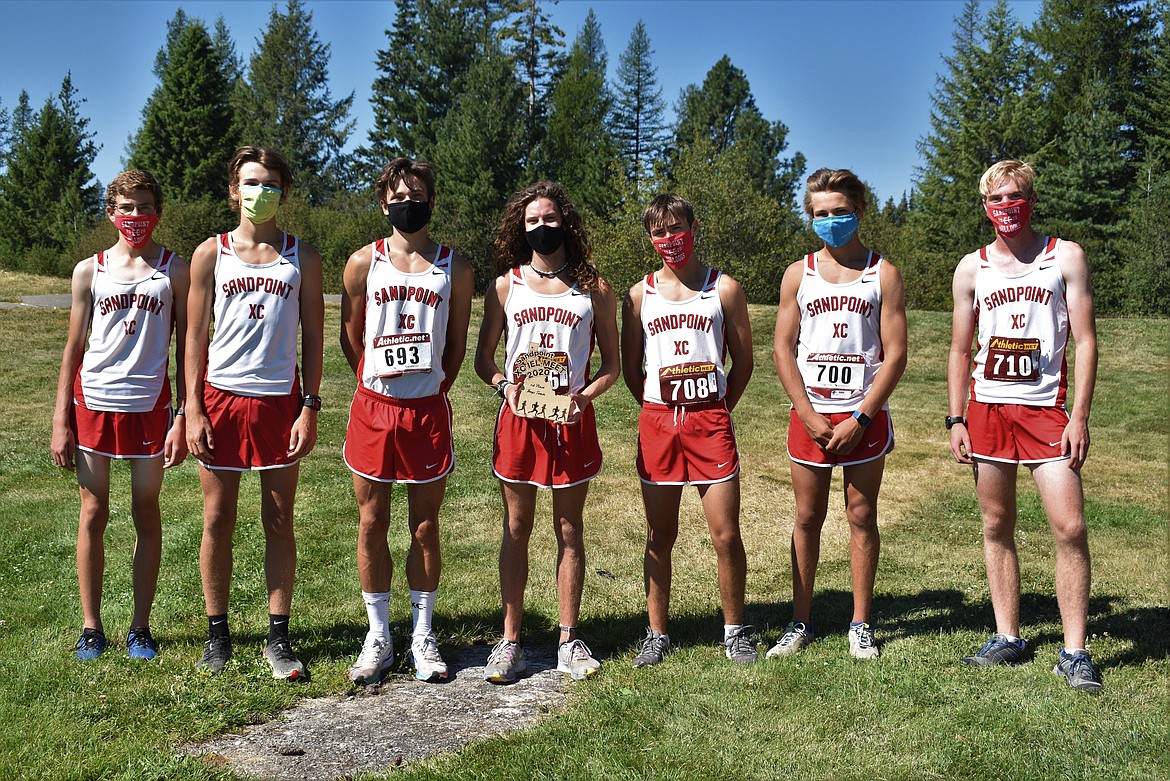 Sandpoint's top seven boys varsity runners pose with the first place trophy at Friday's quad meet. Pictured (from left): Nathan Roche, Trey Clark, Nikolai Braedt, Jett Lucas, Keegan Nelson, Slate Fragoso and Ben Ricks.
(Photo by DYLAN GREENE)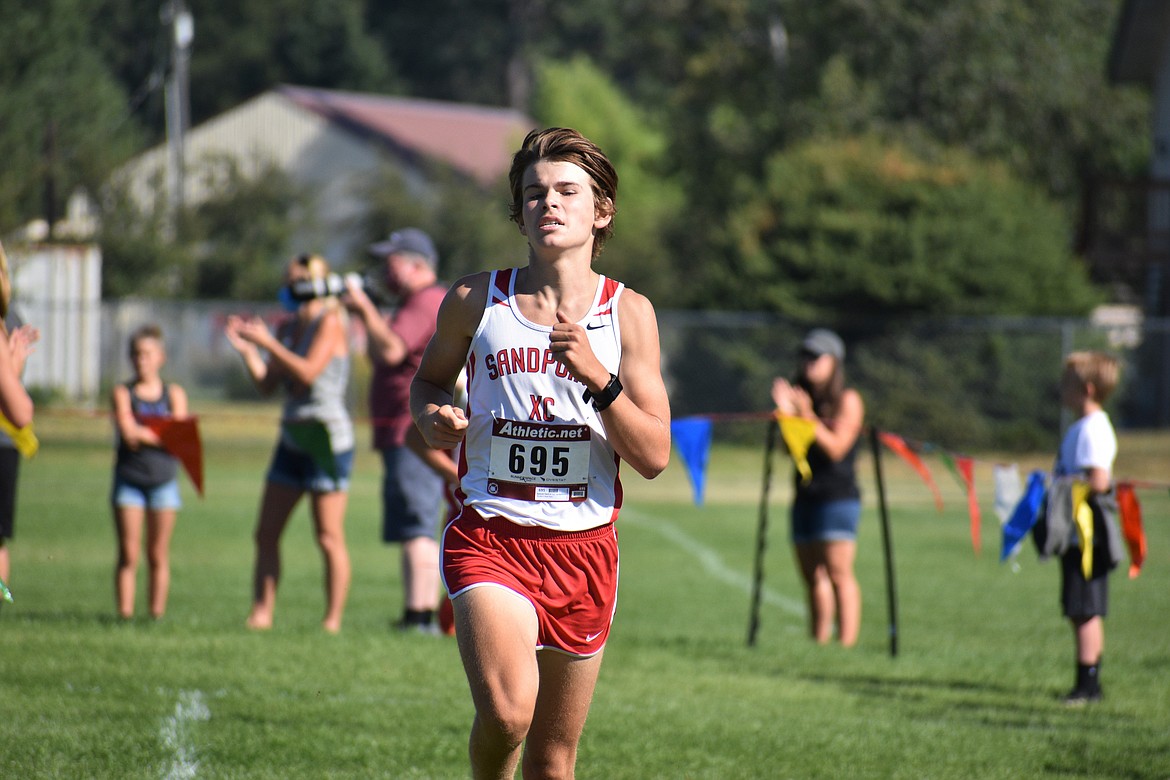 Junior Trey Clark nears the finish line during Friday's meet.
(Photo by DYLAN GREENE)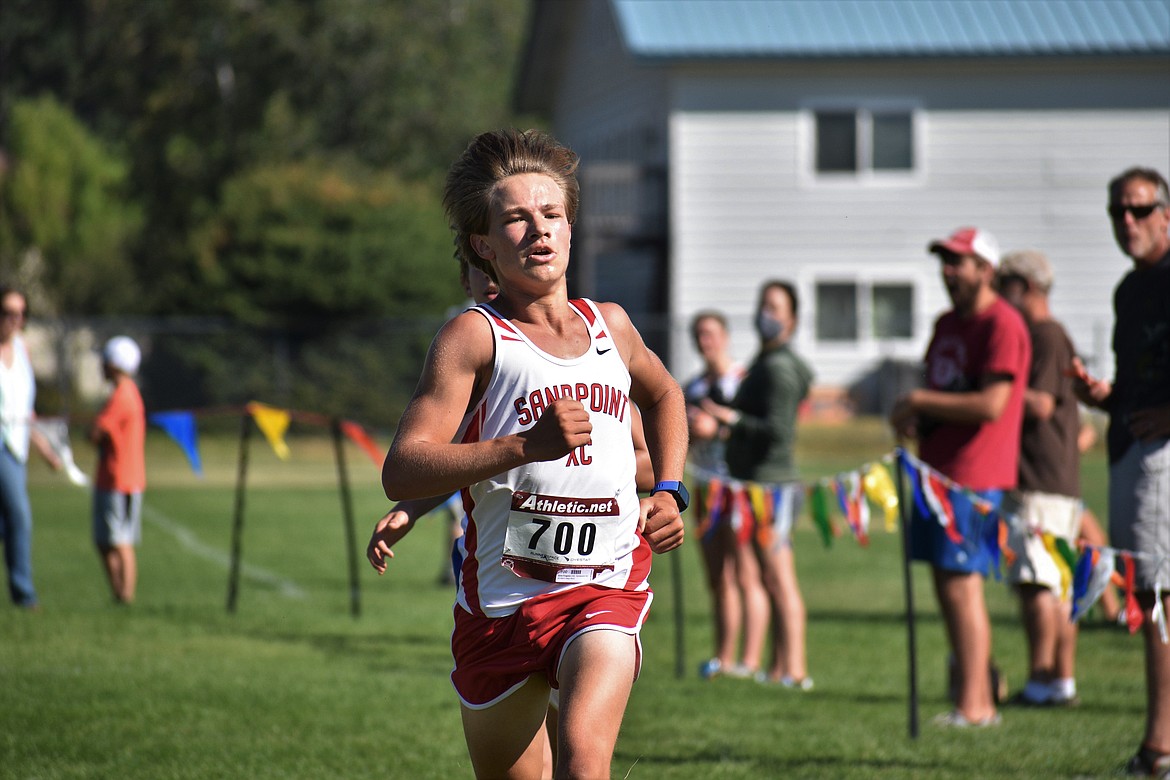 Sophomore Slate Fragoso crosses the finish line to take 13th at Friday's meet.
(Photo by DYLAN GREENE)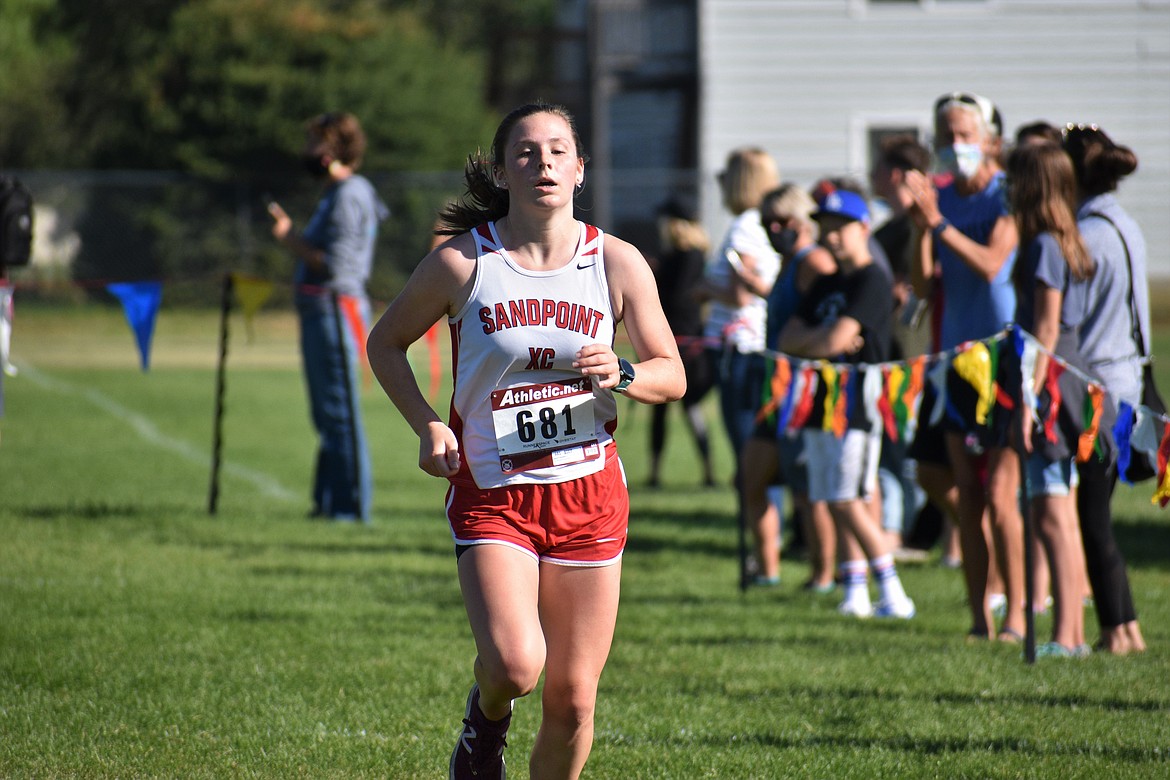 Senior captain Quinn Hooper pushes toward the finish of Friday's meet.
(Photo by DYLAN GREENE)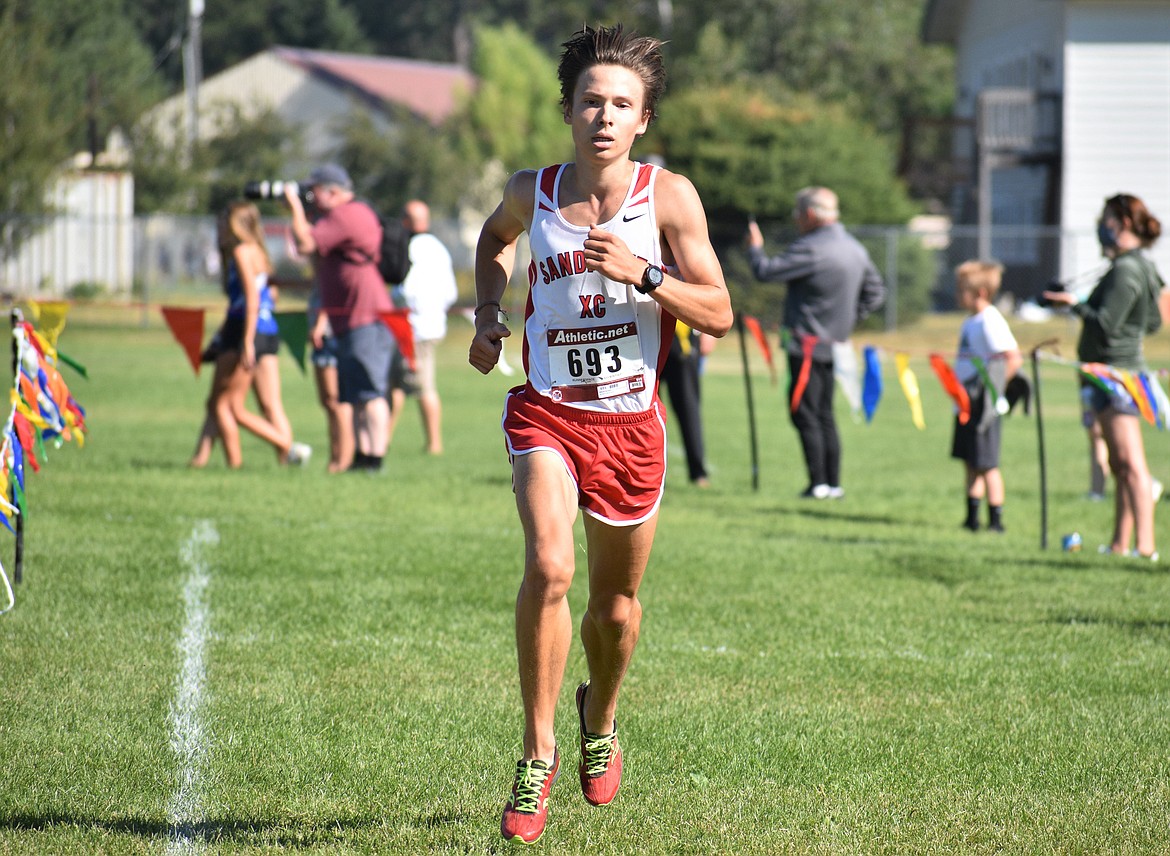 Nikolai Braedt nears the finish line of Friday's meet at Travers Park.
(Photo by DYLAN GREENE)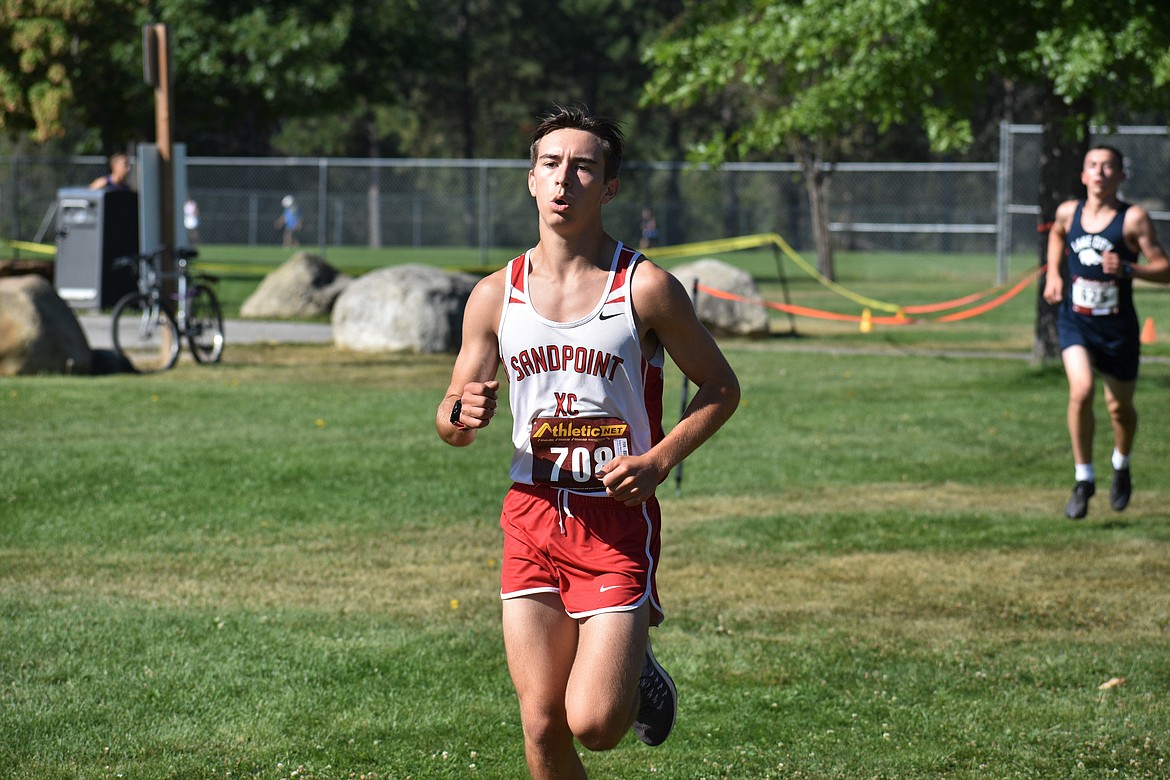 Senior Keegan Nelson competes in Friday's meet at Travers Park.
(Photo by DYLAN GREENE)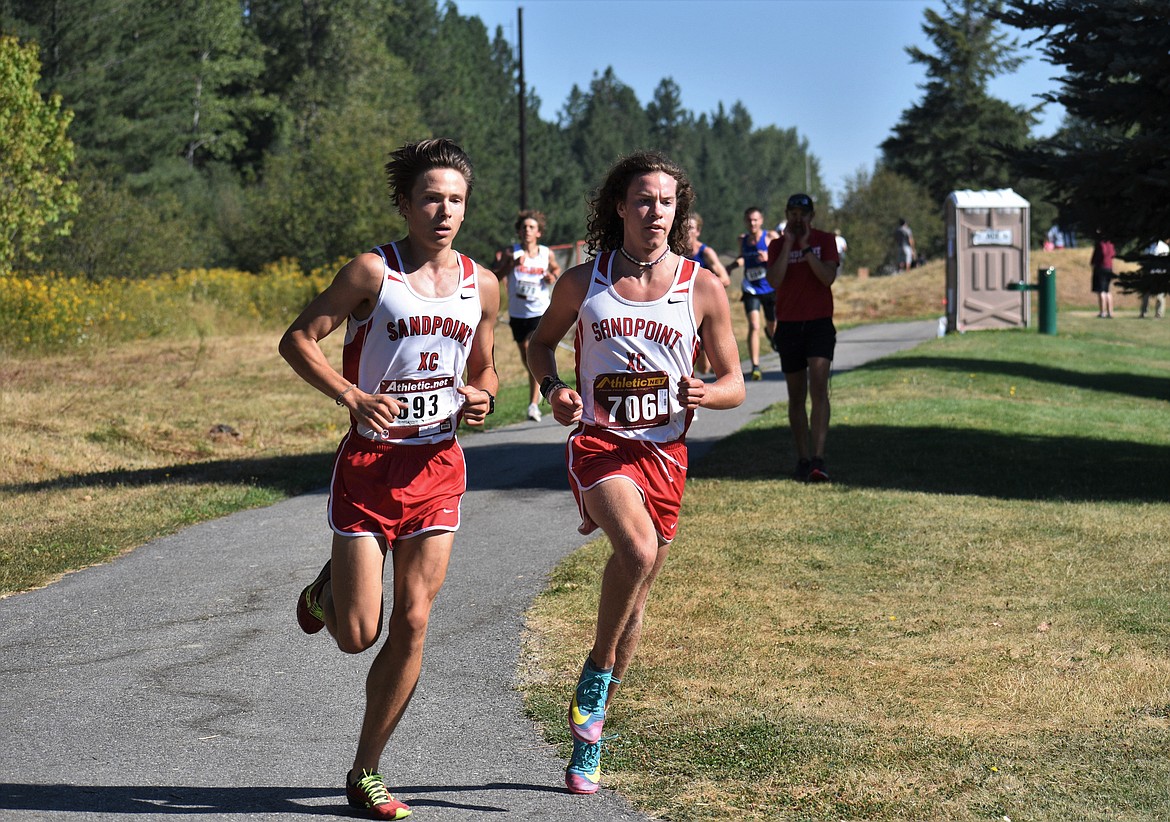 Senior captains Nikolai Braedt (left) and Jett Lucas run side-by-side during Friday's meet.
(Photo by DYLAN GREENE)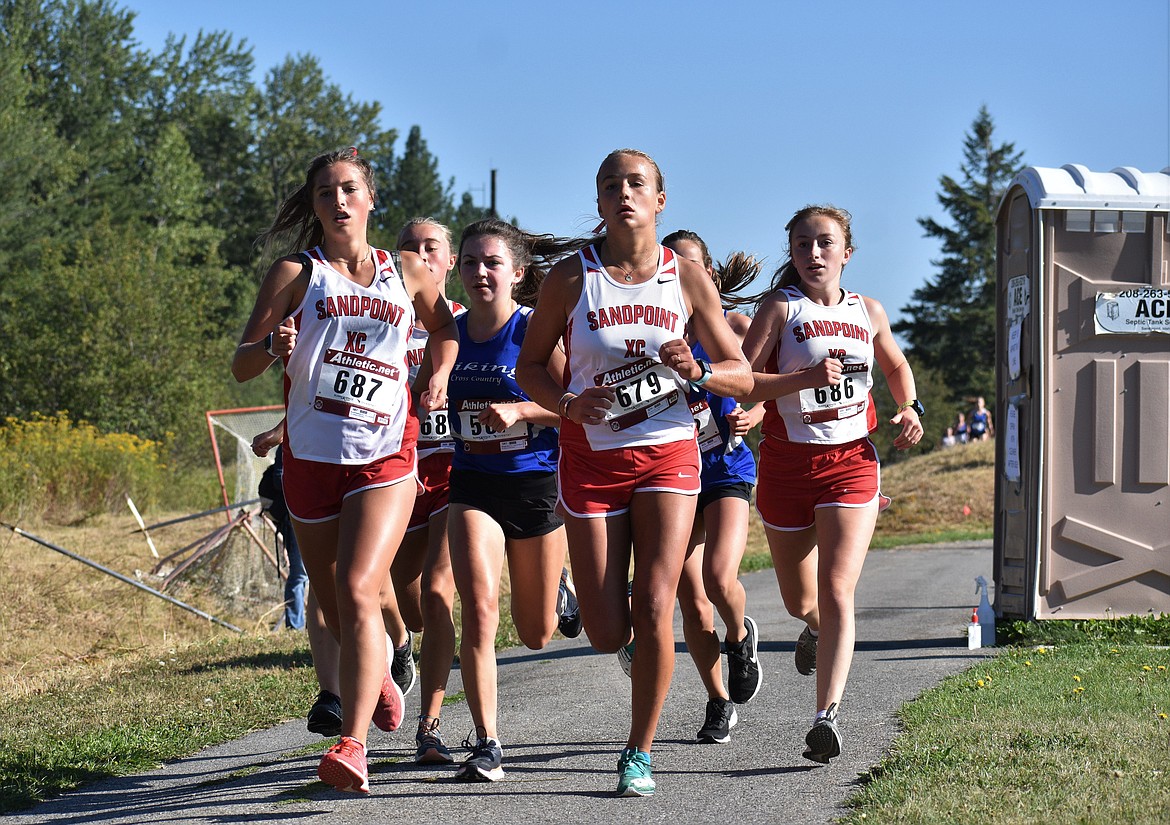 A pack of Sandpoint runners compete in Friday's meet.
(Photo by DYLAN GREENE)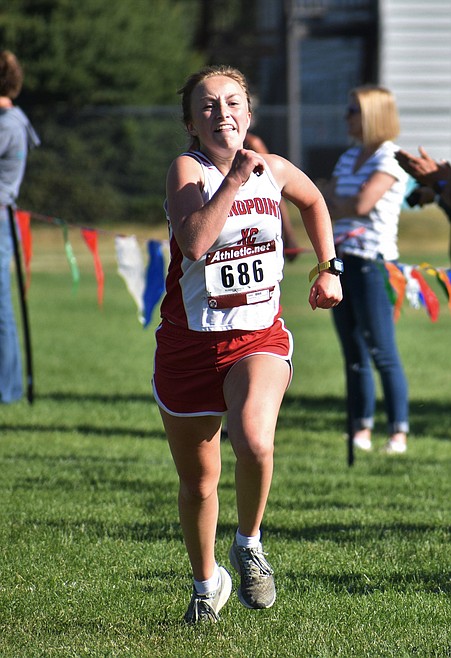 Senior captain Camille Neuder nears the finish line during the meet at Travers Park on Aug. 28.
(Photo by DYLAN GREENE)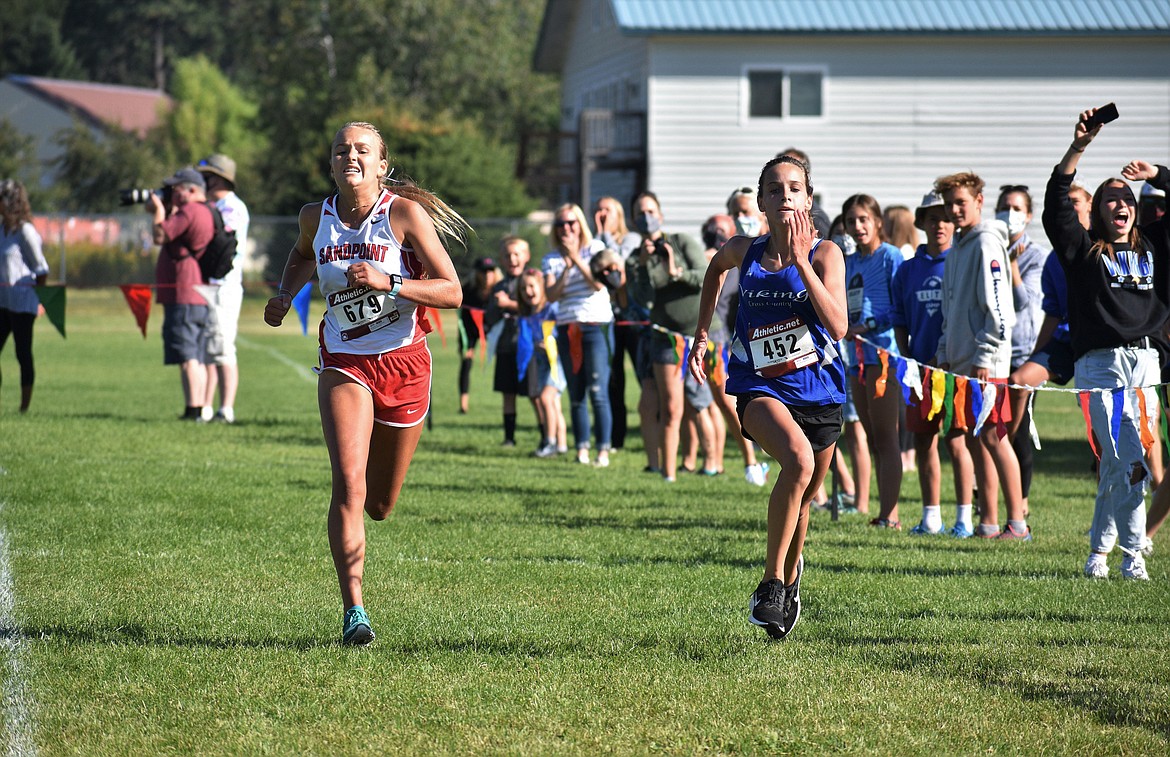 Sophomore Ara Clark attempts to beat out Coeur d'Alene's Anne Marie Dance during Friday's home meet.
(Photo by DYLAN GREENE)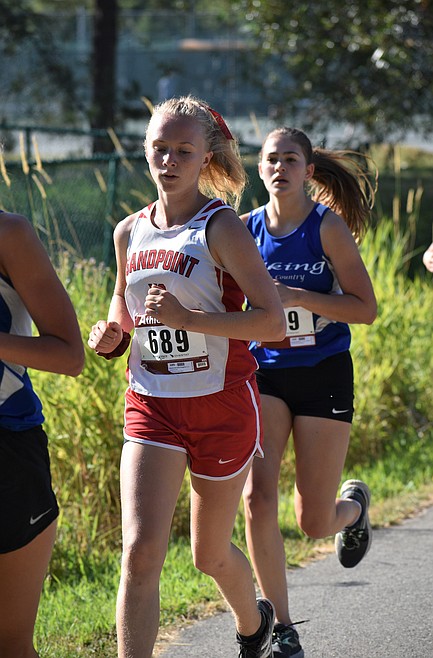 Mackenzie Suhy-Gregoire competes in Friday's home meet at Travers Park.
(Photo by DYLAN GREENE)
Previous
Next
by
DYLAN GREENE
Sports Editor
|
August 29, 2020 1:00 AM
SANDPOINT — The cross country season in North Idaho is officially in full swing.
On Friday morning, the Bulldogs hosted the Sandpoint Travers IEL Meet at Travers Park. Sandpoint, Lake City, Post Falls and Coeur d'Alene all got their first official taste of a 5K in 2020.
Sixty-eight boys and 45 girls competed in the quad meet. Sandpoint cross country coaches Matt and Angie Brass put it all together and it was apparent that everyone in attendance, especially the athletes, appreciated the effort they put into the event.
"Sandpoint did an incredible job putting it on," Post Falls cross country coach Brian Trefry said. "Matt and Angie are just amazing and great for this whole region."
The girls took the course first and Samantha Wood from Post Falls set a blistering pace to claim the top spot. She crossed the finish line over a minute and half ahead of the second-place runner. In total, five Trojans finished in the top eight to help Post Falls claim the team title.
Sandpoint edged out Coeur d'Alene by five places to claim second and Lake City took fourth.
Post Falls is regarded as the top team in North Idaho and coming in Angie knew they would be tough to beat, so the Bulldogs focused on claiming the runner-up spot. And they executed that goal to perfection.
"I'm very proud of them," she said.
In recent weeks, it has become apparent that junior Mackenzie Suhy-Gregoire will be the Bulldogs top runner on the girls side this fall. She showed what she is capable of Friday morning.
Suhy-Gregoire was glued to the heels of Kaley Bohl from Post Falls and Abby Buzolich all race. Then in the closing moments as she rounded one of the final turns, she surged past the pair to take seventh and claim a personal best of 20:05.
"That was an exhilarating moment," she said. "I was like, 'I did it.'"
Suhy-Gregoire bested her previous PR by nearly 30 seconds and the time put her in 21st on the school's all-time list.
"This season has been amazing, and the girls have been great," she said. "I didn't think I would be where I am right now."
Heading into the meet, Angie said Suhy-Gregoire knew she would be leading the charge for the Bulldogs due to her pacing and she fully embraced the role. A 20-minute 5K is within reach, Angie said.
"Her per-mile pace is a little bit quicker, so she needs to be out front," Angie said. "She was ready, and we were ready for that."
Suhy-Gregoire admitted it was challenging running without her teammates right by her side.
"It was definitely a hard race … but I knew they were behind me and I was running for them," she said.
The second runner to cross the finish line for Sandpoint was Camille Neuder in 10th. The senior stepped up and grinded out a tough final mile to lead the Bulldogs top pack.
"That was definitely a transitional race and something really special," Angie said about Neuder. "I think that it was a great home course for a senior that has put in a ton of work and had to battle an injury pretty roughly for one whole year, so that was really fun to see."
Neuder had a powerful finish and Suhy-Gregoire lit up when she saw the captain coming in behind her.
"I sat up from the ground and I saw Camille and I almost started crying," she said. "That was amazing, I'm so crazy proud of her. She killed it today."
The Bulldogs dynamic duo consisting of junior Megan Oulman and sophomore Ara Clark followed closely behind in 11th and 14th respectively. Freshman Grace Rookey (16th) and senior Quinn Hooper (19th) rounded out Sandpoint's top-six.
Angie said the girls stuck together well and across the board everyone improved from last week's time trial on the same course.
On the boys side, senior captains Jett Lucas and Nikolai Braedt finished first and second. Braedt set the pace and Lucas closed the race with a blazing final mile to cross the line with a 15:59, just five seconds off his PR.
Lucas and Braedt let a pair of runners from Coeur d'Alene set the pace early and then took off in the final third of the race to solidify their positions as the top two runners in North Idaho.
"I think it just shows their maturity not getting caught up in somebody wanting to go out and run a 4:50 first mile," Matt said about the pair. "They know what they should be running to be able to achieve what they want to achieve … They were really patient, which I was impressed by."
The Bulldogs claimed first as a team with five runners finishing in the top 10.
"I thought they ran really smart and they raced well," Matt said about the boys. "Their pacing was good. They let a little bit go in the second and third mile for where they eventually want to be but for this point in the season, they are running outstanding."
Senior captain Keegan Nelson had a strong showing taking seventh with a time of 17:10. Junior Trey Clark took ninth, freshman Nathan Roche captured 10th and sophomore Slate Fragoso brought home 13th.
Clark, Roche and Fragoso stuck together as a pack throughout Friday's race and picked off one runner after another. Matt said the trio really stepped it up.
Compared to the time trial on Aug. 18, Matt said the boys were 20 seconds faster.
"Just the progression in a really short amount of time was more than I even expected," he said.
Awards made by Sandpoint were given to the top team and top nine runners in the boys and girls races. Sadie Brass, Matt and Angie's daughter, created the design for the plywood awards and they were made with a Glowforge 3D Laser Printer.
The Bulldogs will compete in the Post Falls River Run on Thursday.
Travers Park
5K
Sandpoint athletes in bold
GIRLS
TEAM SCORES — 1, Post Falls 21. 2, Sandpoint 58. 3, Coeur d'Alene 63. 4, Lake City 86.
TOP 15 — 1, Samantha Wood, Post Falls, 17:59.9. 2, Angelyca Chapman, Lake City, 19:34.7. 3, Anna Peters, Post Falls, 19:39.5. 4, Leah Holding, Post Falls, 19:49.8. 5, Alahna Lien, Post Falls, 19:54.6. 6, Elliana Rietze, Coeur d'Alene, 19:57.8. 7, Mackenzie Suhy-Gregoire, Sandpoint, 20:05.8. 8, Kaley Bohl, Post Falls, 20:06.2. 9, Abby Buzolich, Coeur d'Alene, 20:24.5. 10, Camille Neuder, Sandpoint, 20:52.4. 11, Megan Oulman, Sandpoint, 21:02.5. 12, Taylah Chapman, Lake City, 21:03.1. 13, Anne Marie Dance, Coeur d'Alene, 21:17.9. 14, Ara Clark, Sandpoint, 21:19.3. 15, Erica Mundt, Post Falls, 21:26.7.
BOYS
TEAM SCORES — 1, Sandpoint 29. 2, Post Falls 47, 3, Coeur d'Alene 61. 4, Lake City 91.
TOP 15 — 1, Jett Lucas, Sandpoint, 15:59.3. 2, Nikolai Braedt, Sandpoint, 16:02.5. 3, Brycen Kempton, Post Falls, 16:18.6. 4, Alex Peters, Post Falls, 16:20.5. 5, Braden Dance, Coeur d'Alene, 16:39.6. 6, Ethan Garner, Coeur d'Alene, 16:41.3. 7, Keegan Nelson, Sandpoint, 17:10.0. 8, Maximillian Bazler, Lake City, 17:16.4. 9, Trey Clark, Sandpoint, 17:19.7. 10, Nathan Roche, Sandpoint, 17:22.6. 11, Neil McCarthy, Post Falls, 17:24.8. 12, Gavin Calkins, Post Falls, 17:29.2. 13, Slate Fragoso, Sandpoint, 17:31.7. 14, Lockland May, Coeur d'Alene, 17:32.6. 15, Ben Ricks, Sandpoint, 17:48.7.
---