Record rainbow trout legacy endures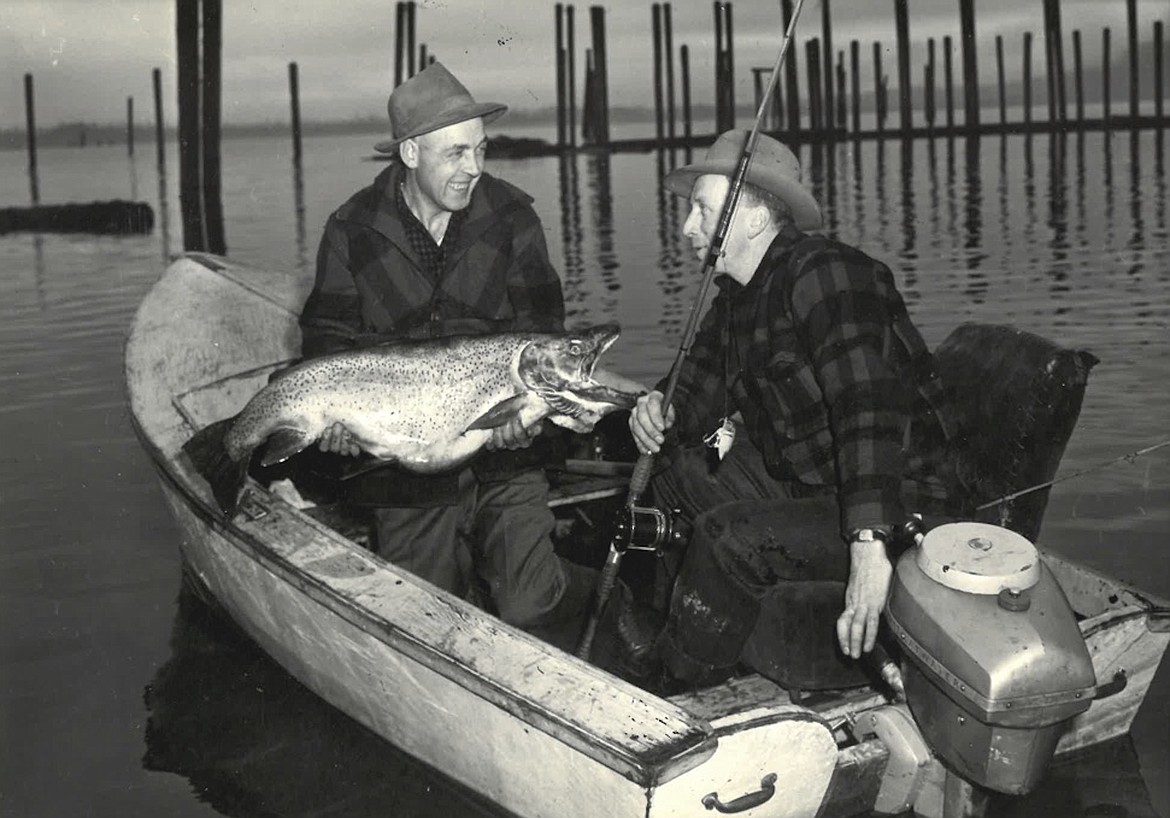 Wes Hamlet (left) and Art Moen take part in a photo shoot with acclaimed photographer Ross Hall. Hamlet caught a world-record rainbow trout on Lake Pend Oreille on Nov. 25, 1947.
(Photo courtesy DONNA HAMLET RUNGE)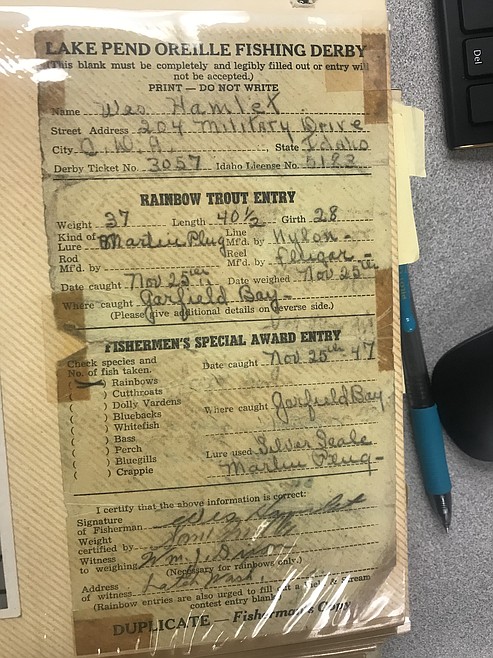 This is the official Lake Pend Oreille Idaho Club fall derby entry slip.
Previous
Next
by
KEITH KINNAIRD
News editor
|
December 1, 2020 1:00 AM
SANDPOINT — Coeur d'Alene angler Wes Hamlet didn't think much of the Kamloops rainbow trout when he horsed it out of Lake Pend Oreille on Nov. 25, 1947.
Hamlet and his fishing companion, Art Moen, figured it weighed 25 pounds, making it a fairly unremarkable catch. Hamlet put the fish on the deck of the 14-foot wooden boat and the two anglers continued their hunt for larger fish during the annual fall Lake Pend Oreille Idaho Club derby.
"They caught this great big fish and they just let it be on the floor and then kept fishing, so it probably weighed more than what it did," said Hamlet's daughter, Donna Hamlet Runge.
When they weighed the fish on shore, the Gerrard strain of rainbow trout tipped the scales at 37 pounds, making it a world record. The derby entry slip indicated the fish was 40 1/2 inches with a girth of 28 inches.
Word spread quickly, but it slowed Hamlet's return home to Coeur d'Alene. Hamlet's wife, Henrietta, was put off by his delayed return from Lake Pend Oreille, which is known its unpredictable, violent storms.
"She was so mad at him she really didn't care it was the world record," said Runge, who was 5 years old at the time.
Hamlet's catch made him a celebrity. National and international news outlets spread word of the catch far and wide. Derby rules, meanwhile, dictated that the fish be presented to Gen. Dwight D. Eisenhower.
But before being shipped off to Washington, D.C., Hamlet and the fish were summoned back up to Sandpoint so they could be photographed by acclaimed photographer Ross Hall. The photo shoot didn't go entirely as planned, however.
The fish would end up being caught twice.
"The fish was frozen and he was standing in the boat hanging onto it. It was so heavy and awkward that the fish fell into the lake so then he had to fish it back out again," Runge said.
The fish was also put on display in Coeur d'Alene and Sandpoint.
"They put the fish on ice and they had so much hype in the papers about it. People filed by like it was a funeral," said Runge.
Although proud of his achievement, Runge said her father carried himself humbly and worked to be a force of good in Coeur d'Alene business and charitable communities.
People from as far away as Japan and Germany, meanwhile, would seek Hamlet's advice on fishing. His smiling image and mammoth catch were used in North Idaho tourism brochures, tackle advertisements and menus for the Pastime Cafe in Sandpoint.
The National Freshwater Fishing Hall of Fame in Wisconsin formally recognized Hamlet's catch as a world record in 1998. But the catch would be surpassed by other fish, according to the International Game Fish Association's rankings.
Two bigger rainbow trout were caught in Saskatchewan, Canada, in 2007 and 2009, but LPOIC still carries the torch for Hamlet's catch as the new winners were genetically modified strains of rainbow trout rather than wild, spawning trout like the fish Hamlet caught.
"We still believe Wes Hamlet holds the ultimate 'braggin' rights' on Lake Pend Oreille," LPOIC said in a statement posted to its website.
"They've been very protective of that record," Runge said of LPOIC's conviction that Hamlet's record still stands.
Hamlet, according to contemporary and modern press accounts, caught the trout while trolling about a mile from Garfield Bay. Hamlet had about 400 feet of 40-pound test Sunset braided line. It was fooled by and struck a Martin herring plug. It peeled off approximately 150 feet of line before being hauled in.
Hamlet had reportedly fished Lake Pend Oreille no less than a dozen times, but had gotten skunked until his 13th foray onto the lake.
It's believed the kokanee-engorged fish lost up to a pound and a half in weight in body fluids and blood while sitting in the bottom of the boat. It's also believed World War II factored into Hamlet's catch.
"The war gave the fish a chance to grow in waters where conditions were right for rapid growth and food was abundant," Terry Rudnick wrote in the June 1980 edition of Outdoor Life. "Had fishing pressure not been greatly reduced during the war, these fish might have been caught several years earlier, before they reached record size."
Although Hamlet was never boastful of his accolade, Runge said his legacy lives on in the North Idaho fishing community 73 years later. While on Lake Coeur d'Alene, Runge said a fishing charter skipper surprised her with his recollection of her father.
"Wes Hamlet? Every fisherman knows about Wes Hamlet," the charter captain said.
Keith Kinnaird can be reached at kkinnaird@bonnercountydailybee.com or followed on Twitter @KeithDailyBee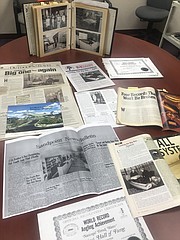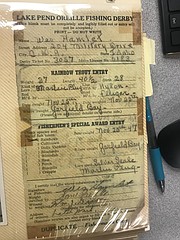 ---