County tables PHD defunding proposal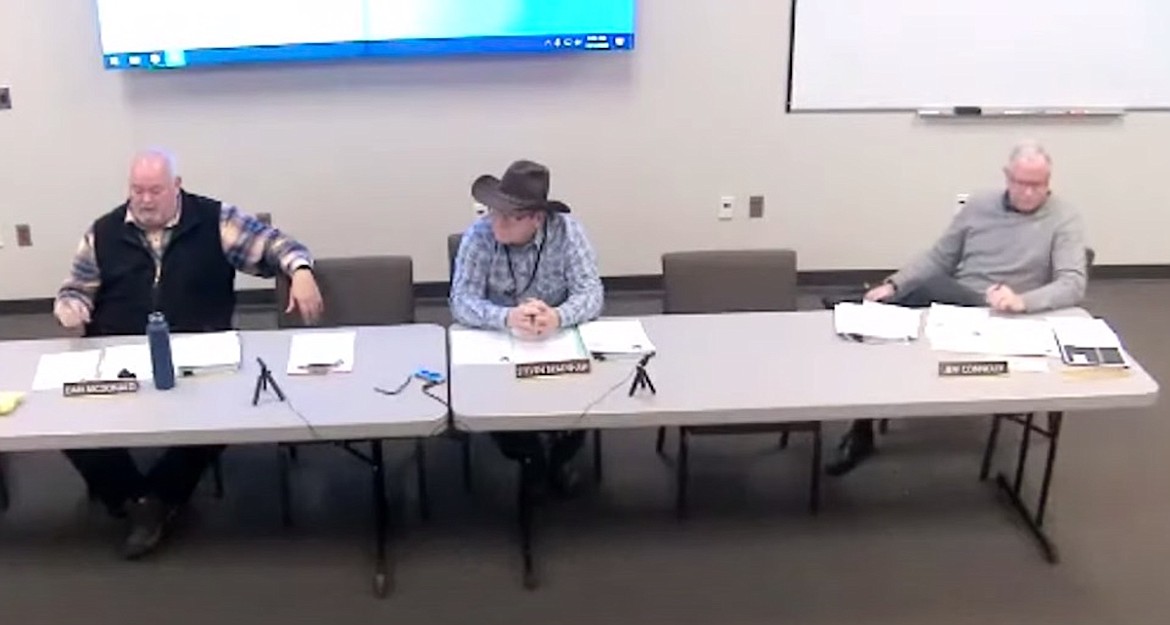 Bonner County commissioners (from left) Dan McDonald, Steve Bradshaw and Jeff Connolly tabled a resolution Tuesday to withdraw funding from the Panhandle Health District on Tuesday.
(Screenshot via YOUTUBE)
by
KEITH KINNAIRD
News editor
|
December 2, 2020 1:00 AM
SANDPOINT — Bonner County commissioners tabled a controversial proposal Tuesday to defund the Panhandle Health District in retaliation for imposing a mask mandate meant to slow the spread of novel coronavirus.
Commissioner Dan McDonald said the board obtained a legal opinion which indicated consideration of the health district funding can only be taken up when commissioners go about the process of setting the county's spending plan for the coming fiscal year.
"We did get an opinion from the prosecutor's office and we cannot defund Panhandle Health at this time," McDonald said.
However, McDonald said the county may look at other avenues for striking down the mask order.
"Even though we cannot stop this mandate with defunding, we are looking at the constitutionality of this because I do have a concern when we have an unelected board making law, basically — especially criminalizing this," said McDonald.
Defiance of the district board of health's mandate can result in a $1,000 fine and or six months in jail.
Commissioners said they received as many as 500 emails both signaling support for the county's pushback or assailing them for jeopardizing public health.
"Since I've been in office for the last four years this is the most emails we've ever gotten on any single issue, both for and against," said McDonald, who added that some of the messages were civil, while others were perjorative.
McDonald said he does not deny the existence of COVID-19, but believes the viral pandemic is being blown out of proportion by the news media.
"Since this started in March we have been fed a constant stream of fear. In fact, If you look at the analysis, the U.S. has seen more fear-based news reports about COVID than any other country on the planet," he said.
Commissioner Steve Bradshaw, the author of the resolution to defund Panhandle Health, made it clear that his intent was not to drive the district out of business. He said the district provides a range of worthy public health services, but said its board overstepped its authority by requiring facial coverings to be worn in Idaho's five northern counties.
"They're not a legislative body and they took it upon their self to dictate law, which they do not have the authority to do," said Bradshaw.
Bradshaw also expressed doubt that with withdrawing $253,399 in annual funding would not have a material effect on the district's ability to operate.
"Most of their funds come from the feds. For every dollar that Bonner County puts in, the state puts in $8. We make up probably 1 percent of the five counties' dollars that are contributed to them. It was the only pushback that we have at this time," said Bradshaw.
Katherine Hoyer, a Panhandle Health spokeswoman, said the contributions from the five northern counties is a fraction of the district's total budget.
"The support we receive from all of the counties we serve makes up about 10 percent of our budget," Hoyer said on Monday.
Glen Bailey, a former Bonner County commissioner who now serves as vice chairman on the volunteer health district board, urged current commissioner to use restraint by withholding a percentage of the funding rather than all of it.
Bailey and fellow health board trustee Allen Banks, who also represents Bonner County, both voted against the mask mandate. Bailey contends coronavirus is only a risk to those over the age of 65 who have underlying health conditions such as heart or lung disease.
"We do not see that this COVID is a threat to the general populace," said Bailey, who added the effectiveness of masks is questionable.
Banks, who has a doctorate in chemistry and 25 years of experience in the medical research field, held himself out to be one of the foremost experts on coronavirus in the Panhandle if not the state.
"I understand this whole issue probably better than anyone else in the five northern counties, maybe better than anyone else in Idaho," said Banks.
Banks also pointed to Centers for Disease Control & Prevention and New England Journal of Medicine studies he said prove the ineffectiveness of masks. Moreover, the seasonal flu has claimed more lives than coronavirus, Banks said.
"We didn't have drastic measures for the seasonal flu and I don't see why we would need drastic measures for something which is less dangerous. Look at the numbers dispassionately, without the hype in the media. That's important to understand — it's less dangerous than the flu," said Banks.
Commissioner Jeff Connolly also disagreed with a wholesale withdrawal of PHD funding and said sitting commissioners should hold seats on the board, which would ensure each county's position would be given meaningful consideration. It would also hold them accountable at the ballot box for decisions they make.
"When we had concerns about this moving forward we didn't feel like we were being heard. If we were sitting at the table we would be heard," said Connolly.
Commissioners did not open the matter to public comment during Tuesday's meeting.
---