Sanroman, Wade earn all-league football honors
Junior Carter Sanroman converts a two-point attempt during a game against Troy on Sept. 25. He earned all-league honors for his play this season.
(File photo by DYLAN GREENE)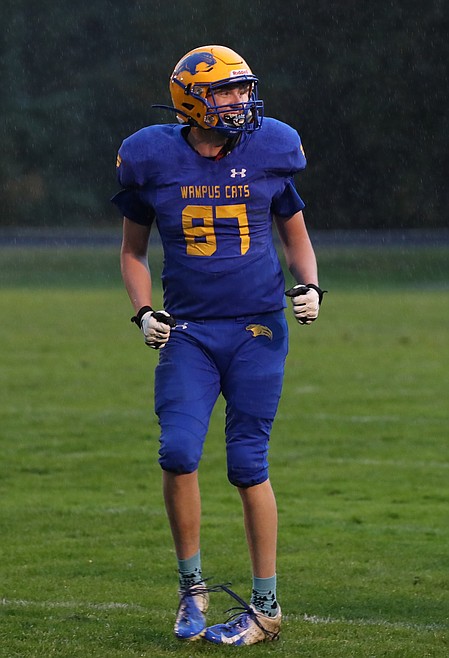 Senior Chris Wade walks onto the field following a timeout in a game against Troy on Sept. 25. He earned NSL all-league honors.
(File photo by DYLAN GREENE)
Previous
Next
by
DYLAN GREENE
Sports Editor
|
December 2, 2020 1:00 AM
CLARK FORK — A pair of Wampus Cats recently earned spots on the NSL all-league football team for their play this fall.
Junior Carter Sanroman and senior Chris Wade were the two players that received honors.
Sanroman did it all for Clark Fork this season. He played running back and defensive back and served as the kicker and punter for the Wampus Cats. He led the team in interceptions and had several monster games on the ground, including against Troy when he rushed for four touchdowns.
"He's just a very competitive kid, doesn't like to lose and he just made really huge strides from last year," head coach Brian Arthun said. "He's just a great guy to have on the football team."
When senior starting quarterback Cameron Garcia went down with an injury following the first game of the season, Sanroman stepped up and became the heart and soul of the Clark Fork offense.
Arthun said he will lean heavily on Sanroman's leadership next season.
"He came up with a lot of huge plays for us," he said.
Wade led the Wampus Cats in the trenches this fall. He was the anchor on the defensive line and at left guard he helped protect freshman quarterback Ethan Howard.
Wade was hard to miss when he was on the field this season and Arthun said he certainly earned an all-league selection.
"He was definitely one of the best linemen in the league this year," he said about Wade.
This season was all about redemption for Wade. In his freshman season, Wade tore his ACL and MCL. He still played as a sophomore and junior, but battled knee injuries which prevented him from reaching his full potential.
This year, Wade had a clean bill of health and he showed out. Arthun said Wade is a hard worker and he is proud of him for sticking with football in the face of so much adversity.
"It was nice to see him go out there his senior year and have the best year of his career," Arthun said.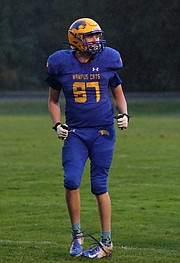 ---