Tamarack launches East Coast installation center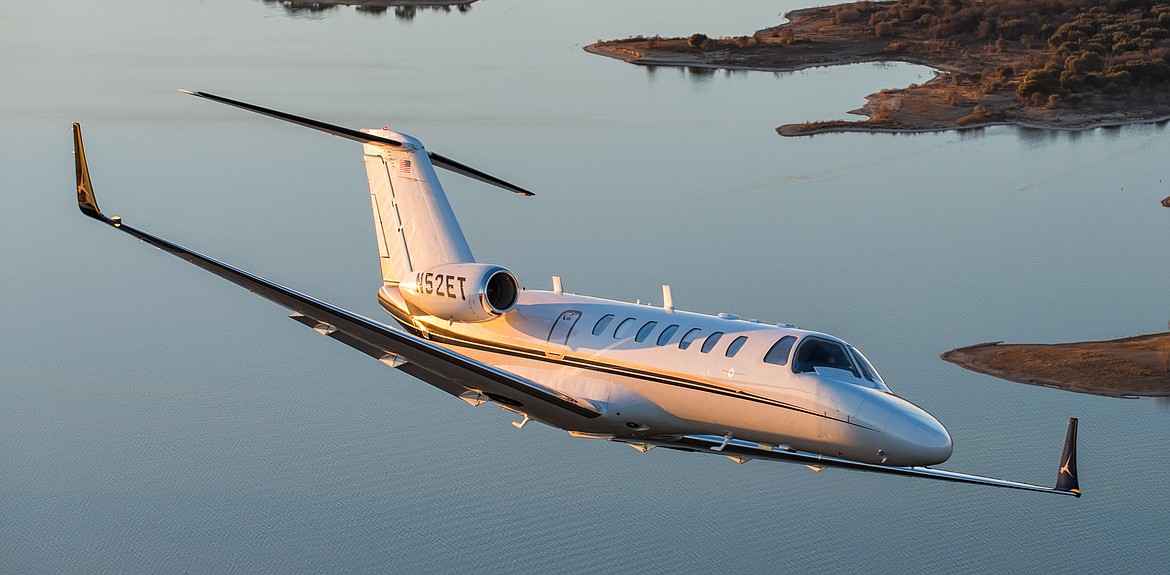 A Cessna CJ3 with Tamarack Aerospace Group's active winglets (the upturned tips of the wings) installed.
(Photo courtesy TAMARACK AEROSPACE GROUP)
|
December 4, 2020 1:00 AM
SANDPOINT – Tamarack Aerospace Group has launched its Tamarack East Coast Transformation Center at Aiken Regional Airport, South Carolina.
This center will offer expert, factory-quality active winglet installations to clients in 10 days or less, Tamarack officials said in a press release. The facility will be associated with aviation veteran Mike Laver's Carolina Turbine Support, which has brokered, serviced, and ferried aircraft worldwide for decades. Laver also has a long history as a vendor for the U.S. Air Force.
"Tamarack continues to grow, with concrete plans for long-term expansion involving many different kinds of airframes, from business jets, to commercial single aisle aircraft, to military planes. The new East Coast Transformation Center's location and capabilities fit perfectly with our expansion plans," Tamarack Founder and CEO Nick Guida said.
Tamarack's East Coast regional sales manager and a small team of qualified transformation specialists will be based at the facility.
"We are planning to be able to install three active winglet kits per month at all locations," said Tamarack Chief Operations Officer, Danny Hiner.
Quick installation turnaround is a key factor in upgrading current Citation aircraft to become a sustainable fleet, Tamarack officials said.
"Installation of active winglets is much less intrusive than a traditional winglet, which reduces the overall effort required to install them," Tamarack President Jacob Klinginsmith said. "Our installations take less than two weeks, with as little as one week of down time."
The new center is intended to provide accessible factory installation of active winglets to the eastern United States and South America. These services are already offered at the Tamarack West Coast Transformation Center in Sandpoint and the Tamarack European Transformation Centre in Oxford, England. Tamarack also offers Active Winglet service through 20 additional authorized service centers across the U.S., South America, and Europe.
Tamarack has modified over 100 Cessna CitationJets during the last five years. Compared to passive winglet, which offer about 4% fuel savings, active winglets automatically adjust to turbulence and reduce fuel usage up to 33%. In addition, the system provides smoother rides with safe landings on shorter runways, as active winglet modified aircraft reach altitude in under 30 minutes and land at slower speeds.
"We are excited to be at the right time and the right place to partner with Tamarack during this very exciting time, when aviation is focused on sustainability and safety," said Mike Laver of Carolina Turbine Support. "Tamarack's Active Winglets provide dramatic abilities to satisfy both needs at this crucial time when aviation is beginning it's rebound from the horrible pandemic."
The company is expected to make additional announcements regarding the growth and implementation of active winglets on additional airframes in the coming year, Klinginsmith said.
---