Little: Vaccine stamps shelf life on COVID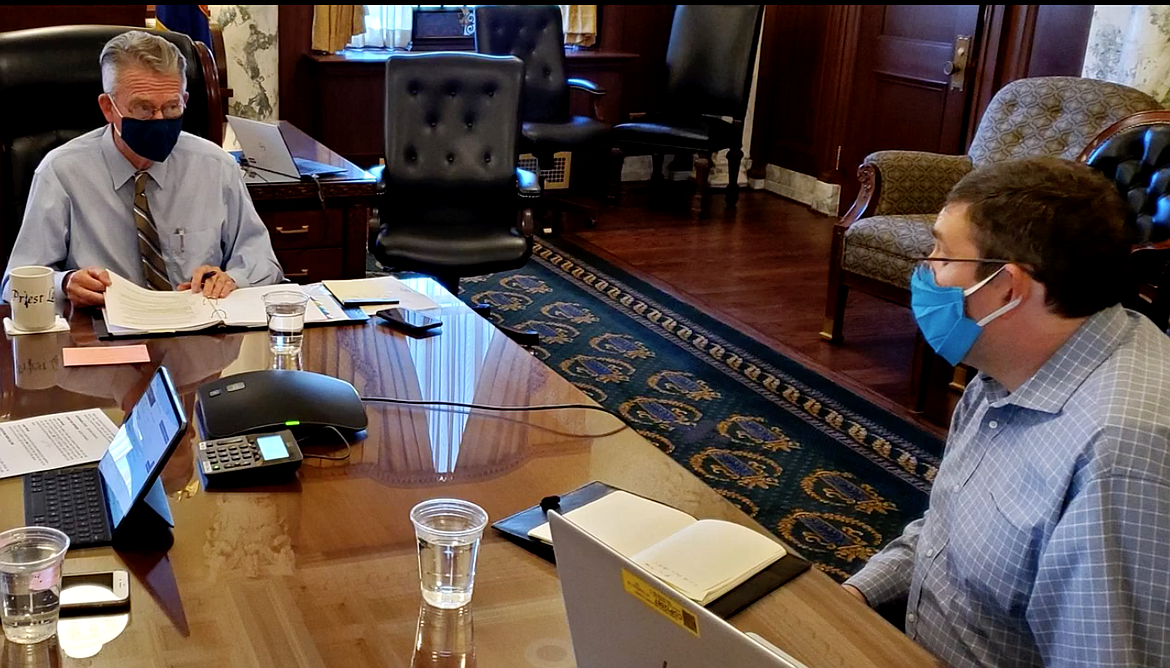 Idaho Gov. Brad Little (left) was joined Tuesday by his director of the Idaho Department of Health and Welfare, Dave Jeppesen. Little said health care workers on the front line of the fight against COVID-19 could receive a vaccination as early as December 15. (Courtesy of Idaho AARP)
by
CRAIG NORTHRUP
Hagadone News Network
|
December 9, 2020 1:00 AM
By this time next week, the first doses of the COVID-19 vaccines will likely be injected into the arms of Idaho health care workers, long-term care facility staff members and the residents they serve.
During a conference call with Idahoans Tuesday afternoon, Gov. Brad Little said the planned introduction of the vaccine to the general public will begin a distribution process that could deliver a landscape resembling closer to normal before summer.
"If everything goes according to Hoyle, according to plan, there's a good chance in late April, May, June, we should be able to go back to a much more normal life than we've lived here in Idaho," the governor said.
Little said he's optimistic both versions of the vaccines awaiting authorization from the Food and Drug Administration — one from pharmaceutical giant Pfizer and the other from Moderna — could bring an end to the disease that has killed more than 1.5 million people worldwide.
Dave Jeppesen, director of the Idaho Department of Health and Welfare, said that between the two vaccines, the Pfizer solution is most likely to get approved first.
"Once the vaccine is approved, we're expecting to have a shipment of that vaccine to happen within 24 to 48 hours," he said.
At that point, health care workers will be eligible for Phase 1a, the first in Idaho's Vaccine Distribution Committee's tiers to receive the vaccines, each with data showing just under 94.5-percent effectiveness rates.
While Pfizer will predominantly be distributed to health care workers, the Phase 1b group — which will go to critical infrastructure — will likely receive both Pfizer and Moderna shipments to distribute.
The following round will then go to high-risk individuals who will likely have access to the vaccine in the months to come.
To date, Idaho is expecting 13,650 doses in its first shipments, which Jeppesen recognized would not be enough to cover all of the state's health care workers. He said Pfizer and Moderna will ramp up production the moment the FDA gives its go-ahead.
"It's not totally clear how many doses we'll get the following week," he said.
Little will hold a press conference Thursday to discuss community spread in Idaho. He used Tuesday's call to tout the state's surplus economic survival during the COVID-19 pandemic.
On Monday, Little announced that he intended to propose tax cuts, education funding boosts and investments to Idaho infrastructure, hours after a report was released predicting a $630 million surplus.
"When you look at where Idaho is economically, we're literally in a class almost by ourselves," he said. "Maybe one or two other states. This week, I announced we have a record budget surplus. There's only one other state that has even got their head above water that doesn't have a deficit, and that's because of what we've done simultaneous to try and keep our health care maintained while still having people be able to work."
---