KLT cares for 'The Woods'
by
MARCY TIMBLIN Contributing Writer
|
December 13, 2020 1:00 AM
SANDPOINT — Innovation may be the word that comes to mind when discussing technology, but not so much when referring to land management practices. However, Kaniksu Land Trust has definitely been innovative over this past year concerning the methods it has used to solve typical land management challenges. Many of those methods have resulted in some side benefits to trail users, community partners, and even goats.
If there is one word to describe this past year — other than unprecedented — it may be innovation. None of us have had a playbook for navigating the immense changes that 2020 has brought on. We have all likely found ourselves innovating new ways of doing old things out of necessity this year. For the staff, board, and volunteers at KLT, that has certainly been true.
Yet, the land doesn't seem to notice that we have been engulfed in a world-wide pandemic, other than the welcome surge of attention it has gotten from visitors, volunteers, and donors. The outdoors has become the place to see and be seen by people who have been thrust into a world where the only safe way to connect, we are told, is through video conferencing and social media. While some people may have forgotten that the outdoors is also a safe place for social connection, KLT has continued to conserve and connect for the benefit of our community. We wish to awaken that ancient memory of how vital nature is to our emotional, physical, and spiritual health. We also celebrate all of the innovative ways that land can be managed sustainably.
KLT's flagship project, the Pine Street Woods, makes up a mere 5% of the acreage in KLT's portfolio of protected private lands. It is the only property that is managed primarily for public use, education, and enjoyment. Just over 18 months after acquiring the PSW property, KLT has already developed a long list of completed stewardship projects with the objective of taking the best possible care of the new community forest property for the benefit of the land itself and the residents who enjoy it.
Even before opening the property in September 2019, a community forest plan was developed to guide KLT's sustainable management of the land. But, KLT is quick to point out that it's the work of many community partners that make the plan successful. Success, in this case, is defined by the guiding principles of the plan which include promoting a diverse and resilient multi-aged forest, managing it for diverse wildlife habitat, supporting educational and recreational opportunities, minimizing wildfire risk, and mitigating noxious weed invasion. Although funding mandates require that PSW remain a working forest, the planning guidelines are motivated by sustainability and health rather than profitability. It takes many hands, and sometimes hooves, to accomplish such a delicate balance.
Back in March, when a windstorm uprooted hundreds of trees on the PSW property, Bonner Soil and Water Conservation District partnered with KLT (with funding support from the Land Trust Alliance) to procure a portable sawmill. This created an opportunity for a community-centered approach to forest management. Co-owning the equipment allows KLT to conserve donated funds while making wood products for
educational and building projects on site. The mill itself serves as an educational tool for recipients of KLT's many youth programs.
In a few short years, the expansive meadow, considered a highlight of the property, is giving way to succession growth. With trees, shrubs, and noxious weeds crowding the once open space, KLT looked to community partners once again to come up with an innovative and sustainable solution. In June, KLT began a targeted rotational grazing effort with help from Avista, employing goats, sheep, llamas and yaks to trim the flower heads of blooming hawkweed and knapweed. In the interest of reducing fire fuels in the meadow, the Kalispel Tribe's Natural Resources Department offered help, burning slash piles from the March windstorm clean up. The wide trails through the meadow were seeded with grasses, and the entire meadow was overseeded with clover to replenish depleted soils thanks to generous support from the Equinox Foundation. Families have also been invited to fulfill a partnership role and cut a Christmas tree from the meadow in exchange for a donation to support ongoing property upkeep. KLT strives to maintain the meadow as an opening for purposes of user safety and security, territorial views, wildlife habitat, and fire safety. This innovative mix of partnerships allows all of those needs to be simultaneously met.
Repurposing segments of the existing logging roads on the PSW property into the wide trail system is another innovative way that KLT has tried to balance recreation opportunities and user safety while minimizing human impacts to the land. Sandpoint Nordic Club maintains and grooms the wide trails for public use through another effective community partnership, just as Pend Oreille Pedalers cares for the narrow trails. For public safety, some wide trails have been adjusted to create switchbacks on exceptionally steep terrain. On the other hand, some steep and unnecessary forest roads are in the process of being decommissioned and reforested in order to minimize erosion of forest soils and decrease the extent of human footprint. KLT requests that visitors avoid use of roads and trails that have been visibly closed with brush and debris.
The community forest plan itself is an innovative community partnership as it was developed in consultation with an advisory committee of passionate foresters and naturalists from the local community.
Caring for this community forest land is an ongoing effort that is far from complete. Plans for next year include bringing back the grazing herd to munch meadow weeds, promoting aspen regrowth because of its ecological significance, further decommissioning of trails and roads to combat soil erosion, and the removal of dead and diseased trees that may pose a falling hazard. While we look forward to a gradual return to some sort of normalcy in the coming year, KLT plans to continue to innovate in its land management practices for the benefit of the land itself, trail users, community partners, and even goats.
If you are passionate about preserving natural areas and would like to volunteer with land management activities, please reach out to us at info@kaniksu.org or 208-263-9471 for more information.
Marcy Timblin is director of communications for Kaniksu Land Trust. She can be reached at 208-263-9471 or marcy@kaniksu.org.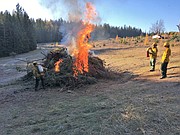 Recent Headlines
---