'Santa Sacks' delivers 500 Christmas packages for children, infants and elderly in Ponderay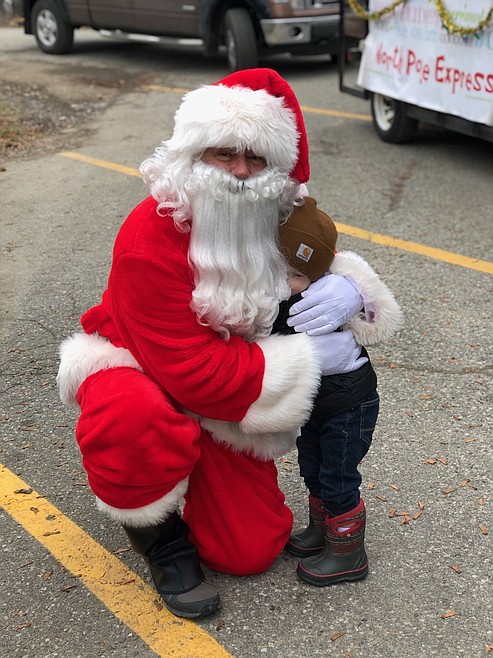 "Santa" (Ponderay Mayor Steve Geiger) poses for a photo with one of the children on the "Santa Sack" Route.
Courtesy of KayLeigh Miller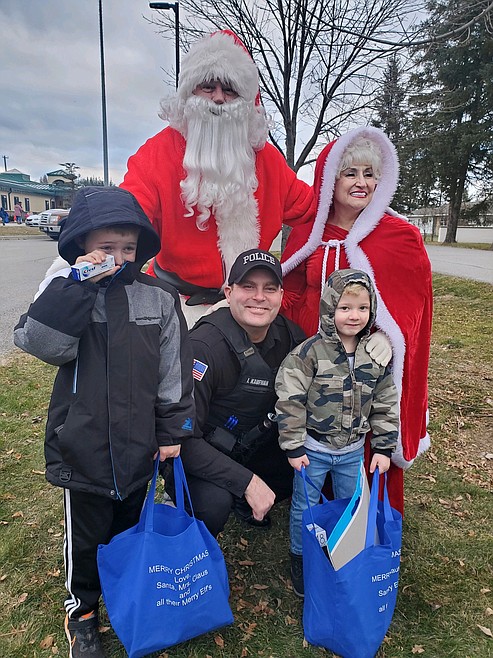 Santa, Mrs. Claus and Officer Joe Kaufman pose for a photo with children Saturday in Ponderay.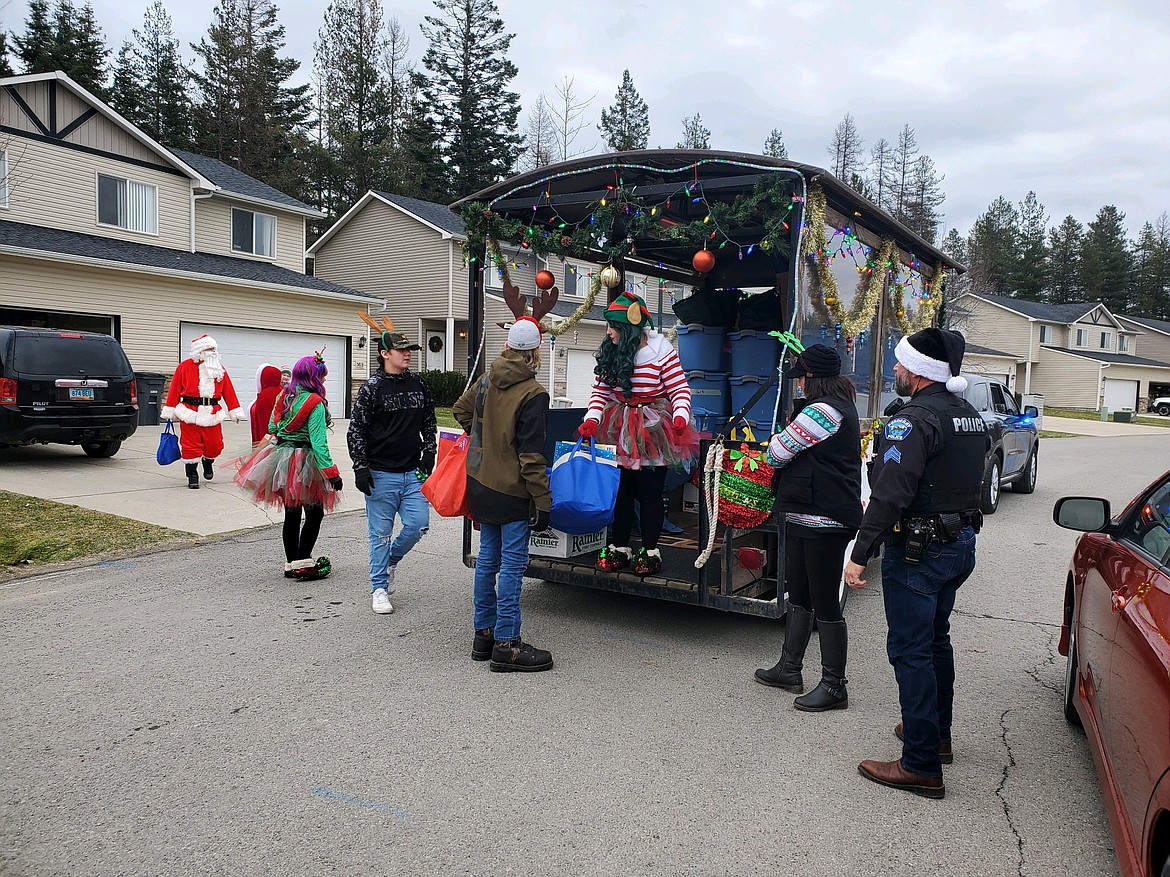 Santa and his elves make a stop at a home Saturday in Ponderay.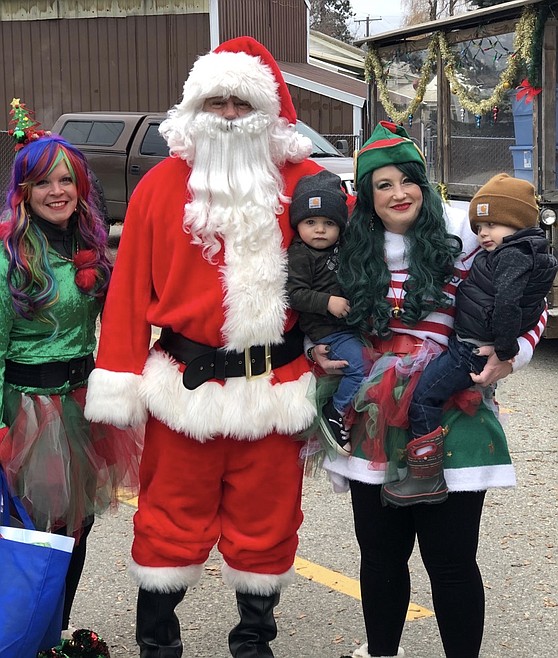 Santa and his elves pose for a photo with children on their route Saturday in Ponderay.
Previous
Next
by
RACHEL SUN
Staff Writer
|
December 15, 2020 1:00 AM
PONDERAY — Every year in December, children in Ponderay know to expect Santa Claus.
Not on Christmas night — or at least not only then — but about two weeks before Christmas, for the past 17 years.
"These kids know we're coming, and every year, they're all up early," said Ponderay Mayor Steve Geiger.
As the man who's been "Santa" for the past six years, Geiger has seen a whole lot of children, he said. Some are shy, while others run to greet Santa as soon as he's in sight.
"I've had kids see Santa Claus and 20 feet away run full bore like they're going to tackle you," he said. "They dive into your arms, and their eyes are big and their smile is huge."
Every year, the city's "Santa Sacks" program delivers about 400 gifts to children, including items like toothbrushes and toothpaste, combs, hair ties and headbands, lip balm, hats, gloves and socks as well as coloring books, crayons, puzzles, kids crafts and toys.
"Santa," along with "Mrs. Claus," (Geiger's wife, Debra), and the elves (KayLeigh Miller, Stephanie Peterson, Karen Engel, Axel Jones, Graydie Whitaker and Dustin Weaver) ride on a trolley towed by one of the Ponderay patrol cars.
Ponderay Police Officer Brian Koch tows the trolly, accompanied by his wife Misty and son Grady. This year, the group was also escorted by Officer Joe Kaufman, who handed out stickers to children.
The program also delivers around 25 gifts for infants, said Miller, planner for the city of Ponderay, and 75 gifts for seniors. In total they give 500 gifts, Geiger said, although that number may be liable to change in the future as Ponderay continues to grow.
The program gets generous donations from both individuals and local businesses, Geiger said. Jan Griffitts, a Ponderay local and longtime Bonner County resident, said the gift baskets make a big difference to the people in her community.
"One man a couple of yers ago he got some mittens and he was so excited," she said. "It's a little perk for them to know that somebody cares."
Griffitts herself has donated, including some toys her late husband had kept.
"He had some wonderful stuffed animals that I donated," she said.
Geiger said that with everything happening in the world that's making everyone's life harder, he's glad to still have the local tradition that helps out the community and spreads joy after all these years.
This year, the city took some time to decide whether or not to do Santa Sacks this year considering the pandemic, he said. Ultimately, they decided the benefit to the community, and particularly the children, made it worthwhile.
"There's a lot of kids in this community that have needs," Geiger said.
In the future Geiger said he hopes to build up the program more for the next mayor — whom who fully expects to take on the role of Santa Claus in his place.
"I feel like it's so special, to be honored to be Santa Claus," he said.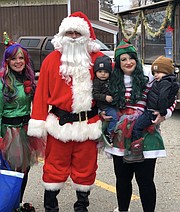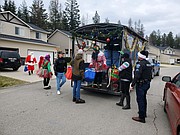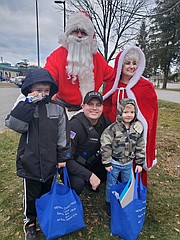 ---