Festival's 2021 season taking shape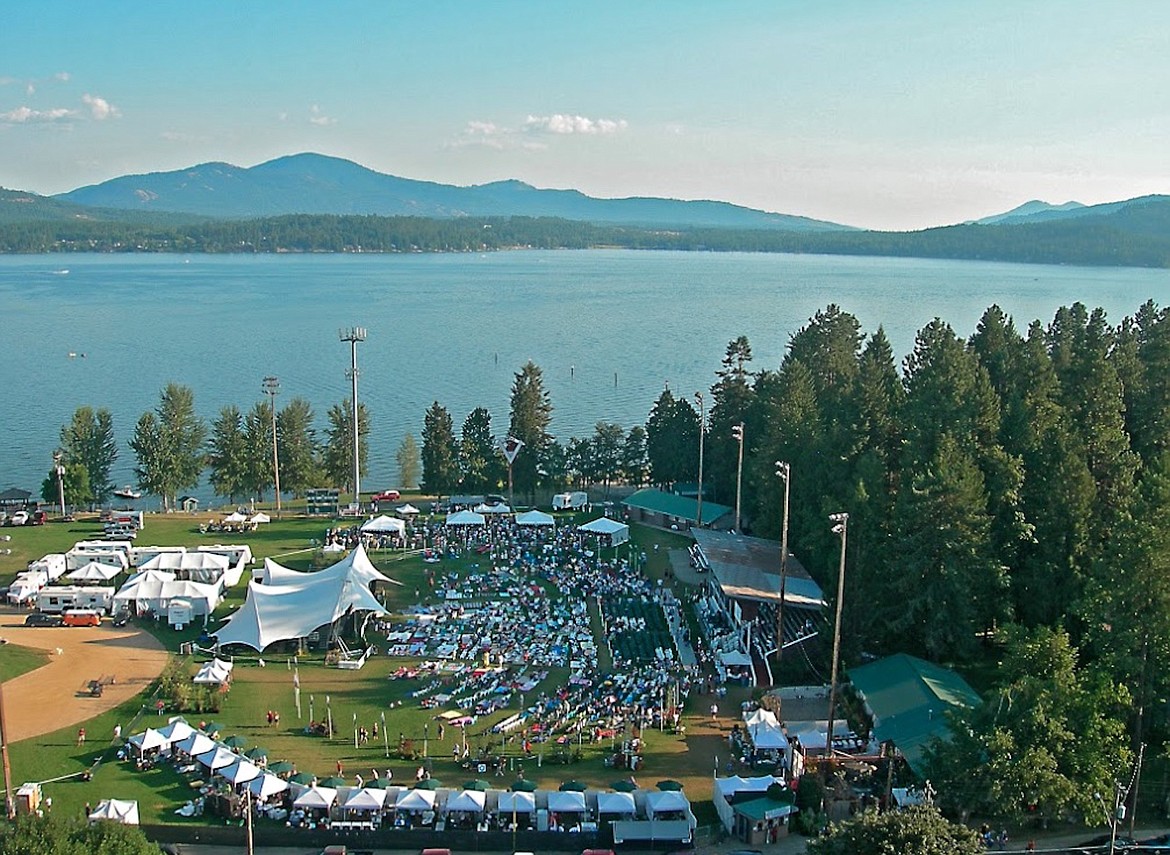 The Festival at Sandpoint is gearing up for its 38th annual waterfront concert series for 2021.
(Photo courtesy FESTIVAL AT SANDPOINT)
by
KEITH KINNAIRD
News editor
|
December 17, 2020 1:00 AM
SANDPOINT — The show must go on for the Festival at Sandpoint.
Season passes for the waterfront concert series went on sale on Oct. 1, although only 200 of them are being made available, according to Ali Baranski, the Festival's interim executive director.
The season passes are selling for $239, a sum which doesn't include taxes and fees, and over half of them are already gone, Baranski said. The season pass price increases to $299 on Jan. 1, 2021.
"We anticipate selling out, which is very promising, as 2020 season passes are being honored for 2021. A number of 2020 season passes were donated, so we feel truly fortunate to be able to sell additional season passes for much-needed cash flow that we otherwise would not have had this year," Baranski said.
The 38th iteration of the annual concert series was originally set for last summer, but the novel coronavirus pandemic forced it to be postponed. However, organizers said they used the pause to the event's advantage.
Baranski said organizers focused on grant requests and fundraising, in addition to cutting costs by reducing interim staff to quarter-time or less. The Festival also updated costly and archaic processes to adapt to the times.
Moreover, the Festival's talent buyer was able to get a head start on rescheduling the event's 2020 acts and putting out offers to new acts to replace those groups which were unable to reschedule.
"As anticipated, booking acts has been more difficult this fall due to artist uncertainty and tour routes changing. We feel very fortunate to have a regional talent buyer who brings a high level of expertise in artist booking, negotiations, and music industry knowledge, which became invaluable in the ever-changing music industry of 2020," Baranski said.
Baranski said the Festival traditionally confirms the first one or two acts by the end of the year and organizers feel good about where they are at in the booking process with regard to artist offers that have been made and holds that are in place.
Fundraising, meanwhile, has gotten creative in the era of COVID-19. Unable to hold an in-person fundraiser, the Festival plans to hold a variety of fundraising campaigns throughout the year and organizers remain on the hunt for partners and innovative ideas, Baranski said. The Festival plans to have virtual silent auctions, art sales and an in-person event in the late spring of 2021 if pandemic conditions allow.
In addition, Baranski said the Festival is finally at a place to bring on a full-time executive director and an office manager at the start of the new year, Baranski said, adding that the Festival has been run by volunteers and interim staff due to financial hardships that were compounded by the viral pandemic.
"We are thrilled to be turning the corner and moving forward with consistent, proactive operations," said Baranski, who added announcements about the coming season will be made soon.
The Festival Youth Orchestra has continued this school year with mask requirements and social distancing policies in place. However, the Festival will be unable to hold its annual Fifth Grade music outreach program or its youth music camp in June due to pandemic concerns, according to Baranski.
"We will still be awarding our Festival music scholarship this spring and continuing to partner with other local organizations to provide additional scholarships. Auditions will be held in person or virtually, depending on the recommendations at that time," Baranski said.
The Festival's office has been closed to the public and season pass sales are being conducted online or over the phone. All board of director and committee meetings are being held virtually.
Baranski said the Festival is working with industry and medical experts to develop pandemic safety plans, which could include limited-capacity measures.
"There is no way we can know what the future holds regarding the pandemic, but we will plan, remain flexible and optimistic, and move forward," Baranski said.
Social distancing guidelines may require the Festival to press pause on dance-style concerts and require concertgoers to be seated. Additional hand-washing and sanitation state are planned, as are increased cleaning protocols.
Baranski said Festival Street policies would mirror restaurant guidelines at the time of the event and the Festival may not release all available tickets when shows go on sale to ease capacity if need be.
The Festival is also planning strategies to decrease lines and socially distanced seating, vending and restrooms. Final pandemic-related policies will not be put into place until much closer to the event and in accordance with policies and recommendations at that time.
"The only guarantee for the Festival's failure is inactivity and that is simply out of the question. We are all too aware of the economic impact that was absent this past summer without the Festival, and this upcoming summer we hope to be the economic boost and celebration of the beginning of the end of this tiring pandemic chapter," said Baranski.
Baranski said Festival staff and volunteers will spend the next seven months sharpening focus on fundraising, efficiency and adaptability. She added that they are extremely confident and optimistic about the new foundation that has been put in place for the organization.
"We have seen our supporters' and our community's continued ability to rally around and support one another, and there is no doubt that the Festival at Sandpoint will be around for generations to come," she said.
Keith Kinnaird can be reached at kkinnaird@bonnercountydailybee.com or followed on Twitter @KeithDailyBee
---