Two charged in connection with Hurst slaying
by
KEITH KINNAIRD
News editor
|
December 24, 2020 1:00 AM
SANDPOINT — A Sandpoint woman and a Bonner County man have been charged in connection with the shooting death of Brandon Vern Hurst.
Cantrip Velite Gatens is charged with conspiracy to commit first-degree murder and Scott Thomas Kachel is charged with accessory to murder for allegedly dumping Hurst's body down a steep embankment in the 1700 block of Caribou Creek Road.
Gatens, 28, is accused of conspiring with Neal Aaron Mouser to kill Hurst on Nov. 21. A criminal complaint alleges Gatens lured Hurst to a remote area, where Mouser was armed and laying in wait in order to "assassinate" Hurst.
Gatens made an initial appearance in Bonner County Magistrate Court on Wednesday via videoconferencing with the jail. Senior Judge Debra Heise sustained Gatens' $750,000 bail and appointed a public defender to represent her.
Gatens asked to speak to the court, but her defense counsel advised against making any remarks during the brief proceeding.
Kachel, 62, appears to be the subject of an arrest warrant. An additional arrest warrant has also been issued for Mouser, 59, charging him with the first-degree murder of Brandon Hurst.
Mouser is a white male adult, 6 foot tall, 190 pounds with blue eyes and is bald. He should be considered armed and dangerous, according to BCSO officials. There is no vehicle information at this time. Mouser is known to frequent the Spokane area. The U.S. Marshals have been contacted and are working to apprehend Mouser.
Hurst's body was discovered by a man jogging with his son on Dec. 10. His body was partially wrapped in a camouflage tarp in a utility sled used to haul firewood or harvested big game, according to court documents.
The body was positively identified as that of Hurst's on Dec. 14. He had multiple gunshot wounds to his neck, ribcage, forearm and both hands, a probable cause affidavit said.
Gatens is described in court documents as Hurst's former girlfriend but had been an ongoing subject of his affection.
Another of Gatens' suitors, 31, told Bonner County sheriff's investigators that Gatens directed him to drive her to Spokane. While en route, the man said Gatens expressed anger at Hurst for allegedly hitting her and accused Hurst of being a police informant.
The witness, who was being held at the Boundary County Jail on an unrelated warrant at the time of his questioning, told investigators he believed they were going to pick someone up in Spokane to exact vengeance on Hurst by beating him up, a detective's affidavit said.
After picking up Mouser in Spokane and heading back to Bonner County, the witness told detectives he became aware of Gatens' and Mouser's plan to kill Hurst. The witness said he pleaded with them not kill Hurst, prompting Mouser to allegedly say, "The decision has been made."
The trio passed Kachel's property in the 200 block of Lois Lane and turned onto Caribou Creek Road, a route which connects to Kachel's place via trails that have been cut into the woods.
Gatens and the witness walked to Kachel's property while Mouser stayed behind, court documents said. Gatens called Hurst ostensibly to help her repair her vehicle. Hurst and Gatens later arrived at the Caribou Creek location in a Chrysler PT Cruiser Hurst was driving.
The witness told investigators that he opened the hood of his vehicle to simulate engine trouble. Mouser emerged from the tree line, approached the PT cruiser while Hurst sat in the front seat and opened fire with an unspecified firearm, striking Hurst repeatedly.
Mouser, the witness said, pulled Hurst from the vehicle and dumped him the in the snow. Mouser then departed in the PT Cruiser. When the witness and Gatens went to leave, the beams of the headlights of the vehicle they were in flashed onto Hurst's body and Gatens allegedly remarked that it appeared Hurst was still alive, the detective's affidavit said.
The witness said he drove Gatens to a sober-living residence in Sandpoint and he returned to Kachel's property in the hope that Hurst was still alive, according to the affidavit. The witness said he led Kachel to the body of Hurst, who appeared to be dead. The witness told investigators that Kachel loaded the body into the utility sled, which was hitched to the back of an all-terrain vehicle that Kachel rode off on.
Gatens was described as "emotionless" when she was questioned by investigators the day after Hurst was identified, court records show. She told investigators she had been in a brief relationship with Hurst and she said he had attacked her with a tire iron in October, causing her to lose any romantic interest in him. It is unclear in the affidavit if she was questioned about or accused of Hurst's slaying.
The PT Cruiser Hurst was using was found abandoned in Spokane and located in a storage lot in Spokane on Dec. 18. Blood spatter was found on the steering wheel, driver's side door panel and the driver's seat, the affidavit said.
Kachel was interviewed on Dec. 21 and was advised by detectives that they knew of his involvement in the killing. He refused to make eye contact with investigators, but ultimately admitted to dumping Hurst's body on a neighbor's property, according to the affidavit.
A preliminary hearing in Gatens' case is set for Jan. 6, 2021.
"This continues to be an active investigation and we are seeking the public's help to bring these individuals to justice," BCSO said in a press release. "BCSO detectives are in contact with other witnesses as well as involved parties and additional arrests are anticipated."
Anyone with information regarding the murder of Brandon Hurst, or the whereabouts of Neal Mouser are asked to call Bonner County Dispatch at 208-265-5525
Keith Kinnaird can be reached at kkinnaird@bonnercountydailybee.com or followed on Twitter @KeithDailyBee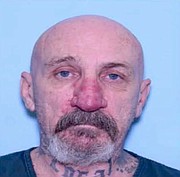 ---