Robert George "Bob", "Beau" Yancey, 90
|
December 26, 2020 1:00 AM
Robert George "Bob," "Beau" Yancey, 90, passed away, while surrounded by his three sons, on Monday, December 14, 2020, at his cabin in Sagle, Idaho. A celebration of life will be held at a later date.
Bob was born on November 3, 1930, in Spokane, Washington, to George and Ruth Yancey. During the early 1940s, the family built a remote cabin on the shores of Lake Pend Oreille where they would spend time with friends, boating, fishing, and making improvements to the cabin. Life at the lake honed Bob's woodworking and ingenuity skills, as handcrafted furniture and other items from those years remain in the family to this day.
Bob graduated from Lewis and Clark High School in Spokane in 1949 and became one of 13 family members to attend Whitman College in Walla Walla, Washington, where he earned his bachelor degrees in both mathematics and physics in 1953. At Whitman, Bob joined Phi Delta Theta fraternity and was very active in financial and social activities, choir, stage productions and multiple honor societies. Following Whitman, he began graduate work at Harvard School of Business, before enlisting in the United States Army. Bob served in the counterintelligence corps while stationed in Munich, Germany. Following military service, he returned to Harvard to complete his M.B.A. in 1957, and began a career as a financial operations manager with the Raytheon Corporation in Massachusetts.
While at Raytheon, Bob met the love of his life Joan O'Brien of Andover, Massachusetts. Bob and Joan married on September 17, 1961, and raised three boys in Norwood, Massachusetts. The family cabin on Lake Pend Oreille always remained Bob's favorite place. Nearly every year the family traveled to visit the cabin, the lake and surrounding mountains and eventually prompted Bob's sons to all move west. Bob retired in 1992 after 35 years with Raytheon and sadly, after 38 years of marriage, Joan passed away in 1999. Bob moved to Sandpoint in 2005 to be closer to his sons and eventually took residence at the Luther Park Retirement Community. In 2006, he built a new family cabin with his three sons adjacent to the original family homestead on Lake Pend Oreille. For over 10 years, Bob enjoyed his family and friends at Luther Park and spending more time at the lake with his sons and their families.
Bob was a most loving husband, extremely proud of his family and loved being with his grandchildren. He spent hours researching and recording family genealogy and enjoyed skiing, kokanee fishing, woodworking, and building crafts for friends and family every Christmas.
He is survived by his three sons Robert and wife Krista Yancey of Burien, Washington, Scott and wife Cathy Yancey of Eagle River, Alaska, and Mark and wife Sarah Yancey of Sandpoint; two grandchildren, Grace and Alden; a brother, Richard Yancey (late wife Maryanne) of New York City; two nieces, Leslie and Jennifer, and a nephew Richard, their children, and his dear friend Joan Vater.
Bob "Beau" Yancey will be truly missed by all his friends and family.

Lakeview Funeral Home in Sandpoint is handling the arrangements. Please visit Bob's online memorial at www.lakeviewfuneral.com and sign his guest book.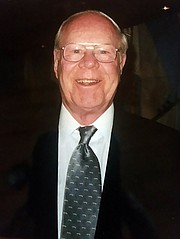 ---