Kinderhaven exceeds fundraising goals with 'Tour of Trees'
by
RACHEL SUN
Staff Writer
|
December 27, 2020 1:00 AM
Kinderhaven's first ever "Tour of Trees," which went from Dec. 9-12, raised over $200,000, exceeding organizers goals and raising what will be roughly 70% of the organization's annual budget.
"It totally took us by surprise," said Kathy Chambers, board chair and volunteer coordinator. "We were right on par with what we made last year for our event."
Although Kinderhaven gets funding from the state, it only accounts for about 15% of its budget, Chambers said. Kinderhaven serves as an emergency shelter and group home for abused and neglected children, and relies heavily on local donors.
The success of the fundraiser, Chamberlain said, was in large part thanks to early planning and community support.
"We knew about six months ago that we weren't going to be able to do things the same way," Chamberlain said, "so we started making plans for a different kind of fundraiser."
The fundraiser had several major sponsors including Litehouse, Diedrich Roasters, and Taylor and Sons Chevrolet, Chamberlain said, and numerous smaller donations, as well as support from local businesses where trees were displayed.
The tree with the highest bid was sold for $7,500, Chambers said. Some other participating businesses included Kaniksu Health Services, Ivano's Ristorante, Sharon's Hallmark, Copper Moose Coffee Co., Nieman's Floral, Sandpoint Super Drug and the Pend d'Oreille Winery.
In addition to the Tour of Trees, the organization also held an online silent auction, a virtual paddle raise and a Sip & Sleigh Raffle.
"Even though we're having to recreate the wheel," Chambers said, "we have some fantastic people."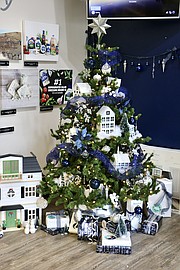 ---