Intermountain Family Chiropractic opens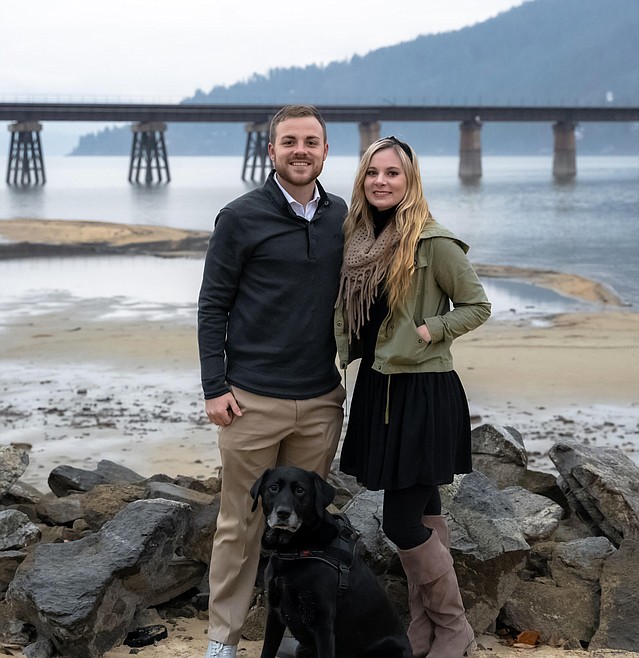 Dr. Cameron C. VanDenBerg, D.C., and Rylie Anderson, pictured above with dog Ayla, are bringing a diverse range of chiropractic care to the community at Intermountain Family Chiropractic.
(Courtesy photo)
|
February 6, 2020 1:00 AM
Dr. Cameron VanDenBerg, D.C., has returned home — and is bringing chiropractic care to the community at Intermountain Family Chiropractic with his knowledge and compassion in helping individuals with their health.
"Intermountain Family Chiropractic looks forward to bringing chiropractic care to the Sandpoint area and building friendships with patients throughout this community," VanDenBerg said in a press release announcing his opening of the practice.
VanDenBerg said he aims to give complete and thorough examinations, striving to improve each patient's quality of life as well as educate them on the prevention of future illness or degeneration, and assist with every patient's specific form of care.
VanDenBerg attended Palmer College of Chiropractic in Davenport, Iowa, where he graduated with his Doctorate of Chiropractic degree in 2018. To gain additional experience, he spent his two weeks of allowed personal free time in between semesters on a mission trip to both Haiti and the Dominican Republic. During his time there, he adjusted hundreds of children and people of all ages. While earning his education, Dr. VanDenBerg dedicated all of his time outside of school to mastering the Gonstead technique, which is considered the "gold standard" of chiropractic medicine, and later became president of Gonstead Club, an organization that educates many students interested in Gonstead and helps them improve their techniques and case management daily. As president, he organized seminars throughout the nation, bringing doctors and students together from around the world.
VanDenBerg now brings this technique to the community through Intermountain Family Chiropractic, serving as the only specialized Gonstead doctor within a 200-mile radius.
Dr. VanDenBerg is certified on the International Board of Extremity Chiropractors in both basic and advanced protocols and specializes in extremity adjustments such as wrists, ankles, knees, etc. Prior to opening his practice in Sandpoint, he worked in Boise as a chiropractor and lead medical coordinator at an integrative clinic that offered adjustments, physical rehabilitation, stem cell and PRP injections (with a nurse practitioner), chiropractic biophysics specifically with curve correction, traction, and spinal decompression.
Dr. VanDenBerg was raised for a portion of his life in Lewiston, where he attended high school. He joined the Marine Corps in 2009 and served until 2015 as both an active and reserve intelligence analysist, while also obtaining his bachelor's degree from Lewis-Clark State College, along with a minor in Spanish. He continued his bilingual education by earning a Spanish certificate from Celas Maya in Quezaltenango, Guatemala, while attending school abroad for two summers to become fluent in the Spanish language. Dr. VanDenBerg also obtained his Norwegian language certificate while studying abroad in Sandefjord, Norway.
VanDenBerg and his office manager, Rylie Anderson, invite the community to stop by anytime to visit and ask questions. Intermountain Family Chiropractic is located at 102 S Euclid Ave., Suite 109, in Sandpoint
For more information or for an appointment, call 208-263-2247.
---