Coffelt Funeral earns chamber honors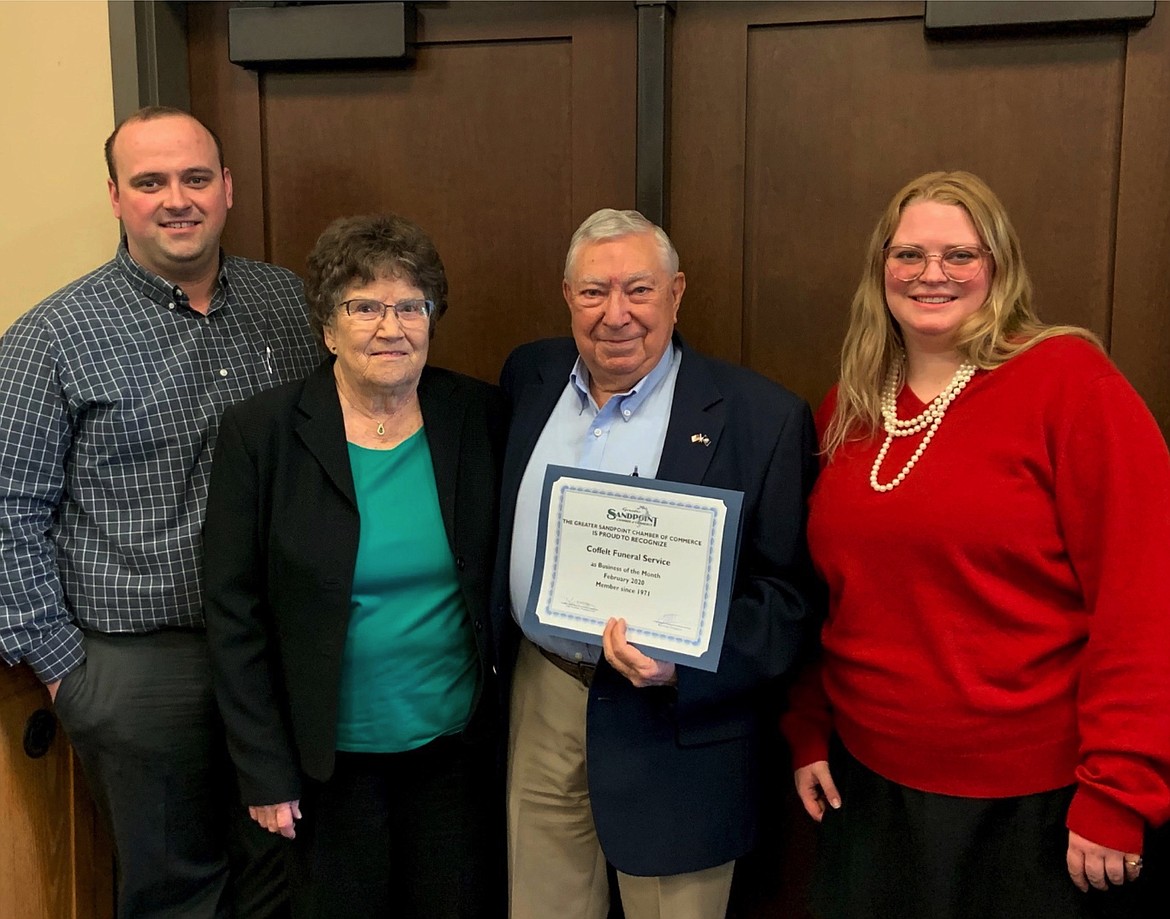 Chamber membership specialist Ricci Witte, far right, presents Coffelt Funeral Services with the Business of the Month honor at the General Membership Luncheon on Feb. 13. Pictured, from left, are Dale McCall, Nancy Coffelt, Dale Coffelt, and Ricci Witte.
(Photo courtesy GREATER SANDPOINT CHAMBER OF COMMERCE)
by
Kristin Carlson
|
February 18, 2020 1:00 AM
SANDPOINT – The experience of losing a loved one is overwhelming in so many ways.
Having a personal, professional hometown funeral home like Coffelt Funeral Service helps ease the pain and that's just what they have done for Sandpoint families for nearly 100 years.
Greater Sandpoint Chamber of Commerce officials honored Coffelt Funeral Service, a longstanding chamber member, as its February Business of the Month.
Not only is Coffelt Funeral Service one of the chamber's longest standing members, joining in 1971, they are one of the oldest existing businesses in Sandpoint.
Established in 1922 by LG "Pike" and Hazel Moon as Moon Funeral Home and later purchased by employee Dale Coffelt, means there are five generations of Bonner County history tied into Coffelt Funeral Service and Pinecrest Cemetery.
Out of high school, Dale worked in a sawmill and graduated from Boise Junior College and San Francisco College of Mortuary Science. He returned to Idaho to complete his funeral apprenticeship and, in 1967, moved to Sandpoint to work for Bud Moon, second-generation owner of Moon Funeral Home.
He felt at home here, in a logging and mill town, with his experience in the field. In 1970, Dale established Coffelt Funeral Service and purchased Moon Funeral Home, then Pinecrest Cemetery in 1982.
Both Pike and Bud Moon have served as county coroner over the years. Dale himself picked up the reigns in 1972, and was reelected for the next 30 years.
He has served as president of the Sandpoint Rotary Club, Idaho state Funeral Directors Association, sat on the board of Idaho County Elected Officials and served as secretary/treasurer of the National Selected Morticians.
"My goal has always been to continue to operate as a small, family owned business in the community," Coffelt said.
"This is where I have raised my family. The kids graduated from Sandpoint High School and have gone off to college and their own careers. I may have slowed down a little, but still work six days a week and answer the funeral home phone 24 hours a day."
Coffelt's care for his community and the histories of its families is why Coffelt Funeral Services was named February's Business of the Month.
Information: Coffelt Funeral Service, 109 N. Division Ave., Sandpoint; or online, coffeltfuneral.com
---