Dorothy Prophet honored as top volunteer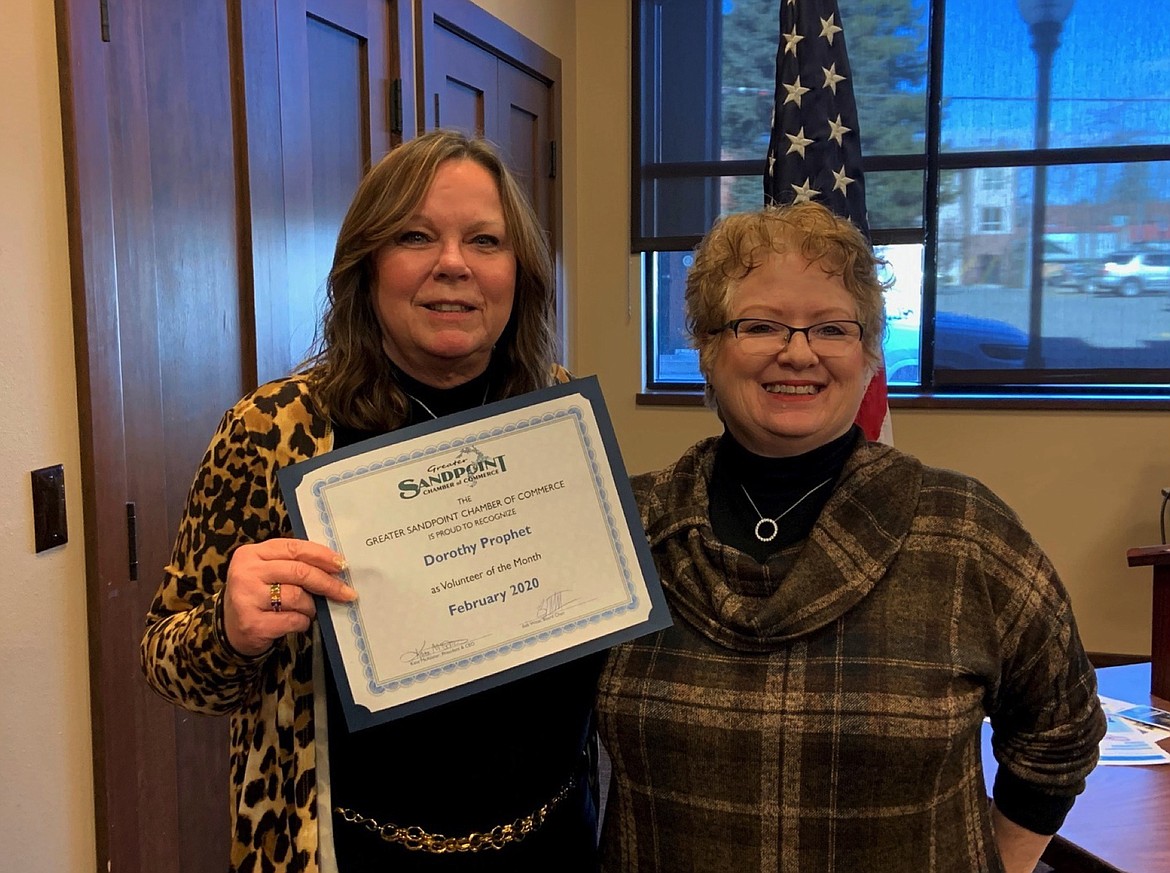 Chamber President & CEO Kate McAlister presents friend Dorothy Prophet with the Volunteer of the Month honor at the chamber's general membership luncheon on Feb. 13.
(Photo courtesy GREATER SANDPOINT CHAMBER OF COMMERCE)
by
Kate McALISTER
|
February 19, 2020 1:00 AM
SANDPOINT — It is awe-inspiring there are people in this world who can take a tragic loss in their life and turn their grief into action and do amazing things.
That is just what Dorothy Prophet has done. After her son Cade lost his life in a tragic accident in 2017, she has put her energy and time into creating a way to honor her son by celebrating their family's devotion to the Panhandle Animal Shelter and her love of theater.
The Greater Sandpoint Chamber of Commerce is pleased to recognize Ms. Dorothy Prophet as the February Volunteer of the Month.
Prophet created Cade Prophet Memorial Productions and through this non-profit, she has to date produced and directed three performances at the Heartwood Center. Prophet is an avid theater performer and is best known for her skillful directing abilities and performances as an actress as well. Proceeds from the performances go to Panhandle Animal Shelter for the cats, and she has donated over $5,000 thus far. She also gave a portion of the proceeds from the last performance, The Laramie Project, to our local PFLAG organization.
When asked why she chose the Animal Shelter to donate funds to her reply was this:
"When I was a single mom of three kids, funds were always short. We went to the shelter to "visit the inmates" as a form of entertainment, like other folks would go to the zoo! That was when the shelter was over off Baldy. My kids would read to the animals too. We couldn't afford pets of our own, so they became our substitute pets. Once my finances improved, and we could have pets of our own, they always came from the shelter. But we still went to visit the inmates."
"After Cade left home, every time he came to Sandpoint to visit, he would want to go visit the inmates! He loved cats and so we chose helping the cats in his honor — Cade never met a cat he didn't like. But that was true of people, too. Cade could always find something good in everyone he met. I try to be more like him."
To add to her directing and volunteering credits Prophet has been a part of the Angels Over Sandpoint's infamous show, The Follies, 10 years as a performer and the last five years as the esteemed director. The show is a great success and the Angels' biggest fundraiser each year.
When accepting the Volunteer of the Month honor, Prophet asked everyone to "Support local theater! We can't continue to help the community if you don't come to the shows. And if you can't make it to the show, buy a ticket anyway, every little bit helps."
Please join the Great Sandpoint Chamber of Commerce in thanking Prophet Prophet for her contributions to our community. She is the February Volunteer of the Month.
---