Father, children among plane crash victims
Investigation continues into Sunday's mid-air collision over Lake Coeur d'Alene that claimed eight lives
By CRAIG NORTHRUP
Staff writer
Officials from the Kootenai County Sheriff's Office said that recovering the planes and the victims who died in Sunday's mid-air collision over Lake Coeur d'Alene requires an operation that will be neither quick nor easy.
"We're going to be conducting some more recovery operations in the days and probably weeks ahead," said Lt. Ryan Higgins of the Kootenai County Sheriff's Office. "Our main focus right now is recovering the victims."
A charter plane carrying five passengers and a pilot from Brooks Seaplane Service — the charter service with its station near City Beach along downtown Coeur d'Alene's waterfront ­— collided with another aircraft carrying a pilot and one passenger around 2:20 p.m. Witnesses described a fireball in the sky before both planes crashed into the water between Powerhorn Bay and Black Bay and sank quickly.
Witnesses said the planes were headed toward each other when they collided in clear skies, Higgins said.
Three bodies have so far been recovered from the water, and another two have been discovered within the wreckage.
While authorities have not yet positively identified any of the bodies, investigators have determined the identities of five of the six people onboard the Brooks aircraft.
Neil Lunt, 58, of Liberty Lake was piloting the seaplane occupied by Sean Fredrickson, 48, of Lake Oswego, Ore. A 16-year-old girl, a 16-year-old boy and an 11-year-old boy were also identified as passengers; the Sheriff's Office would not disclose the names of the juveniles but said all three kids were Fredrickson's children and stepchildren. Investigators are still working to identify the sixth occupant.
Lunt was a retired commercial pilot with SkyWest Airlines based out of Los Angeles International Airport. He bought the Brooks Seaplane business, which has been around for decades, in 2018. His son, Noah, was his business partner.
The company offers aerial tours.
"They fly constantly, all the time," Higgins said. "During the summer, they're always in the air."
The aircraft that collided with the 1956 Brooks Seaplane was a Cessna 206 registered to Echo Rental in Lewiston.
Higgins said according to its flight plan, the Cessna left from Felts Field in Spokane on Sunday. Investigators have determined the two occupants who were onboard, but they were withholding the victims' names until next of kin have been notified.
Since Sunday, investigators hadn't ruled out the possibility of a third occupant in the Cessna, but by Monday evening, Higgins said KCSO was confident only two victims were on board at the time of the crash.
Both aircraft were fixed-wing single-engine planes.
Investigators said they did not know the cause of the crash.
"We can speculate," Higgins said. "One person was looking that way, one person was looking that way."
Sarah (Polk) Bluff, a stewardess with about 20 years experience with SkyWest, flew with Lunt several times.
She described him as someone who was well-liked, easy to work with, supportive of his crew, and a good pilot. He was a good communicator and alerted his crew to changes in flight plans or the weather, she said.
Bluff, a 1995 Post Falls High School graduate, said Lunt told her he was very excited about purchasing Brooks Seaplane Service and looking forward to flying here.
"I always felt very safe and supported flying with him," she said.
Frederickson was the golf pro at Oswego Lake Country Club in Lake Oswego.
"The loss of Sean Fredrickson and his children Hayden, Sofie and Quinn is devastating," Oswego Lake Country Club general manager Bryan Fisher said in a statement to the media. "Sean was an exceptional golf professional who was awarded the PGA Professional of the Year honor in 2019 by the Pacific Northwest Section PGA. Oswego Lake Country Club was honored to have him as a member of our family. His positive spirit and joy for the game of golf was contagious. But more importantly, Sean was a tremendous husband, father and friend. Our love and heartfelt sympathy goes to his wife, April, his family and friends during this time of loss."
April Upchurch, Frederickson's wife, told KREM-TV that her family was "taken too soon in an unimaginable way." She asked people to keep her family in their prayers and not to waste a single minute with their loved ones.
A statement from April Upchurch provided to KREM said, "Many of you know that I lost my husband and beautiful children in a plane wreck over Lake Coeur d'Alene yesterday. I am reeling from the loss, but take solace in the fact that they were on an adventure and so excited for their first sea plane ride. Thank you for all of the love and support. It truly does help. I know that they each touched many lives and that our entire LO and Tualatin community will be grieving. Please know that we had a wonderful family weekend and an opportunity to spend time together. Thank you for keeping me in your prayers."
She later posted a Facebook picture of herself with the family dogs and wrote: "We are going to be ok. Thank you everyone for the well wishes."
Higgins said it was a normal day for the number of aircraft flying in the area at the time of the accident. He said there was a vintage plane group that had been flying over the lake that day.
Many small, private aircraft take off from different airports throughout the day, he said.
"They're small, they fly low. It's not uncommon for them to be not tracked as well as a commercial jetliner," Higgins said.
Witnesses described a horrific scene that left a field of debris, some of which was recovered.
"We were at a home overlooking the lake," witness David Kilmer told The Press on Sunday in a phone interview. "My wife, Rebecca, saw a fireball and wings flying out of the fireball. She said, 'I just saw a plane explode,' so we went to the scene."
Kilmer said that 20-30 boaters came to the scene to assist in the recovery.
Higgins said those who rushed to the scene pulled two of the victims from the water, but they were deceased.
"It was a great response by recreational boaters," Kilmer said. "There were so many people on the lake doing whatever they could to help recover what they could. There was nothing left of the plane that was floating."
Higgins stressed that the recovery process in this case will be complicated and take time.
The planes were located in 127 feet of water by the KCSO's sonar team, he said.
"Our dive team is not capable of going to that depth," he said.
"If we get (the victims) all up in a week, it would be a miracle," Higgins said. "It's a very large debris field. We're talking about two planes scattered over a large area. It's going to take time. (Divers) can only do so many dives per day at that depth."
Higgins estimated about 20 people are on the scene as part of the recovery process. The crews includes four divers, five sonar team members and support staff. The recovery team is using a remote operated vehicle — or ROV — to explore the wreckage.
"The ROV," Higgins described, "is about the size of a small cooler. It has a grappling arm that can grab things that are small. That's how we've pulled up the bodies so far."
Federal investigators were en route to the scene.
The aircraft owners' insurance companies will primarily deal with removing the debris once all the bodies have been pulled from the lake, Higgins said, adding that recovering the aircraft is secondary to giving families the ability to grieve for their loved ones.
"It's a surreal scene at this point," he said. "It's something we've never come across. But the team's hanging in there. Right now, our main focus is just recovering the bodies and giving families a way to find some closure."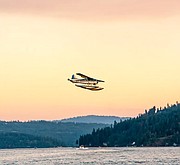 ---