Senior Spotlight: Jake Suhr is all in, all the time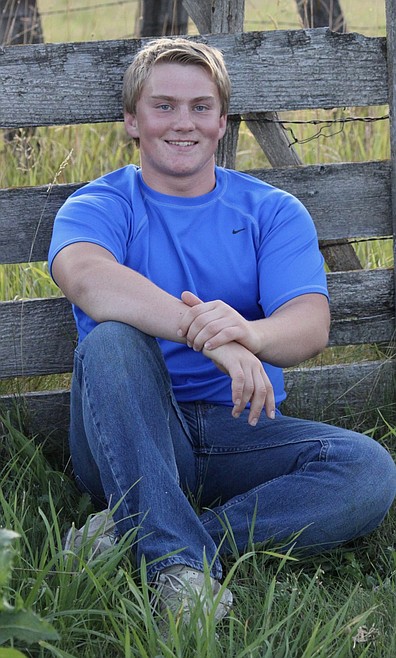 Jake Suhr was a model student-athlete. He got straight A's in the classroom while competing in three sports throughout his time at SHS. "I appreciate a guy like Jake because he doesn't just settle," Ryan Knowles said.
(Photo courtesy of JACKIE RUCKER)
by
DYLAN GREENE
Sports Editor
|
July 15, 2020 1:00 AM
Editor's note: This article is part of a recurring series on local high school athletes who had their seasons cut short or canceled due to the coronavirus pandemic.
SANDPOINT — Finding an individual that can balance the rigors of competing in three sports throughout high school with the demands of maintaining a high standard in the classroom is rare. Luckily, Sandpoint High School had Jake Suhr.
Jake pulled that feat off nearly flawlessly, but those closest to the SHS grad aren't surprised.
"He really challenges himself," his older brother, Erik Suhr, said. "He pushes himself not just to do the best he can, but to be the best person he can."
Jake starred on the Bulldogs' football, wrestling and track teams. He did all that while working a summer job and getting straight A's not just in high school, but in middle school and elementary school. That was an academic goal for Jake ever since he learned that his brother, Erik, finished one A short of doing the same during his time at Sandpoint.
"I always tried to beat him," Jake said.
And why did Jake enjoy grinding himself and testing his limits? "I loved being busy," he said. "It just felt weird when I wasn't doing anything."
Although, it seemed like Jake hardly had time to breathe during high school, track provided him with an opportunity to take a step back and relax while still maintaining his competitive edge. Being a wrestler and an offensive linemen takes a toll on the body and track allowed Jake to stay in shape and recover from the injuries he sustained in the fall and winter.
Jake began competing on the track team in seventh grade. He started out as a sprinter but the coaches thought he'd do better as a thrower.
"I guess I wasn't that good of a runner," he joked.
In high school, Jake threw shot put and discus. He enjoyed both equally, but missed out on making it to state in discus by just one spot as a junior.
This year, Ryan Knowles, throws and head football coach, was expecting Jake to compete side-by-side with fellow senior Brandon Casey for a state berth in discus and not throw shot due to a broken wrist.
Knowles got to work with Jake nearly year round the past two years on the track and football teams and one thing stood out about Jake — his dedication.
"These kids like Jake, they don't know the front door of the school," Knowles said. "Every day they go through the side door into the gym or into the weight room. They don't leave through the regular doors. It's pretty impressive and it's just the way he is."
On the football field, Jake started at right guard for the Bulldogs in 2019. He began playing the sport in fourth grade and it's been his favorite ever since.
Jake loved the brotherhood he built with his teammates on the football field and the responsibility it taught him.
Knowles said Jake never missed a practice or a workout and he refused to make excuses. Knowles said when Jake decides to do something, he pours everything he has into it and he'll miss having that mentality around in the coming years.
Knowles really enjoyed spending time with Jake on the track team and watching him compete with himself. One thing Knowles and the other throwers on the team loved doing was calling Jake "coach Suhr."
Jake earned the nickname due to his willingness to give the other throwers input on their technique. Knowles said Jake was always asking questions and did whatever he could to help his teammates make strides.
"It's just in his DNA," Knowles said. "He wants to help ... it's just his genuine personality that I came to enjoy over time. He's one of those guys that is easy to take for granted because you never had to question if he was going to be there or not."
Jake is heading to Montana State University to pursue a bachelor's degree in mechanical engineering and to join the school's Army ROTC program.
Engineering runs in the family and Jake will most likely continue that tradition.
"I always thought it was interesting figuring out how things work and making machines," he said.
The Montana State campus in Bozeman is about an hour away from where Erik lives in Butte. Jake plans on visiting his brother whenever he has a free moment or weekend.
Erik, a student at Montana Tech, said him and Jake have a special bond that sports helped solidify. Erik played football and ran track at SHS and during his senior year of track he got a chance to be teammates with Jake when he was a freshman.
Erik said they teased one another occasionally when they didn't do well in sports, but no matter what they always supported each other. Erik said he enjoyed the friendly rivalry he had with Jake because it pushed both of them to be better.
The two brothers have always had similar interests and Erik remembers pulling all-nighters with Jake when they were kids. Erik said he can't wait to see Jake more once he gets settled in at college and he plans on taking him ice fishing when the winter rolls around.
Jake is looking forward to the next chapter of his life but he won't forget stomping Lewiston 30-0 in football or when the offensive line won a tug-of-war championship at an Eastern Washington camp last summer.
Knowles believes Jake will be successful in whatever he chooses to do because of his work ethic.
"I appreciate a guy like Jake because he doesn't just settle," Knowles said. "He's a very well-rounded individual and his future is pretty bright."
Jake was Erik's best man at his wedding and Erik said his life wouldn't be the same without his little brother.
"I love him a lot and I just want the best for him," Erik said. "He means the world to me."
In his own words: Jake Suhr
"My sports career has had a major influence on how I've developed as a man and I have to thank all of my coaches for that. They have always been there pushing me to achieve my best and making sure that I always have my eyes on what is the most important, which isn't always to win but to remember to always give it your best and to cherish the connections you make along the way. One quote from coach Knowles that I think will always stick with me is "If you can't get out of something get into it" which to me means that if you are stuck doing something that you really don't want to do, don't waste the energy hating it, just go and get it done. I would also like to thank my family for always supporting me in everything that I do and God for keeping me safe. Lastly to all of the people considering joining a sport I would extremely recommend it, not only do you get in shape and have fun but you also learn a lot about life and develop a strong work ethic that will benefit you in the future."
---