Senior Spotlight: Last minute offer helps Cassidy Prudek accomplish a lifelong dream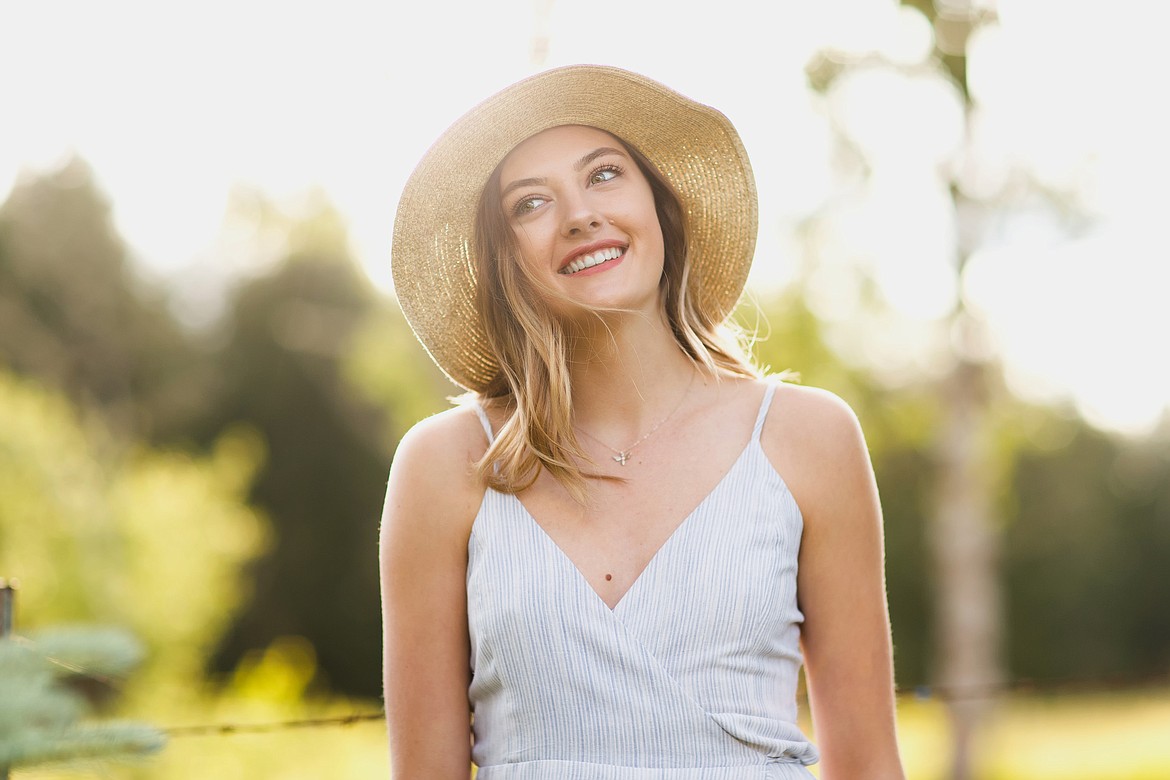 Cassidy Prudek's dream of playing collegiate volleyball came true when Southwestern Community College offered her a full-ride scholarship. The PRLHS grad plans on studying exercise science and wants to be a physical therapist.
(Photo courtesy of JASON DUCHOW PHOTOGRAPHY)
by
DYLAN GREENE
Sports Editor
|
July 15, 2020 1:00 AM
Editor's note: This article is part of a recurring series on local high school athletes who had their seasons cut short or canceled due to the coronavirus pandemic.
PRIEST RIVER — Just over two months ago, Cassidy Prudek came to the realization that she wasn't going to play volleyball at the next level.
Prudek had gotten multiple offers but none of them felt right, so she scheduled her classes to attend the University of Montana and figured out what dorm she would be staying in this fall. Everything was set.
Then Shaela Camp, the head volleyball coach at Southwestern Community College in Creston, Iowa, reached out to Prudek in early May. After constant emails, texts and phone calls it was clear how badly Camp wanted Prudek to join her team.
Southwestern didn't offer Prudek a full-ride scholarship right away, but eventually they did and now the Priest River star is headed to the Midwest.
"I couldn't pass that up," she said.
Southwestern is a Division II junior college and Prudek will spend two years there before transferring to another school. Prudek is a little worried about moving so far away from home, but she believes the tightness of the team will help her feel right at home. Plus Camp, who is also Prudek's adviser, already offered to pick her up from the airport when she arrives in Iowa.
"It's definitely a game changer that I'm going to be living on campus with other girls on the team," Prudek said, "and it also helps this coach really cares and seems to want me there, it's nice."
Prudek has been playing volleyball since third grade and its always been her favorite sport.
"I think it's just the best sport ever," she said. "Volleyball is the one I've always stuck with."
When the Priest River volleyball team lost to Timberlake in the runner-up match at districts this past season, Prudek remembers getting emotional because she thought that was the last time she would play competitive volleyball, so she's grateful she gets at least two more years on the court.
Just like any parent would be, Prudek's dad, Tony Reynolds, is nervous that he won't be able to get in his truck and go check in on his daughter whenever he wants, but he couldn't be more proud of her.
"I was lucky with her, she has lots of self drive," Reynolds said.
Prudek has been running track as long as she's been playing volleyball and this spring she lost out on an opportunity to cap off her Spartan track career.
Prudek earned all-league honors in track as a freshman and junior and placed 12th at state in the 100 meter hurdles in 2019. During her time at Priest River, Prudek competed in a number of events including the 100, 200, 400, 300 hurdles, pole vault, long jump and multiple relays. Her versatility on the track was endless and she enjoyed the physical demands of the sport.
"The rush I get before a race is literally indescribable," she said.
Prudek also joined the basketball team during her senior season.
Leslie Ritter-Meek spent the past three years as the head volleyball coach for the Spartans and has known Prudek for most of her life. Ritter-Meek said she talked with Prudek frequently about pursuing volleyball in college and she saw the Priest River grad take a huge step forward this past season.
"Her natural blocking ability is phenomenal," Ritter-Meek said.
Prudek encouraged her teammates and lifted them up when they were down, Ritter-Meek said, and she put in extra time after every practice to improve her game.
Ritter-Meek said Prudek hasn't reached her full potential on the volleyball court yet and thinks she will shine in Iowa.
"Cassidy is just one of those kids that once she sets her goals, she strives to achieve them no matter what it takes," Ritter-Meek said. "She's going to have great success in life."
Prudek will be studying exercise science at Southwestern in hopes of becoming a physical therapist. After her two years in Iowa, Prudek wants to transfer to a university closer to home that benefits her academically, such as Eastern Washington University or Montana. She'd also love to continue playing volleyball.
Prudek said she enjoyed her time at Priest River High and will always cherish the memories she made in high school.
"I'm going to miss that homey feeling," she said.
Prudek always dreamed of playing collegiate volleyball. At times though, she got discouraged because it can be hard to get noticed by recruiters living in a small town in North Idaho. But Prudek never gave up hope and it paid off.
"I'm super excited," she said. "This is something I've wanted to do forever."
Reynolds said his daughter is a sweet, caring person that has a bright future ahead of her.
"The word quit doesn't exist in her vocabulary," he said.
In her own words: Cassidy Prudek
"I'm very grateful to be given the opportunity to continue my volleyball career collegiality. I have always wanted this for myself and to have it come true is so surreal and exciting. As an athlete, I have always tried to improve myself and work on my skills to be the best I can be. To have hard work pay off is a very fulfilling feeling, and without the great coaching from my high school volleyball coach, Leslie, and all my supportive teammates, friends and family, I wouldn't be the athlete I am today. Volleyball is my favorite sport, I give my all on the court and I am excited to continue playing what I am so passionate about. I hope that every young athlete who hopes to play collegiate sports continues to work hard on and off the court/field and doesn't give up that goal. I believe another vital part of continuing a sport after high school is to be self driven, after all no one else can give you the motivation and passion required to be successful."
---