Sandpoint athletics prepares for uncertain fall season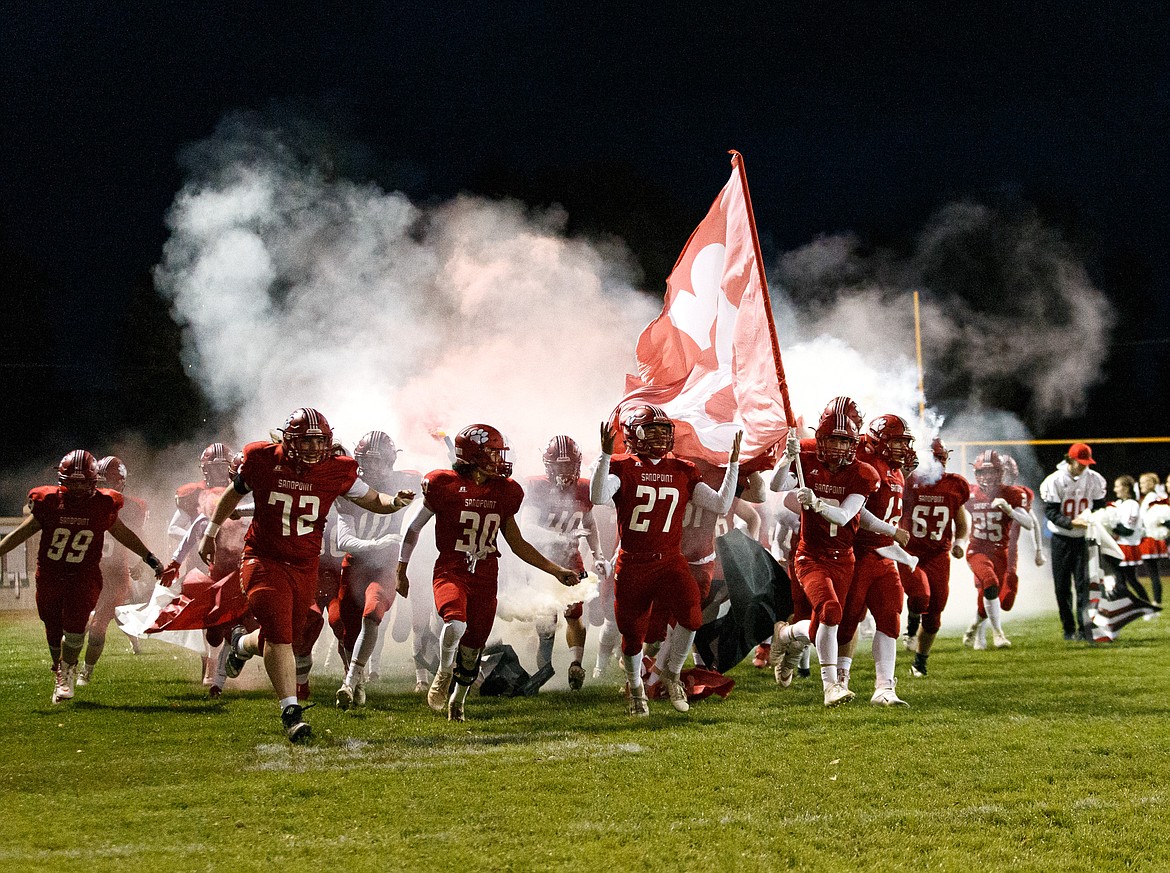 Scenes like this one from last year at War Memorial Field could look a lot different this fall depending on what regulations the Idaho High School Activities Association decides to implement in the coming weeks.
(Photo courtesy of JASON DUCHOW PHOTOGRAPHY)
by
DYLAN GREENE
Sports Editor
|
July 16, 2020 1:00 AM
SANDPOINT — Right now, there are hundreds of questions about if high school sports will be played in Idaho this fall and little to no answers.
Athletic directors around the state are scrambling to prepare for every possible scenario and Sandpoint AD Kris Knowles is doing the same.
Knowles said the last few months have been like riding a roller coaster.
"We have plan A, B, C, D and E and I don't know if we have to go farther than that," he said.
Idaho Gov. Brad Little announced last week that he will let the Idaho High School Activities Association decide if sports should be played this fall, but so far the governing body hasn't released any plans.
Knowles said he has heard rumblings that the IHSAA will be releasing some sort of guidance next week.
But Wednesday, IHSAA Executive Director Ty Jones shed a little bit of light on what sports might look like in Idaho this fall. In an interview with IdahoEdNews.org, Jones said the governing body is planning on letting fall sports happen, as long as public schools aren't shutdown statewide like they were this spring.
The Washington Interscholastic Activities Association made the move last week to push back the start of the fall season in the state two weeks. That decision had major ramifications on schools across North Idaho.
For Sandpoint, the decision means the football team's second game of the season at University High School in Spokane on Sept. 4 is no more, and the team's second home game against Raymond High School in Alberta, Canada, is up in the air because the border between the U.S. and Canada is closed until at least Aug. 21.
The girls soccer team also has a pair of matches against schools in the Greater Spokane League in mid-September, but so far Knowles hasn't heard anything about those games being canceled. But who knows, Washington may decide not to play any out-of-state competition this fall.
Knowles said the number one question he gets asked, whether he's in the checkout line at Yoke's or just roaming around town, is if there will be sports in the fall.
"The answer right now is I have no idea," he said. "I hope so, but I just don't know what it will look like."
Knowles said ideas from modifying the season to regional games only to moving the fall season to the spring have been tossed around, but nothing has been set in stone.
Knowles told Sandpoint coaches to plan for a full fall schedule and be flexible if adjustments are made.
"I just hope we can find a way to get kids on fields and courts," he said.
Knowles said the IHSAA director has created committees to look at the issues associated with playing each sport this fall and those recommendations will be reviewed by the IHSAA Board of Directors.
Washington is treating each sport differently and Knowles hopes Idaho does the same.
"We have all learned to work in a world where the situations aren't perfect," he said.
Last Friday, the Inland Empire League held a meeting over Google Meets to discuss the WIAA's decision to push back the start of the fall season and the schedule changes each school has to make as a result.
The 4A and 5A Inland Empire are joining forces for the 2020-21 school year in boys and girls soccer, boys and girls basketball, volleyball, softball and baseball. The schools made the decision to combine last winter and Knowles said the timing couldn't be more perfect.
"One of the beauties of us realigning as a conference like we did is we're going to take care of each other now," he said. "We're going to help each other on that scheduling, we have to ... if we don't have each other, we got nobody."
The IEL is holding an in-person emergency meeting today to talk about the uncertain future.
"You can plan and use the best information that you have and it still might need be enough, that's kind of the reality of it," Knowles said.
There has been lots of negative news over the past few months with all the sports cancellations, but Knowles has tried to emulate the coaching philosophy of Seahawks head coach Pete Carroll and find the good.
He said from here on out schools will pay more attention to sanitation, keeping locker rooms clean and setting up their own travel to and from games.
Knowles said it will take everyone coming together to make the fall season possible and the health of the athletes, coaches, bus drivers and other staff involved should be prioritized.
If for some reason the fall season is canceled, Knowles said the school's athletic department would take a hit financially that would affect them for years to come.
"The culture of your school is often times set by your activities rolling in the fall," Knowles said, "and so you take activities out and that changes the complexion of your school. It would just be absolutely heart wrenching if we didn't have something."
---