Senior Spotlight: 'I'm going to miss him, he's a special kid'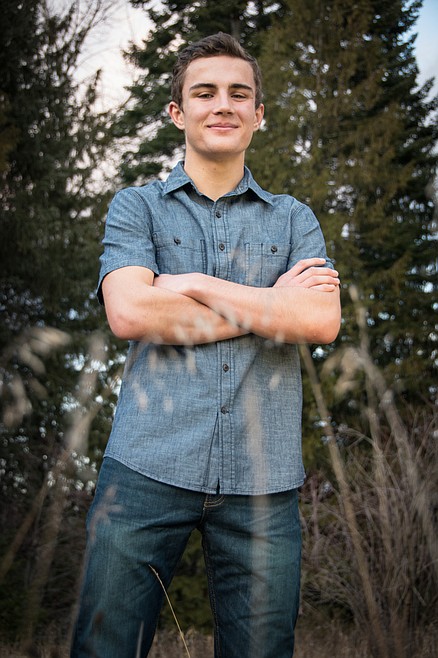 Brady Nelsen left his mark on the track, wrestling and cross country programs at SHS. "Brady's one of those people that refuses to be outworked," Matt Brass said.
(Photo courtesy of AMY PACK STEPHENSEN)
by
DYLAN GREENE
Sports Editor
|
July 21, 2020 1:00 AM
Editor's note: This article is part of a recurring series on local high school athletes who had their seasons cut short or canceled due to the coronavirus pandemic.
SANDPOINT — Entering this track season, Brady Nelsen was more focused than ever.
With his National Letter of Intent already signed to run track and cross country at Lewis-Clark State College, there was no pressure and Nelsen was looking to reach his best marks yet.
Nelsen was running 38-40 miles per week in preparation for one final track season and Matt Brass, head track and boys cross country coach, was expecting the long distance runner to reach sub 4:40 in the 1,600 meter and join a select group of SHS runners who have gone under 10 minutes in the 3,200.
Ultimately, those milestones never got a chance to be broken this spring but Nelsen's legacy as a Bulldog was already set in stone.
"Brady's one of those people that refuses to be outworked," Brass said.
Sports have always been a huge part of Nelsen's life. He started with Top Dog Wrestling at about 4 years old and stuck with that until about second grade. Then he tried out soccer for a little bit and eventually found his way to karate. Nelsen's stint with karate lasted until the summer before his freshman year when he earned his black belt.
Nelsen also took part in the cross country team's summer camp that year but he wasn't ready to commit to run for the squad that fall, so he just wrestled freshman year.
Prior to his sophomore year, Nelsen finally decided to join the cross country team. Nelsen had gone on runs frequently while doing karate, but he admitted he had no idea what he was doing and the cross country team was a whole different experience.
When Nelsen made the choice to run cross country, he saw it as a great opportunity to get in shape for the wrestling season in the winter. That mindset isn't one Brass looks for in his runners. He wants athletes that are committed to the program and are willing to do anything for the person next to them. Nelsen recalls Brass pulling him aside and saying something along these lines: "This isn't like a get in shape club this is a competitive team and if you're going to be here you need to take this seriously."
Nelsen took that message to heart and within a few weeks he got under 18 minutes in the 5K, earning a spot on the varsity team and eventually a trip to state.
Brass said he's glad he lit a fire under Nelsen but he didn't need it.
"It doesn't take a whole lot to motivate Brady," he said. "He's incredibly intelligent and he's very competitive."
Nelsen said that first year of cross country shattered his expectations.
"It was just all these things that season that I never really anticipated happening," he said, "and I just made a lot of connections with those guys and really began to enjoy running. Then wrestling season started and it made a huge difference."
Following that wrestling season, Nelsen took a break while also staying involved with spring wrestling and running with the boys on the cross country team. Nelsen did that for about a month before he attended the track team's first home meet that season. He saw the action and was convinced that he needed to give track a shot.
"I didn't want to miss out on all the fun," he said.
Nelsen was immediately drawn to the 1,600 and 3,200. Brass said the longer the distance, the better for Nelsen, which is a theme that holds true for whatever the SHS grad is involved in.
In wrestling, Nelsen was the definition of a closer. He could last all three rounds without losing a step while his opponents fatigued. Nelsen carried that attitude with him when he ran the 1,600 and 3,200.
"I feel like it's a long enough type of competition to where people can start to feel tired," he said, "and then you keep going and when other people give up, then you just keep going."
Nelsen said it was odd to not have any races or camps to look forward to over the past handful of months which made it harder to stay motivated.
Luckily, Nelsen and the rest of the SHS track seniors got one last chance to compete in high school when the Bulldogs hosted the Sandpoint Open on June 13.
It certainly had a different feel to it than any other track meet Nelsen has participated in, but he enjoyed running side-by-side with Gabe Christman again.
"It was cool," he said. "It felt like a cross country race."
During his time away from the team, Nelsen said he started to realize how important the relationships he built through track, wrestling and cross country are in his life.
Nelsen has been working 30 to 40 hours a week with his dad while sticking to the training plan LCSC provided him for the upcoming season. The start of that season is currently up in the air as the Cascade Collegiate Conference has suspended all sports until at least Nov. 1 due to the coronavirus.
The opportunity to run track and cross country in college is something Nelsen didn't start thinking about until last summer. In fact, he wasn't even sure if he wanted to go to college at all. But when Nelsen imagined what high school would have been like without sports, he knew if college was a part of his future then he needed to compete, otherwise, he'd lose his mind.
Nelsen approached Brass and told him he was interested in running collegiately. Brass used his contacts to get in touch with LCSC cross country head coach Mike Collins.
This past September, Collins attended the Timberlake Farragut Invitational to recruit athletes in North Idaho and Brass approached him at the starting line to talk to him about Nelsen.
Soon after, Collins reached out to Nelsen and all it took was a trip to Lewiston during Thanksgiving break to convince him that LCSC was the right place for him.
Nelsen also could have tried to pursue a collegiate wrestling career, but he felt he hadn't reached his full potential in running yet and had some unfinished business.
Nelsen plans on going into the school's engineering program for his first two years there and then completing a bachelor's degree in kinesiology during his final two years at LCSC. He may transfer to another college after that, but right now Nelsen is keeping his options open.
Brass said Nelsen led by example during his time as a Bulldog and always gave the team everything he had.
"He just says things when they need to be said," Brass said.
Nelsen is looking forward to the next chapter of his life and taking on a new adventure in a different environment.
Brass will always remember Nelsen's fierce work ethic and driving back and forth to Schweitzer with him this past fall when the cross country team was training for state.
"When Brady sets his mind to do something, it's going to get done," Brass said. "I'm going to miss him, he's a special kid."
In his own words: Brady Nelsen
"Getting to work with my dad for the last few months since our school closed, I've come to appreciate the labyrinth of steps it takes to turn a pile of rough material into a clean and finished product. Without having similar experience, people will look at the finished work without ever understanding the time and the care that went into it.
Maybe now that I have experienced this, I can begin to understand the true value of the work that was done to help me, by my family, my coaches, my teachers, my teammates and other influential people in my life. Though I may never know the true extent of the love and care that has been given to me, I am the person I have become as a result of it.
I can only hope that soon I will be able to be such a positive influence to the people in my life, and begin to pay it forward to those who need it. I have had an amazing first 18 years of my life, and I can't wait to start this next chapter. Thank you to all of the people who have helped and guided me this far, it would have been impossible without you."
---