Senior Spotlight: Kaul's reliability, personality will take him far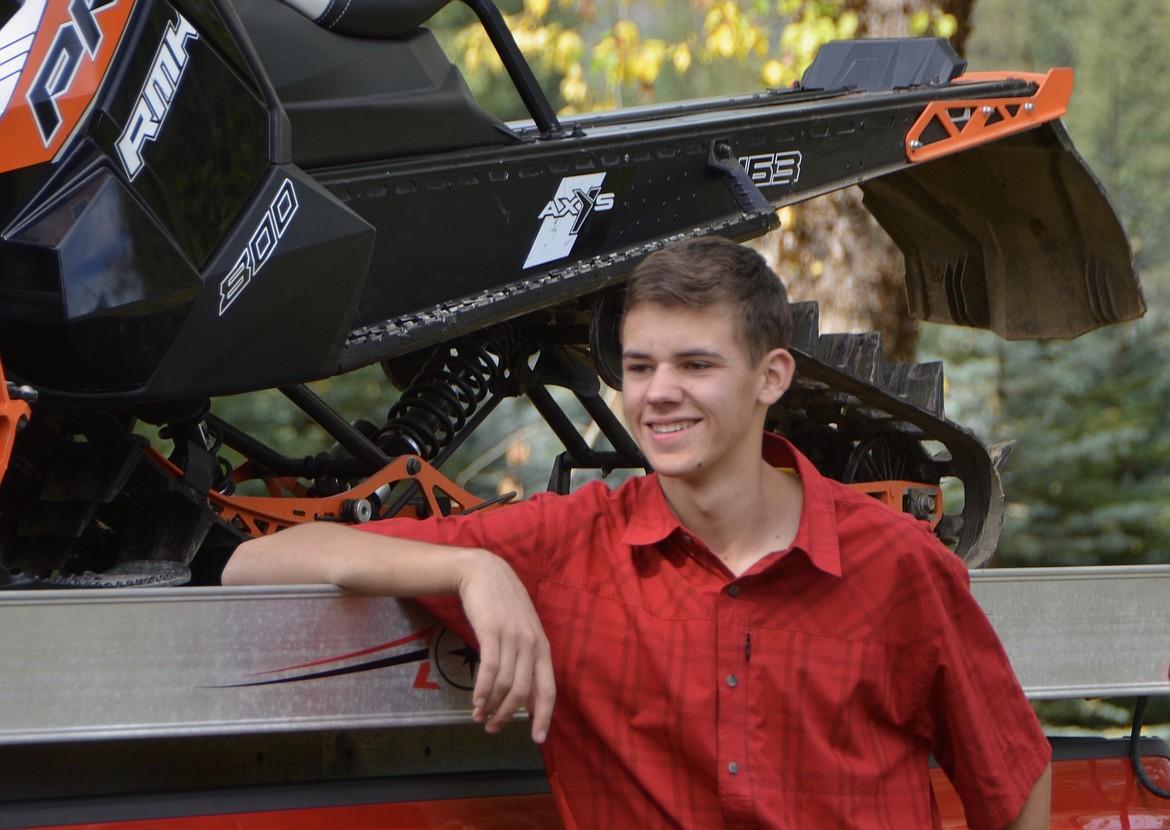 Andrew Kaul has a deep passion for snowmobiling and his job at Taylor & Sons Chevrolet. After he graduates from Boise State University, Kaul plans on starting his own snowmobile rental and guide business.
(Photo courtesy of JOHN SHEPARD)
by
DYLAN GREENE
Sports Editor
|
July 22, 2020 1:00 AM
Editor's note: This article is part of a recurring series on local high school athletes who had their seasons cut short or canceled due to the coronavirus pandemic.
SANDPOINT — The one thing Andrew Kaul enjoyed most during his high school career was his job at Taylor & Sons Chevrolet in Ponderay.
That's right, a teenager relishing the opportunity to work — a rare trait for an 18-year-old.
"Andrew is mature beyond his age," said Brett Taylor, general manager of Taylor & Sons. "He has a perspective on how the world works that is not customary of a young man of that age."
Kaul has been competing on the track team since seventh grade. He joined the team originally for the social aspect and was immediately drawn to shot put and discus because he isn't the biggest fan of running.
Kaul also played football from fourth grade to sophomore year, but gave it up to focus on working at Taylor & Sons and saving up for college.
Kaul began working at the dealership during the summer following his freshman year. He started out just washing cars the dealership was looking to sell, but over the course of his four years at the business Kaul has done a little bit of everything.
From professionally detailing cars to helping out the accounting office to removing pesky spiders on the outside of the building, Kaul does it all and has really embraced being a part of the Taylor & Sons family.
Taylor said when Kaul first started working at the dealer he was about 5-foot-7. Now he's roughly 6-foot-4.
"We've watched this young man grow up," Taylor said, "and we've had a lot of employees who have been in the dealership throughout that entire time period, and all of them think very highly of Andrew and have enjoyed the experience of being a part of his high school years."
Sandpoint throws coach Ryan Knowles only worked with Kaul for about a year, but he recalls the SHS grad speaking fondly of his job and how much he enjoyed it.
Knowles remembers asking Kaul how his job at the dealership was going prior to this spring season being lost and him saying, "I think have four or five people working for me now coach."
This season Kaul was hoping to best his personal record of 103 feet in discus and reach 120 feet in order to earn a varsity letter. Knowles said that mark was definitely attainable after he saw Kaul really start to maximize his potential at the end of last season.
Kaul said he liked discus the most because it was all about technique.
"You didn't have to be the biggest, strongest person there, if you had the right technique you could really send the disc out there," he said. "Perfecting that technique was always a challenge."
Knowles said he tried recruiting Kaul to rejoin the football team, but nothing was getting in the way of his time at Taylor & Sons.
Knowles loved having Kaul around the track team and said he's a confident kid with a huge personality that has a bright future ahead of him.
"He always had a story to tell," Knowles said. "He knows what he wants and he's going to go do it."
Another thing Kaul is really passionate about is snowmobiling. He said he started riding sleds at a year old and loves everything about the sport. That's why after he graduates from Boise State University with a bachelor's degree in entrepreneurship management, he plans on starting his own snowmobile rental and guide business.
Right now, Kaul just rides snowmobiles recreationally but he hopes to get involved in competitions in the future.
"It just kind of is the freedom that you have," Kaul said about his passion for snowmobiling. "The feeling of it's just you, the machine and the mountains ... it's kind of similar to track where it's you versus yourself really."
Kaul said his years on the track team taught him how to set and achieve goals and he wouldn't have wanted to grow up in any other community.
"I feel pretty blessed to have grown up in a place like this," he said.
Kaul's favorite high school memory came this past September when an early snowstorm hit the area and he convinced his dad to pack up the snowmobiles and head to Kalispell, Montana, to ride in five feet of snow.
Taylor said he really appreciated the interactions he had with Kaul over the years because he was so intelligent about a wide range of issues that they could have a conversation about anything.
"[Kaul] has a dynamic ability to think critically," he said.
Taylor believes Kaul will thrive at college and beyond because he understands the value of hard work. Taylor said Kaul developed leadership skills during his time at the dealership and has been passing on his knowledge to those around him. Taylor & Sons will miss him.
"I think whatever he decides to do, he will be successful at," Taylor said.
In his own words: Andrew Kaul
"I would like to thank my teachers for helping me through school especially Mr. Gooding who was my history teacher for two years and my economics teacher for one semester. I really enjoyed his classes and how he was able to fit large amounts of information into easy to understand styles. I also want to thank my coaches for pushing me to succeed, one of my favorite coaches though would have to be coach Ross who was my middle school shop teacher and track coach. Coach Ross and I really connected over our sense of humor and our favorite joke of how I would throw better when my mom was mad at me and we would create elaborate stories on how I failed a recent math test right before it was my turn to step into the ring. I also would like to thank Taylor and Sons Chevrolet and the Taylor family (Brett, Greg and Laurel) for providing me with steady yet flexible employment which has allowed me to pursue my expensive passions of snowmobiling and dirt biking. Along with providing positive role models on how to operate a successful business. I also would like to thank my many friends for all the great memories over the past four years and I wish them the very best on their future endeavors. Finally I would like to thank my parents for their continued guidance and support throughout my life."
---