County adds 12 cases of COVID-19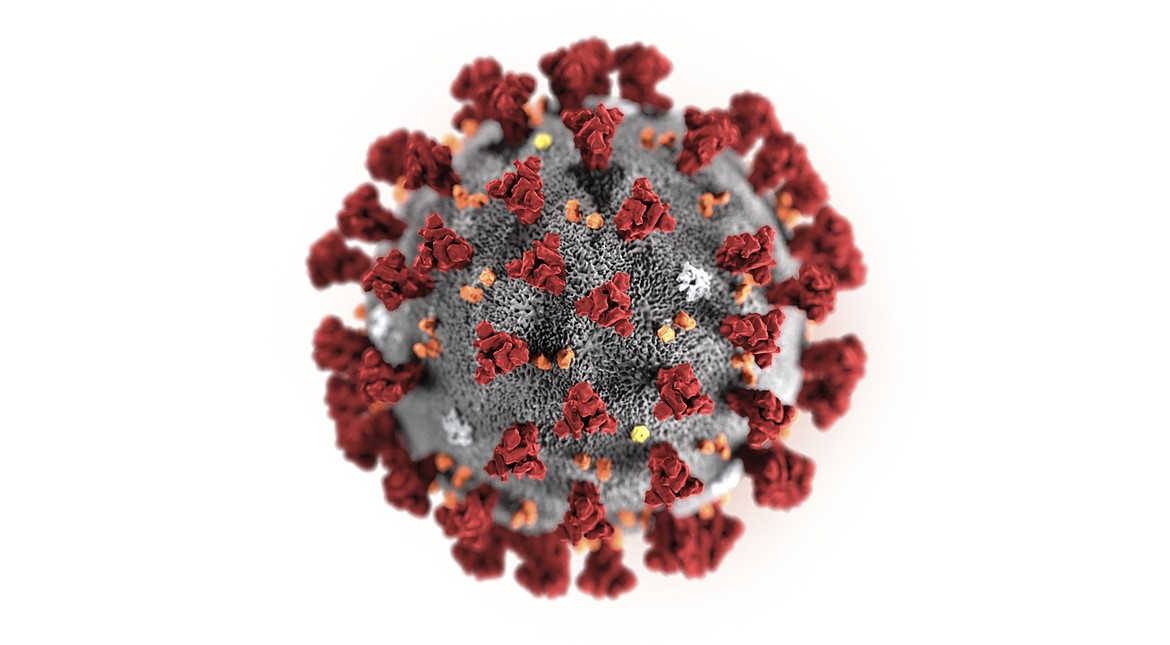 This illustration provided by the Centers for Disease Control and Prevention in January 2020 shows the 2019 Novel Coronavirus (2019-nCoV). This virus was identified as the cause of an outbreak of respiratory illness first detected in Wuhan, China. (Centers for Disease Control and Prevention via AP)
by
KEITH KINNAIRD
News editor
|
July 24, 2020 1:00 AM
SANDPOINT — The Panhandle Health District said 81 new cases of novel coronavirus were reported on Thursday.
Twelve of the new cases are in Bonner County, bringing the total number of cases in the county to 114, 108 of which are lab-confirmed and 58 of which are active.
The total number of cases in the five northern counties is 1,427, 1,412 of which are lab-confirmed. Kootenai County has 1,204 cases, 1,195 of which are lab confirmed. The health district voted 4-2 on Thursday to require the use of masks in public when social distancing cannot be accomplished. The district said 693 of the Kootenai County cases are active.
There have been three reported deaths in Kootenai County, according to the district. Media outlets in Spokane, however, said there have been four deaths in the region. There have been no deaths in Bonner County, PHD said.
Bonner County appears to have abandoned its legal challenge of Idaho's administration of the Coronavirus Aid, Relief & Economic Security funding. Governor Brad Little announced on Monday that Bonner County has submitted a letter of intent to accept CARES funding and there has been no further filings in its U.S. District Court lawsuit, which sought an expedited ruling in the matter.
Boundary and Kootenai counties have also signaled their intent to receive CARES funding, as have the cities of Coeur d'Alene, Kellogg, Post Falls, Rathdrum, Sandpoint and Spirit Lake, according to the governor's office.
Little's plan is to leverage federal relief funding to cover public safety personnel salaries and gives cities and counties to pass the savings on to property tax savings.
"Our focus is to support our communities and our police, fire and EMS personnel and ensure there are no reductions in public safety during these unprecedented challenges," Little said in a statement.
Shoshone County has had 36 cases all of which are lab-confirmed. Thirty of Shoshone County's cases are active. All 30 of Benewah County's cases are lab-confirmed, though only four are active, according to PHD. All 27 of Boundary County's cases are lab-confirmed and 23 of which are active.
The health district said 614 people are no longer being monitored for the virus, which causes COVID-19. The virus has caused 56 hospitalizations over the course of the pandemic and 25 people remain hospitalized.
The Idaho Department of Health & Welfare said on Thursday there were 414 new confirmed or probable cases of coronvirus across the state on Thursday, bringing the statewide total to 16,736 cases and 138 deaths.
The Northeast Tri-County Health District in Washington state said there were five new confirmed cases of virus in its jurisdiction on Thursday. Pend Oreille and Stevens counties each had two new cases, while there was one new case in Ferry County. The virus is blamed for one death in Stevens County.
Pend Oreille County has had 26 cases, while Stevens County has had 53 and Ferry County has had eight cases. Pend Oreille County has accrued 19 new cases and Stevens County has tallied 32 cases in the last two weeks.
The Montana State Department of Public Health said there were 97 new confirmed cases of the virus on Thursday, elevating the statewide total to 2,910 and 43 fatalities. Lincoln County has had 36 cases and Sanders County has had eight.
Keith Kinnaird can be reached by email at kkinnaird@bonnercountydailybee.com and follow him on Twitter @KeithDailyBee.
---