Safety first priority behind library's mask decision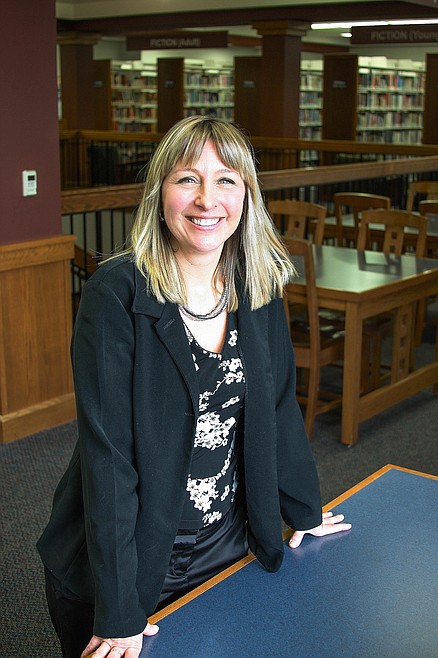 "Seeing the signs about the mask requirement posted outside the library made me feel a bit anxious. It was just another reminder of how crazy things are right now," a friend confessed to me.
We all want to find a semblance of normality right now. Masks are a highly visible testament to the fact that things are anything, but normal. Face coverings are not only uncomfortable and inconvenient, but they can exacerbate certain medical conditions. Also, mask policies literally fly in the face of some people's values.
Adding to the heightened emotion over the debate to mask or not to mask is the general sense of tension fueled by multiple high-stake issues dominating our collective consciousness. It is a tough time.
As a public entity charged with serving the full gamut of demographics, The Library doesn't have the luxury of establishing protocols based on personal preferences.
The board of trustees and director have the weighty responsibility of ensuring open access to information and ideas while also providing reasonably safe facilities and services. Since face coverings are strongly recommended by the World Health Organization, Centers for Disease Control, and Panhandle Health District, the Library Board of Trustees has instituted a policy requiring proper face coverings to enter and remain inside the library and Bookmobile.
Patrons are encouraged to bring their own, however, a limited supply is available for those who do not have access to one.
Face coverings are required upon entry and must remain properly worn, covering the nose and mouth, for the duration of your visit. Pulling down the mask to talk to someone, ride in the elevator, or when out of the line of vision of staff would not be considered correct use. Staff are happy to help with questions relating to proper fitting and usage of face coverings.
On that note, please keep in mind that the library's code of conduct still applies. Please don't be mean or aggressive to library staff. They are tasked with upholding the library's code of conduct, which includes suspending services to those who choose not to comply with library policies.
Approved face coverings can be purchased or hand-made. Masks made of orange peels, mini cereal boxes, buckets, water bottles, and unsightly undergarments may not be approved for use inside the library. We would never want to thwart creativity, but safety is our first priority.
We are pleased to offer alternatives to putting on a face covering in order to enjoy library materials and services. Curbside materials pick-up is one way that we continue to serve our great community. We started this service while the library branches were closed and continue to offer it for those who prefer a contactless transaction.
For people who can't or don't wish to wear a face covering, curbside holds pick-up is for you. Simply place a hold on the materials you want to check out and our staff will reserve it for you. Love to browse the shelves? Click the "Browse Virtual Shelf" button from any title in the online catalog. You can schedule your curbside pickup appointment online or by phone. Details are on our website, www.ebonnerlibrary.org.
The Digital Library is another amazing alternative to sporting a face covering. Did you know that you can download eBooks and audiobooks for free with your library card? You can also stream movies, T.V. shows, and music to your device or television from the library's website.
You probably know that you can do research using digital library databases, but did you know that you can research genealogy, learn a new language, and work on your car with digital services from the library?
Wait, there's more! You can plan your travel escapades (or do some productive dreaming), discover foodie adventures, and improve your health. You can find tons of great job search and professional development resources or get help starting your dream business.
There is a financial management source and a couple of legal research databases. Find maps, book recommendations, and educational lessons for kids.
There is actually a lot more to discover in The Digital Library at ebonnerlibrary.org, but I feel like I might be losing you by now. You should get in there and check it out yourself.
Here is the point: we care about you. We care about your safety, we care about your concerns, and we care about fulfilling our responsibility of providing access to information and ideas. In this tense time, we know that intellectual freedom is more important to you now than ever.
There are other measures the library is taking to ensure a safe library experience for you. We will discuss those next week.
The Sandpoint and Clark Fork Libraries are now open at regular hours, six days a week. For more information about the current status of the Sandpoint and Clark Fork Libraries and Bookmobile, visit our updates page at www.ebonnerlibrary.org.
EVENTS: Check our website Events Calendar for our schedule of digital events at www.ebonnerlibrary.org.
StoryWalk - July titles: at Dover City Park enjoy "Kid Sheriff and the Terrible Toads" by Bob Shea and "I Love My Pirate Papa" by Laura Leuck at McNearney Park in Ponderay.
Titles are updated monthly and posted at facebook.com/BonnerStoryWalk.
Marcy Timblin is in charge of public relations, marketing & community development for the East Bonner County Library District. She can be reached at 208-208- 208-208-263-6930, ext. 1204.
---