Senior Spotlight: 'I didn't take any moment for granted'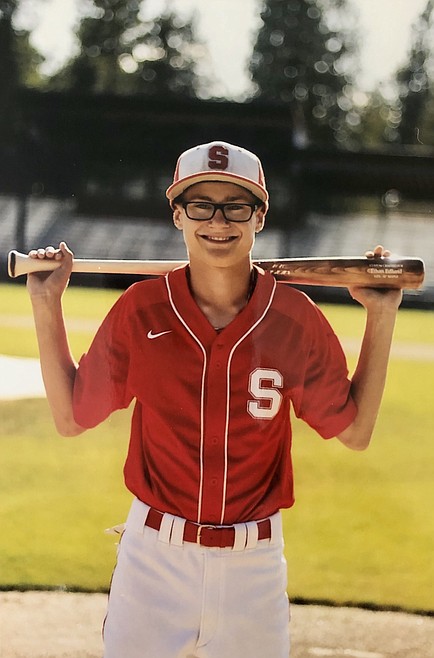 Ethan Edlund has spent the past 14 years of his life playing baseball. "He was the kind of kid that you were just really excited to tell people he was a part of the Sandpoint High School baseball program," Chase Tigert said.
(Photo courtesy of DEBBIE EDLUND)
by
DYLAN GREENE
Sports Editor
|
July 24, 2020 1:00 AM
Editor's note: This article is part of a recurring series on local high school athletes who had their seasons cut short or canceled due to the coronavirus pandemic.
SANDPOINT — Ethan Edlund was practically born with a baseball bat in his hands.
At age 4, he got attached to the game and didn't stop playing the sport until this spring when his senior season was ripped away.
It was non-stop baseball from March until August for Ethan and he loved every second of it.
"It's a huge part of my life and it's weird not having it," he said.
Fortunately, Ethan did get a chance to play baseball this summer with the North Idaho Lakers American Legion 19U team. But that only lasted about a month after the season was canceled nearly two weeks ago.
It was something though and more than a lot of athletes around the country got, so Ethan made the most of it.
"It was seriously awesome," he said. "I didn't take any moment for granted because I knew at some point that it would get shut down."
Growing up, Ethan watched his older brother, Caleb Edlund, play baseball and that's part of the reason his passion for the game runs so deep.
Caleb, a 2017 SHS grad, is three years older than Ethan and starred at second base during his time as a Bulldog. He even went on to play for the College of the Siskiyous in California.
Early on in his career at SHS, Ethan spent a lot of time behind the plate at catcher but then he hit a growth spurt and found his way to the outfield, including this summer in Legion.
Sandpoint baseball head coach Chase Tigert said he was expecting Ethan to compete for playing time as an infielder this season and potentially at second base, just like his older brother.
Tigert called Ethan a utility player and felt comfortable sticking him pretty much anywhere.
"He was just a kid that had an amazing attitude and was extremely coachable," Tigert said. "He'd be happy to play wherever you asked him to."
Caleb said Ethan has always enjoyed playing baseball but he saw a flip switch entering his junior season. Ethan had finally grown into his body and was more motivated than ever to put in extra time to improve, Caleb said.
For Ethan, the unpredictability of baseball is what makes it so great.
"No game is ever the same as the last," he said, "and no pitch is ever the same as the last one ... you have to think on the fly."
Tigert said Ethan's love for the game was on full display whenever he took the field. Tigert remembers a scrimmage where Ethan walked off the field with a big smile on his face and talked about how much fun he was having.
"He really is truly just an amazing kid," Tigert said.
Ethan has been spending his time away from baseball working for Everything Gutters LLC, a business his parents bought in early March.
Ethan said last summer a family friend mentioned that he was selling his equipment, and now Ethan is traveling around Sandpoint, Clark Fork, Priest River and other areas in the county and installing gutters.
Ethan said the lack of a market motivated him to pursue this venture and he admitted he's been fairly busy doing three to four jobs a week.
Caleb said it's an old-fashioned family business. Their dad, Josh, manages the bids, inventory and materials and their mom, Debbie, does the books.
Caleb wishes he could help out with the business, but right now he has a full-time job at Sandpoint Furniture. But next summer, Caleb hopes he can join his brother.
"It's cool that [Ethan] can just put on those big boy pants and get to work," Caleb said.
Ethan said he plans on sticking with the business for the next 10-15 years.
Ethan will never forget the four years he got in a Sandpoint uniform and the teammates he shared the field with. He did it all for them.
"It was never really just about me, it was about the team," he said. "That's how I always saw baseball because if one of us doesn't do good, we all don't do good."
Ethan's favorite high school memory came last year when the team traveled to Boise for the Bucks Bags Tourney. It was a Friday night and Ethan recalls staying in the laundry room with a group of players and coaches until 2 a.m. talking about all sorts of things.
"It was crazy because we didn't know it was 2 a.m. until one of us finally looked at our watch," he said.
Caleb said Ethan is extremely self-motivated but can be stubborn at times. Last year, Caleb had a chance to coach his younger brother while serving as an assistant on the Lakers 19U team.
"I think he listened to me but not too often," Caleb joked. "I'd get snarky with him sometimes because he is my younger brother, but other than that we connected pretty well."
Caleb said he was probably more upset than Ethan when the season got canceled because he was looking forward to watching him finish out his high school career.
Caleb said his brother is one of his best friends and Ethan inspires him every day.
"I'm super proud of him," Caleb said.
Tigert saw Ethan frequently off the baseball diamond in high school. Ethan was his teaching assistant for a bit and served as the Connections leader for his class. Connections is a mentor-based program at SHS, Tigert said.
Tigert has seen Ethan grow from a 5-foot freshman into a young man that recently gave him a quote on his gutters. Tigert said it's been amazing to watch and he enjoyed all the non-baseball-related conversations they had over the years.
Tigert said Ethan's reliability and personality will allow him to have plenty of success in life.
"He was the kind of kid that you were just really excited to tell people he was a part of the Sandpoint High School baseball program," he said.
In his own words: Ethan Edlund
"I'm Ethan Edlund and I have played baseball all my life. Baseball has been a huge part of my life from the culture to the life lessons it has taught me. I would like to thank my father (Josh Edlund), my brother (Caleb Edlund) and my high school baseball coach (Chase Tigert). They were the ones who showed me how much of an amazing game baseball is. My mom (Debbie Edlund) was always my biggest fan, I loved seeing her in the stands cheering me on. My life will be a lot different without baseball now and it was a little rough not having my senior season but I did get to play some summer ball games until it was also canceled due to COVID-19. My summer ball teammates showed me some extra love when we found out that the season was canceled. It's hard to think that the next time I want to see baseball I will have to sit in the stands and not be out there in a jersey with them."
---