COVID-19 continues to surge in Panhandle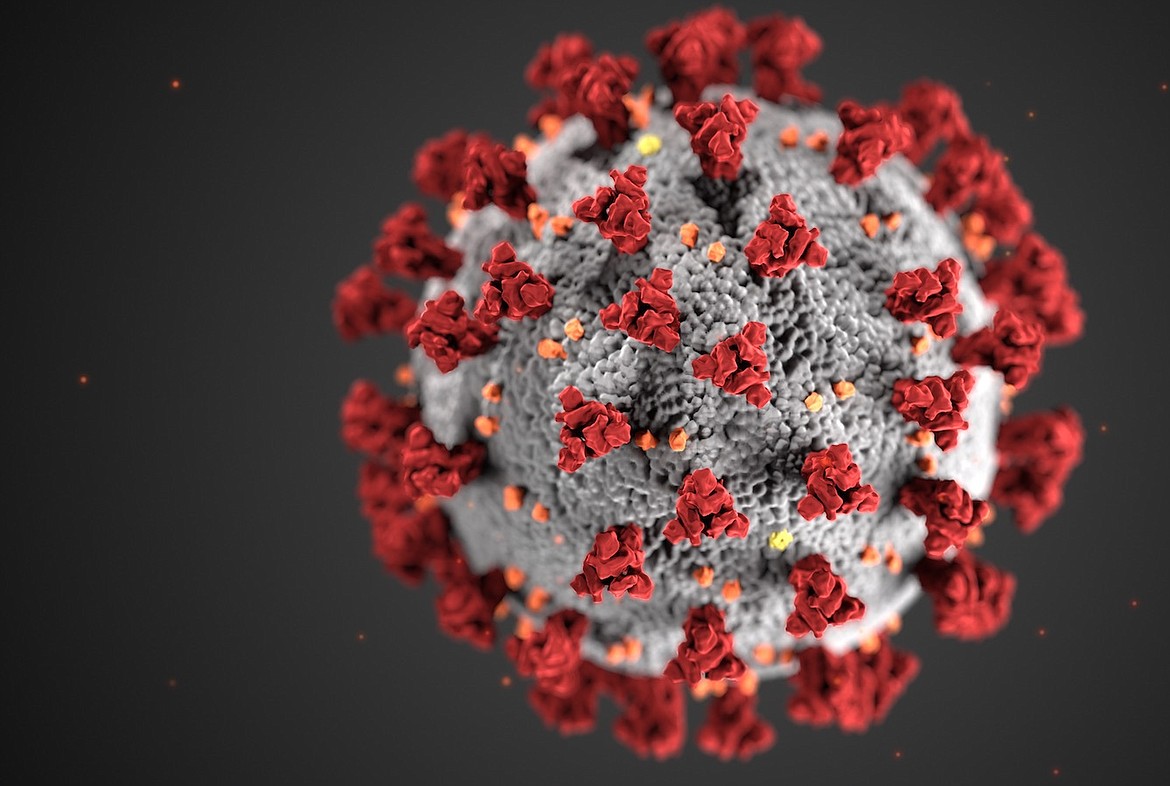 This illustration, created at the Centers for Disease Control & Prevention, reveals ultrastructural morphology exhibited by coronaviruses.
(Image courtesy CDC)
by
KEITH KINNAIRD
News editor
|
July 25, 2020 1:00 AM
SANDPOINT — The Panhandle Health District tallied 51 new confirmed or probable cases of novel coronavirus on Friday, including nine new cases in Bonner County.
The district said there have been 1,478 infections since the pandemic began, 1,461 of which have been confirmed through laboratory testing.
Kootenai County has accumulated 1,240 cases, 1,229 of which were lab-confirmed, according to PHD. There are 696 active cases in Kootenai County, four of which proved fatal.
Bonner County has had 123 cases, 117 of which are lab-confirmed. The health district said 64 of Bonner County's cases remain active, although there have been no fatalities.
All 38 of Shoshone County's cases are lab-confirmed and 31 of the cases are active, PHD said. Benewah County's 31 cases have also been lab confirmed, though only five cases remain active.
All 29 of Boundary County's cases are lab-confirmed and 24 remain active.
There are another 17 cases involving Panhandle residents whose primary county of residency is undetermined. Six of those cases remain active, Panhandle Health said.
The virus, which causes COVID-19, has caused 66 hospitalizations and 31 people remain hospitalized, the district said. The district said 652 individuals are no longer being monitored.
All told, there are 826 active cases in the five northern counties.
The Idaho Department of Health & Welfare reported 528 new confirmed or probable cases of coronavirus on Friday, lifting the statewide total to 17,264 cases. Health & Welfare said the virus has claimed 144 lives across the state.
The Northeast Tri-County Health District said two new confirmed cases of the virus emerged in Stevens County on Friday. There are 89 confirmed cases in the tri-county area.
Pend Oreille County has accrued 26 cases, 18 of which surfaced in the last two week. There have been 55 cases in Stevens County, one of which was fatal. Ferry County has had eight cases, according to NETCHD.
The health district received lab confirmation of a person infected with the virus on Friday and determined that the person was at Cahoots Bar in Colville on July 18 between the hours of 6-10:30 p.m. During that time the individual was symptomatic with COVID-19 symptoms, including cough, and had extensive interaction with other patrons. This interaction occurred before the individual was tested and informed of test results.
Northeast Tri-County Health District is working with Cahoots to ensure proper protocols be adhered to and safeguards put in place.
The Montana State Department of Public Health said there were 129 new confirmed cases of coronavirus on Friday, bringing the statewide total to 3,039 cases. The virus is blamed for 46 deaths in the Big Sky state.
Lincoln County's case count went from 36 to 22 on Friday. Sanders County has six cases.
Keith Kinnaird can be reached by email at kkinnaird@bonnercountydailybee.com and follow him on Twitter @KeithDailyBee.
---