City calls for gun suit's dismissal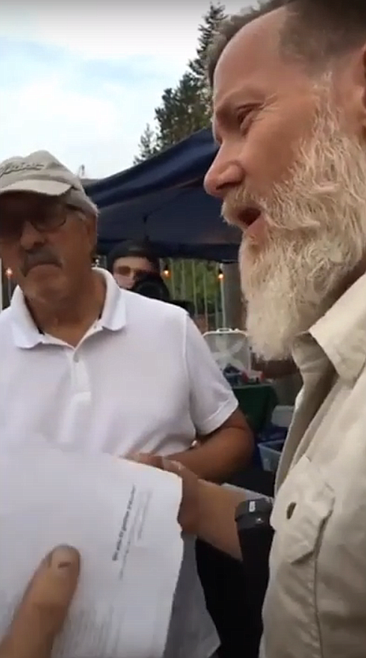 (Image via YOUTUBE) In this screen grab, Scott Herndon (right) attempts to convince Sandpoint City Attorney Will Herrington he should be allowed to enter the Festival at Sandpoint while carrying a firearm in 2019.
by
KEITH KINNAIRD
News editor
|
July 28, 2020 1:00 AM
SANDPOINT — With the 2020 Festival at Sandpoint scuttled because of the novel coronavirus pandemic, the city is calling on a judge to dismiss Bonner County's lawsuit over the prohibition of firearms during the waterfront concert series.
Counsel for the city filed a supplemental brief in support of its motion for summary judgment last Tuesday, arguing that the matter is moot because the concert series for this summer has been canceled, 1st District Court records show.
The city's counsel in the litigation, Coeur d'Alene attorney Peter Erbland said courts are limited in rendering a declaratory judgment only when there is an actual or justiciable controversy.
"The controversy must be definite or concrete, touching on the legal relations of the parties having adverse legal interests. It must be a real and substantial controversy admitting of a specific relief through a decree of a conclusive character, as distinguished from an opinion advising what the law would be upon a hypothetical state of facts," Erbland said in the seven-page brief.
Erbland further argues an action for declaratory judgment is moot where the judgment, if granted, has no effect directly or collaterally on the plaintiff.
Erbland said the cancellation of the 2020 iteration of the concert series means there is no lease agreement between the city and the Festival and there is no lease yet for the 2021 run of the series.
"While there is a possibility of the city and the Festival executing a lease for 2021, it remains just that: a possibility and not a certainty.
Moreover, the law enforcement impact to Bonner County evaporated with the postponement of this year's Festival.
County officials said they expected there to be armed demonstrators at the Festival if the firearms prohibition is allowed to stand.
"Plaintiffs' arguments for invoking this court's jurisdiction are all based on domino-effect contingencies and the cancellation of the 2020 Festival prevents any of those dominoes from falling," Erbland wrote.
Bonner County filed suit against the city last year on grounds that state law prohibits the curtailment of Second Amendment rights on public lands.
The city leases War Memorial Field to the Festival each year. Sandpoint officials have defended the Festival's right to implement security protocols in order to satisfy contractual obligations with artists who perform during the Festival.
The city and the county are each seeking summary judgment, which would decide the matter without the need for a trial.
The motions have been taken under advisement by 1st District Judge Lansing Haynes, who is expected to issue a written ruling in the case.
Keith Kinnaird can be reached by email at kkinnaird@bonnercountydailybee.com and follow him on Twitter @KeithDailyBee.
---